Main content
Here's why one man from Staffordshire climbed 52,047 steps this week
After all, he who dares climbs the stairs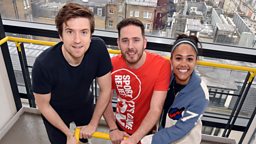 Radio 1's Sport Relief challenger this year is Phil, got in touch as he's always wanted to climb Mount Everest, but as he can't get to the Himalayas, we helped him climb all 8848 metres of Everest using stairs instead!
If you can't picture the scale of Everest, it is the highest peak on earth, and the summit is around the height passenger planes fly.
To complete the challenge, Phil climbed 52,047 steps over 5 days, and unluckily for him going downstairs didn't count.
But after five days of relentless stair-climbing, he did it, scaling the 8,848m summit height. Watch the moment he completed the challenge:
It's been an incredible journey for Phil.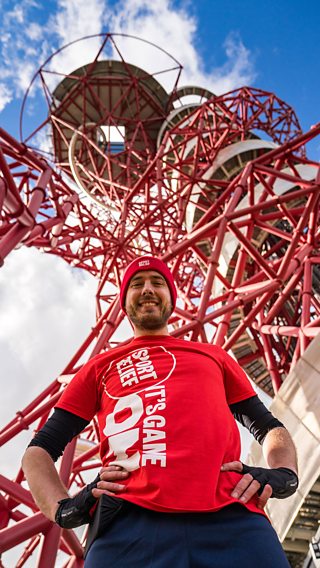 On the first day alone he climbed 1,600 meters, which is higher than Ben Nevis.
His wife Emma said: "We've always had an inclining that he would do something bonkers, and this little idea has escalated madly".
When Phil isn't climbing stairs, he can be found in the classroom, and Scott and Chris managed to track down some of his students, who are supporting him back in Staffordshire by doing step-ups in PE.
One of his students, Liv said they were just trying: "to experience a bit of the same amount he is going through".
Former England footballer Alex Scott MBE dropped by to cheer him on the second day of the challenge at Radio 1, and she can appreciate just how difficult it must be.
She said how her favourite set of stairs isn't far from Broadcasting House: "I like climbing up the stairs at the tube station, it's my little form of exercise. And when I get to Covent Garden that's the one where I feel the burn."
"I looked it up and that's 139 steps, so every time that Phil is climbing the steps at Radio 1 it's 193, just to put it out there, [he needs to do that] 60 times."
We imagine Phil is going to be feeling quite the burn, but the money he raises for Sport Relief will go a little way to changing many people's lives, and he has already raised over £150,000!
If you would like to support Phil, here's everything you need to know about donating.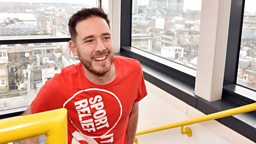 Donate to Radio 1's Step To Everest challenge for Sport Relief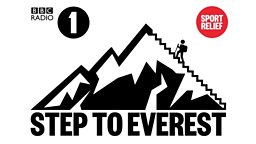 If you would like to support Phil's efforts by making a donation to Sport Relief all the details are below.
To donate £5 text CLIMB to 70205.
Texts cost £5 plus your standard network message charge and 100% of your donation will go to Sport Relief.
You must be 16 or over and please ask the bill payer's permission.
You can view the full text to donate terms and conditions here.
The donation link will take you to Sport Relief's donation page which is subject to their Privacy Policy.
You can read more about what your money does here.
The money you raise will allow Sport Relief to give vulnerable and disadvantaged people in the UK and around the world a helping hand to turn their lives around.