Main content
Michael Bloomfield: the first guitar hero of the rock age
16 December 2016
Before Clapton, before Hendrix and Page, there was Michael Bloomfield. He electrified Dylan. Helped mint the idea of the rock super session. And had his portrait painted by Norman Rockwell. There was only one problem, says ED WARD; Bloomfield never wanted to be a star.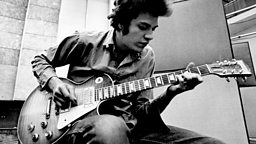 Michael Bloomfield in a recording studio, circa 1968. Photo by Michael Ochs Archives/Getty Images.
When I tell people I've got a new book out, they naturally ask me what it is. And when I tell them it's a biography of Michael Bloomfield I usually get one of two responses: a blank stare or "Who?"
All of which seems odd to me, as it would to any author, but it shouldn't: Michael spent a large part of his life becoming that "Who?" because, as much as he contributed to the vocabulary of the electric guitar, the rise of the guitar soloist as a rock hero, and the annals of virtuosity, he hated being a rock star.
He contributed to the vocabulary of the electric guitar and the rise of the guitar soloist as a rock hero
That isn't to say he disliked playing; much of the time he spent holed up in his hilltop house was spent playing one or another of his guitars.
It was also a common occurrence that some version of Michael Bloomfield and Friends would take the stage at a club in the San Francisco Bay Area and deliver more than the listeners' money's worth in brilliantly executed music.
But part of it is the dangers of being a pioneer.
When the first Paul Butterfield Blues Band album came out in 1965, most American folkies didn't know what to do with it, even though it was on Elektra, a folkie label.
Opposed to electric music, they'd booed Muddy Waters playing electric guitar at the Newport Folk Festival (he came back the next year and delivered an acoustic set) and Lightnin' Hopkins, no fool, changed out of his sharkskin suit into overalls in his limo at the same event.
The fact that Waters was a lineal descendent of the folkie-revered Robert Johnson and that the electric blues he played was the direct result of a major sociological shift in African-American life in the 1930s didn't dawn on the white suburban kids who made up the majority of the folk crowd in New York, Boston, and Los Angeles.
Chicago was different, and Chicago was where Michael grew up. You could no more avoid the blues in parts of Chicago than you could avoid Afro-Caribbean music in East Harlem, and the University of Chicago's campus adjoined a black neighborhood.
Michael Bloomfield was a Jewish kid from a wealthy family whose maid had introduced him to the blues clubs
When UC folkies learned about country blues like the nation's other folkies, they saw the connection immediately, and the city's major contemporary bluesmen played their events.
They, in turn were happy to play for a crowd that wasn't going to shoot each other or become violently drunk, and appreciated their work – not to mention that they always got paid. Always.
This was the context in which a bunch of non-students met each other.
Paul Butterfield, a lawyer's son who had been playing harmonica, first as a novelty act, but with increasing acceptance from the blues audiences.
Nick Gravenites, a hulking, dangerous-seeming semi-hood from the Greek neighborhood.
Michael Bloomfield, a Jewish kid from a wealthy family whose maid had introduced him to the blues clubs, which spurred his obsession with guitar playing.
And it worked the other way around, too: Michael noticed that some of the 1930s generation of Chicago bluesmen were still around, not working, and he got them into folk clubs, playing to a whole new audience.
When The Paul Butterfield Blues Band came out, I assumed the blazing guitarist was Butterfield because to my ears he was clearly the star of the show.
The words "lead guitar" meant nothing to me: one didn't think of George Harrison as a lead guitarist, nor Brian Jones, although both were.
People were so scandalized by Dylan that they didn't have time to check out the name of the guitarist
I had never heard a Muddy Waters or B.B. King record. At the same time, I was enthusiastic about the new music Bob Dylan was making, and Bruce Langhorn's electric guitar playing on Bringing It All Back Home knocked me out.
Dylan was working at a furious pace, and had an even harder sound on his next single, "Like a Rolling Stone." I had no idea that the guitarist on that was Michael Bloomfield, who'd befriended Dylan years ago in a Chicago folk club.
Dylan asked him to put together a band for the coming Newport Folk Festival, which was easy: the Butterfield band was playing there, too.
And after Newport, the Butterfield Band went to New York to record their first album and Michael also helped Dylan record his next album, Highway 61 Revisited.
People were so scandalized by Dylan that they didn't have time to check out the name of the guitarist, although it was right there on the back cover of the record.
Michael's best work was still to come: the second Butterfield album, East-West, contains some of his most brilliant playing, both on the title track and the band's workout on Cannonball Adderley's classic "Work Song," and then he quit to form a band with horns, The Electric Flag.
By that time, people like Eric Clapton and Jimmy Page were introducing people to that "lead guitar" concept, and being worshipped for it.
Michael noted this warily: he'd seen stardom and he didn't like it.
When the Flag went down in flames, he retreated to his hilltop, where his legend grew while he did as little as possible to feed it.
And then he died at the age of 37. The legend was complete.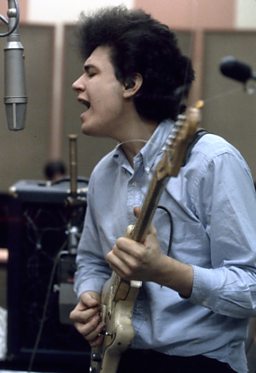 Michael Bloomfield, 1964 demo session for Columbia Records, Chicago. Photographer Mike Shea, courtesy Christine Shea.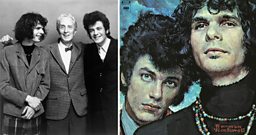 Al Kooper (left) and Michael Bloomfield pose with the artist Norman Rockwell (Photo by Michael Ochs Archives/Getty Images) and the cover for Live Adventures of Mike Bloomfield and Al Kooper as painted by Rockwell (Columbia Records).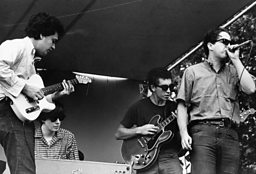 The Butterfield Blues Band perform onstage at a festival in circa 1965. Photo by Michael Ochs Archives/Getty Images.
Bloomfield the guitarist
Many great guitarists hailed Bloomfield as an influence and inspiration.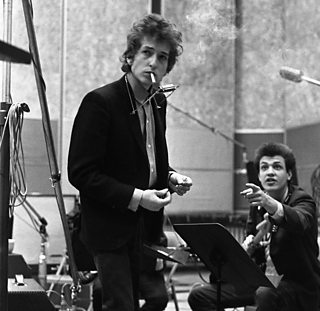 Michael Bloomfield (right) at a recording session for Bob Dylan's Like a Rolling Stone. Photo: Don Hunstein, courtesy Sony Music Entertainment.
He could outplay anybody... I mean, he just was the best guitar player I'd ever heard

Bob Dylan
Eric Clapton: "Mike Bloomfield is music on two legs... I never met anyone with so many strong convictions."
Carlos Santana: "The first time I saw Michael play guitar... it literally changed my life."
BB King: "Michael was a brilliant young man... And he was a great guitarist. He was like a son to me."
The Best of Bloomfield
Highlights from Bloomfield's recording career.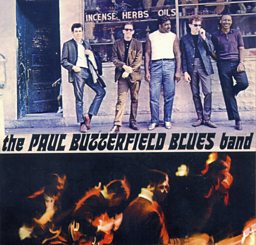 The Paul Butterfield Blues Band (Elektra, 1965)
Straight from the blues dives of Chicago, Butterfield's mixed race band, with Bloomfield on lead guitar, was ferocious live. Their debut was similarly passionate and intense and put R'n'B fans on notice.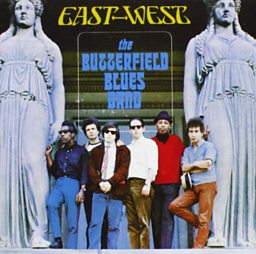 The Butterfield Blues Band: East-West (Elektra, 1966)
Still powerful, but jazzier and arguably the first band to seriously deploy Indian raga on the extended title track, this was Bloomfield at his peak as he traded solos with Butterfield on harp and Elvin Bishop on guitar.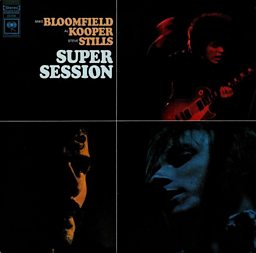 Mike Bloomfield Al Kooper Steve Stills: Super Session (Columbia, 1968)
Bloomfield is brilliantly sweet and salty on Side 1 of this mother of all rock jams. In a presage of things to come, he bailed out from the sessions for health reasons, leaving Steve Stills to pick up on Side 2.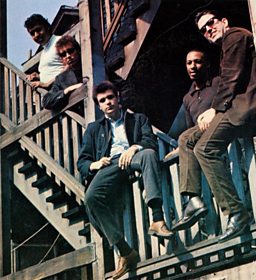 Paul Butterfield Blues Band, Chicago: left to right: Sam Lay, Elvin Bishop, Mike Bloomfield, Jerome Arnold, Paul Butterfield. Photo: William S Harvey, Elektra Records.
More rock music on BBC Arts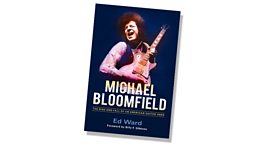 Michael Bloomfield: the Rise and Fall of an American Guitar Hero, by Ed Ward is published by Chicago Review Press.
Ed Ward is Texas-based and has contributed to Rolling Stone and the New York Times. He is also co-host of the NPR radio show Fresh Air.