Main content
What's it like to take Gold at 500 Words?
If you're thinking of entering the 500 words competition, you should definitely enter! You never know if this year will be your year or not. If you've entered before, nothing's stopping you from entering again! I've entered the 500 Words competition pretty much every year it's been on and look where that got me! This year, I wasn't even going to enter, but it was my last chance and my mum encouraged me, saying: 'What have you got to lose?'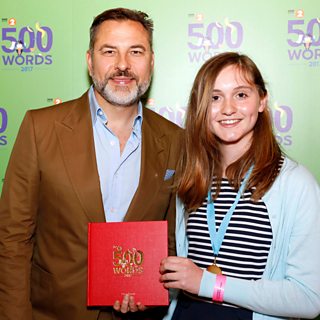 Livia with David Walliams
The Final itself? Wow, it's indescribable, it's surreal and dreamlike.

Livia Turner, Gold Winner 10-13, 2017
If you're looking for inspiration, you don't have to look as far as you'd think: I get ideas for characters from hearing people talking in the street or at school. Everyone has their own unique speech, some are quirky, others are surprising. Films are great too, I love films. I reckon the best films are the clever ones that have all these hidden metaphors and surprises, so talking about films and books is also great for inspiration. I love it when characters have two faces, like Tony Stark or Professor Snape, and where there are hundreds of twists and turns like in the Chaos Walking Trilogy by Patrick Ness.
Writing it up didn't take long: only a couple of evenings. But on the second evening I scrapped all of Miss Hood's letters and re-wrote them, because she sounded way too much like Mr. Wolf.
Getting shortlisted is brilliant. Even if you don't get any further that's still an amazing accomplishment, because it means the judges read your story and thought it was worthy of being shortlisted. It's also the next gigantic step towards winning. When I was shortlisted, we joked about winning in my final year, I didn't actually think it was ever going to happen. So, whatever you do, you shouldn't doubt yourself for a second.
Finding out you're a finalist is an unbelievable feeling! I went from feeling hopeful but slightly doubtful to so incredibly proud of myself and my story. I didn't care if I would win or not, I was just so overwhelmed by the fact that I was going to the Tower of London to see Chris Evans, David Walliams, the Duchess of Cornwall and awesomely talented people who I've only ever seen on TV. That was a tremendous prize itself. I almost felt as if I was finally doing justice to all my other stories I'd ever entered, it was such a great feeling.
The Final itself? Wow, it's indescribable, it's surreal and dreamlike. It was incredible, and winning it? That's when it seemed to burst through the clouds. Winning was above and beyond. I'm not really one for standing up in front of a huge audience, trust me, I get the worst case of jelly legs, but when you've worked so hard on this story you're so, so proud of, you literally bounce up onto the stage. Going on stage to celebrate my story that I'd worked so hard on, and had made it through 131, 798 other stories, reversed my fears entirely.
More from 500 Words
Honorary 500 Words Judge HRH The Duchess of Cornwall appears in our special animation.

Everything you need to know about Radio 2's short story-writing competition for kids.