Main content
The Mysterines in session for BBC Music Introducing
"Who are The Mysterines?"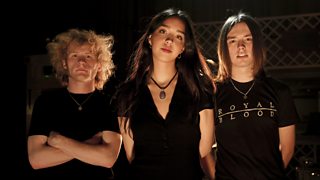 Posters with this question surfaced in Liverpool in 2018, casting the young Wirral three-piece in a shroud of mystery. Whilst keeping a relatively-low profile, the band have managed to gather a fair bit of buzz for their impressive, punchy live shows, having supported the likes of Miles Kane and fellow Introducing-alumni The Vryll Society.
Their songs are fierce, high-energy affairs underpinned by relentless bass and drums, and bolstered by lead signer Lia Metcalfe's snarling vocals. Hit play, sit back and prepare to bang your head.
The Mysterines have been supported by BBC Music Introducing in Merseyside, as well as 6 Music's Steve Lamacq.