Main content
Jess Glynne has absolutely no idea what an Ed Balls is
Our fave redhead pop star Jess Glynne (sorry, Ed Sheeran!) spoke to Grimmy this morning about everything from having five number ones (yep, no biggie) to her upcoming appearance at this year's Teen Awards.
Nick asked the singer if she had any special requirements when performing - especially for the Teen Awards, which is her first time ever btw - but Jess reckons she ain't no diva. Basically, she rolled up to Radio 1 this morning with a bottle of water, fruit, a couple of coats, and a smashed up phone, so she's still keepin' it real.
"I'm having a serious nightmare morning! I'm out of season!" she said.
Jess did admit she'd probably not be the one to go and sort out her broken phone cos she's got a "really busy day" ahead - tbf she IS in the middle of recording her new album.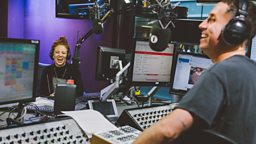 "Nope, I've never been," Jess said about her Teen Awards debut, "but I'm excited!"
It's her first live performance for a while but we're convinced she'll kill it when she goes out on stage.
Top of the agenda, thanks to Grimmy's hugely sophisticated random topic generator, was Toffee Crisp chocolate bars, which the pair talked about live on air... as she revealed she only had a mild obsession with them, eating two a day.
Next came the, ahem, fashion discussion of Crocs...
Then quiche... "I LOVE a quiche," which has to be an exclusive.
After hearing the random generator's topics, she wasn't sure what she'd heard as one of the options...
"Can I ask a question?" Jess said as the next tune was about to play.
"What is Ed Balls? Is that really dumb? is that really stupid?"
We feel you, Jess, we've no idea what he is either.
Grimmy cleared up that he was, in fact, a former politician but more importantly he's appearing on this year's Strictly Come Dancing, obvs! He is responsible for golden moments such as those below....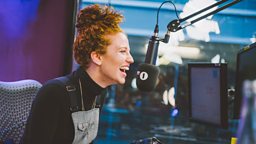 You may, however, know Mr. Balls after he became Twitter famous after a gaff he made back in 2011 where, instead of searching for his name, he instead tweeted it. Naturally it went viral and on 28 April Ed Balls Day was born.
The tweet was never deleted (notably because Ed didn't know how to do that) and has since had 79,000 RTs.
Check out Ed and a host of celebs on the current series of Strictly, which is on BBC One every Saturday evening.
And be sure to tune into the Teen Awards this Sunday, 23 October from 3pm.