Main content
Kevin Bacon is no friend to fame
With 80 acting credits and the lead role in the defining 80s blockbuster on his CV he's also separated by no more than six degrees from any celebrity you can name – or at least that's what the game says. Producer Kate Bissell spoke to Kevin Bacon during the recording of her programme Kevin Bacon's Game of Fame.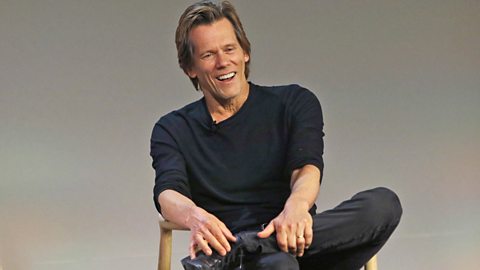 The Hollywood actor has experienced the highs and lows of what fame has to offer.
A love/hate relationship
As soon as Kevin entered the hotel room for our first interview it was obvious he was a very down-to-earth guy who wanted to make sure he gave us his best. He kept apologising for not being full of energy because he had been on tour with his band The Bacon Brothers for the past month. He had no agent or press officer with him and spoke very honestly and freely about his experience of fame.
Kevin explained that throughout his career he's had a love/hate relationship with fame. It was obvious that fame didn't altogether sit well with him as he had trouble referring to himself as famous, preferring to say he was 'well known'. However, he was honest enough to admit that when he was younger he wanted to be famous for all the things it brought - the money, the girls and his name in lights. But after the success of Footloose he shunned Hollywood - the parties, the agents and the attention. What followed was a series of film flops and he soon found himself craving the taste of fame again. He discovered after his performance in JKF that character parts, rather than lead roles, were the way forward.
Kevin said that his relationship with fame partly comes from his father, who was well known in the town he grew up in. His dad courted fame and would obsessively buy and collect multiple copies of the papers he appeared in. Despite disliking his father's craving of fame, Kevin set out wanting to become more famous than his dad and it wasn't long until his parents were collecting cuttings of his acting successes. However, Kevin's brother Michael told us that Kevin's house in New York has pigs all over it, including a pig weather vane, suggesting an understanding of the irony of it all and a desire not to take himself too seriously.
Dealing with the pressures of fame
Kevin admitted that despite being in the game a long time he still gets wrapped up in the pressures of fame, questioning why he doesn't get the big parts or accolades. He explains that most well-known actors feel vulnerable to failure - that they feel they could lose it all in an instant which is made worse, he says, by the feeling that many people often want him to fail, be that in his career, marriage or to end up in rehab.
Selfies, Kevin says, have become a way of life. He was very natural having his photo taken and wasn't bothered at how he looked in them. We caught him leaving his hotel to walk to the venue where The Bacon Brothers where playing and he had tried his best to disguise himself with dark shades and a cap. Having spent a day with him it was no wonder as every person who recognises him instantly wants a selfie and instead of them then doing the usual small talk, their attention immediately focuses on posting their photo on social media. Nearly everyone, it seems, wants to be associated with fame in some way.
Craig Fass, one of the guys who created the Six Degrees of Kevin Bacon game, has spent some time with Kevin. He witnessed that everyone who walks into the room where he is wants something from him - whether that be a photo, to read their script, come to a charity event, produce this or donate to that and he said it is such a weird world and difficult to watch.
Why it's all worth it
Over a lobster roll in a café in downtown Annapolis, Kevin explains that fame is mostly a good thing. He gets so much support, love and free stuff. That probably helps explain why he's happy to take selfie after selfie with fans. He tells us that he still covets an Oscar and what's always in the back of his mind is that so many people do their best work when they are younger, but he feels that for him his best work is ahead.
More from Seriously...
Jolyon Jenkins investigates whether meditation can do you more harm than good.

The band member recalls the anarchistic joy of a truly unique group.

The team of recovering addicts who made their mark on cinematic history.

David Aaronovitch on how an Eastern political tract became a Western icon.

David Bowie's interviews reveal his humour, passion and determination to succeed.

Did Nazi leader Hermann Goering have a brother who saved innocent lives from the Holocaust?

A selection of great female authors who have radically altered the genre.

Mat Fraser meets the former striptease stars back on the stage in their 70s and 80s.

The award-winning writer on porpoise dissections, stranded whales and beached dolphins.