Main content
Baba Ganoush
Top vegetarian chef Yotam Ottolenghi came on to Woman's Hour to show Jane Garvey how to create his version of the classic Baba Ganoush.
Baba Ganoush
Baba Ganoush is a Middle-Eastern speciality, made of burnt aubergine with garlic, lemon and pomegranate seeds, it's traditionally served as part of a mezze platter.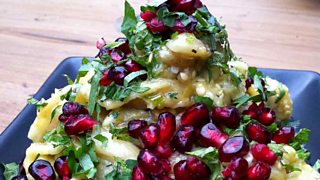 Full details of 'Jerusalem on a Plate'
Subscribe to our podcast to be kept up to date with all cookery items.
Tips and techniques
Alternatively cook the aubergines on the barbeque.
Drain the aubergine in a colander for as long as possible to get rid of the liquid. This will make the taste even more intense.
Be generous with herbs, the more the better!
Let the salad sit for a good half hour or even longer to let the flavours combine.
For variations add a dollop of yoghurt to the salad and throw in diced cucumber.
Ingredients
4 large aubergines (1.5kg before cooking; 550g after burning and draining the flesh)
2 garlic cloves, crushed
Grated zest of 1 lemon and 2 tbsp lemon juice
75ml olive oil
2 tbsp chopped parsley
2 tbsp chopped mint
Seeds of ½ a large pomegranate (80g net weight)
Salt and black pepper
Preparation method
Place the aubergines directly on two separate moderate flames on the stove and roast for 15-18 minutes. Use metal tongs to turn them around occasionally, until the skin is burnt and flaky and the flesh is soft. Allow to cool down slightly. Alternatively, score the aubergine with a knife in a few places and place under a hot grill for about an hour. Turn them around every 20 minutes or so and continue to cook even if they burst and break.
Peel the warm aubergines and use your hands to pull the soft flesh into long thin strips. Drain in a colander for an hour at least, preferably longer to get rid of as much water as possible.
Place the aubergine in a medium bowl and add the garlic, lemon zest and juice, olive oil, half a teaspoon of salt and a good grind of black pepper. Stir and allow the aubergine to marinate at room temperature for at least an hour.
When you are ready to serve, mix in most of the herbs and taste for seasoning. Pile high on a serving plate, scatter on the pomegranate seeds and garnish with the remaining herbs.
Browse previous recipes
Seeking to create perfect pumpkin soup, cracking curry or unbeatable bread and butter pudding?
More Food on the BBC
Browse our selection of recipes from top chefs, cooks and food writers who have joined us on Woman's Hour.