Main content
Dark Web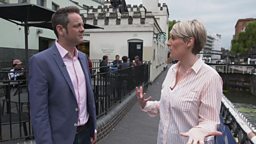 Watchdog Live reveals the most valuable details currently on sale on the dark web. Our investigation found that overall, financial information was the most valuable asset with bank accounts being bought at an average of £1025.99. PayPal logins (£84.48), debit card details (£45.92) and credit card details (£32.74) were also available to be purchased on the dark web.
The research was carried out by Simon Migliano, Head of Research from Top10VPN.com. Simon Migliano said Paypal has long been the scammer's favourite. High balance accounts can be siphoned off directly, however as PayPal accounts are also often connected to multiple cards and bank accounts, thieves may also have access to significantly greater funds. This functionality also means that PayPal accounts are also typically used as "middleman" accounts to facilitate all sorts of online scams.
Watchdog Live viewer Kayleigh was victim of fraud in April of this year. Kayleigh noticed that she'd received an email from PayPal notifying her of a transaction on her account, for nearly £150 from a shoe retailer, along with a second email, sent a minute later notifying her that her PayPal account had been closed. The email contained a link to click to notify PayPal in the event the account closure request had been made without consent, but on following this link, Kayleigh says nothing happened.
With PayPal's customer phone lines closed and access to her PayPal account now severed, Kayleigh says she was unable to get back into her account or stop the payment. The following morning she reported the transaction as fraudulent, but her claim was rejected by PayPal which argued she had authorised the payment, however Kayleigh says PayPal offered no proof of this. PayPal eventually agreed to refund the full amount. Kayleigh is concerned about this lack of security.
Paypal said: After carefully reviewing [Kayleigh's] case, we found that we could have done more to support her through this process. We apologise for the inconvenience this caused and we have issued a goodwill gesture to her PayPal account."
Please click the link below to learn how you can set up 2 factor authentication
https://www.paypal.com/uk/smarthelp/article/what-is-2-step-verification-faq4057
You can see the full report here - https://www.top10vpn.com/news/privacy/dark-web-market-price-index-2019-june-uk-update/