Main content
Shrouds of the Somme: Artist's memorial to war dead
30 June 2016
Artist ROB HEARD had the idea for his work The Shrouds of the Somme while recovering from a car accident. His urge to physicalize the scale of the losses - 19,240 people - on the first day of the Battle of the Somme in WWI led him to hand-craft an individually named, shrouded model for each of the dead. Here he explains the origins of the idea, the artistic process and the impact of the project.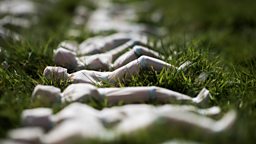 Where did the initial idea come from, and what inspired you to start on this journey?
The idea came when I was recovering from injuries sustained in a car crash. There was a lot of focus on the injured troops coming back from Afghanistan. I felt their horrendous injuries put mine into perspective.
The absolute key-point is the relationship between each one and a name - that is what turns plastic and cloth into something altogether different
From this I began to consider the numbers of men and that's when I realised that just saying a number was not enough... I had to physicalize it.
For some reason I focused on the 19,240 losses on the first day of the Somme. I have no real recollection of the moment I decided to create an individual figure for every man lost as I have no military connection and previously had no great interest in the conflict.
What process is involved in producing each figure and shroud?
I knew the process of creating the shrouded figures was going to be important. After a lot of trying to make metal, and then wooden, figures i realised the only medium that would bend and keep its shape was plastic.
It was vital that each figure, when placed in the shroud, would form and hold its own shape. That's why each one is slightly different.
For me to understand the reality of the number 19,240 i decided to do every process alone and by hand, measuring and cutting each shroud with a pair of scissors from a roll of cloth, cutting the ties that bind the figure and hand sewing each one with a needle and thread.
This was a decision that, 2000 in, i regretted as i found it extremely painful due to the injuries i was carrying. However, once started, i had to finish.
The absolute key-point to the process of making these figures is the relationship between each one and a name. And that is what turns plastic and cloth into something altogether different.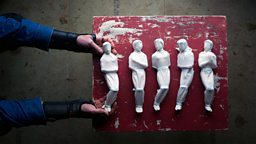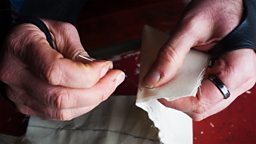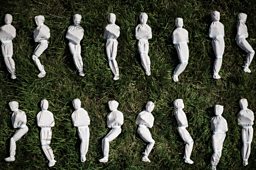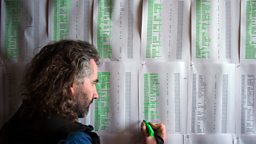 Rob Heard and the list of 19,240 names of the dead
What impact does producing the figures and crossing the name off have on you and those around you, over such a long time?
When starting this project I had no idea of the impact it would have on me and my family. To decide to surround yourself with 19,240 names of dead men, photographs of dead men and ultimately figures of dead men was something I was not quite prepared for... it has certainly taken a toll.
Surrounding yourself with 19,240 names of dead men, photographs, and ultimately figures, of dead men was something i was not quite prepared for...
But the support of my wife, three daughters, family and friends has been truly amazing. Having the first 500 shrouded bodies on your dining room table is not easy...
Ultimately though, it has been a humbling experience. How can I possibly say this has been hard when I have had the responsibility of the memories of these men, who mostly would have died in fear and agony? It really puts things in perspective.
What's your artistic background?
I have no official training in art. I have always taken the approach to just do it.
The date you've worked towards for nearly three years is fast approaching. What does that feel like and what does it mean for you?
The fact that we are nearly there is made easier by the knowledge that I have finished all 19,240 figures. Yesterday they were collected by soldiers of the 6th Rifles in Exeter so I know they are in safe hands. But the strangest feeling for me is that three years of work will culminate in a four-second whistle-blast at 7:30am on the 1st of July.
What is your ultimate aim for the project?
Initially when I started this I had no real thoughts of exhibitions or public display, but as momentum built it has proved to be a hugely emotive piece. One of the surprises for me is the way it has been used as an educational tool in schools, which has been awe-inspiring.
But as an artist I have put a bit of something into each one of those figures and when people see them all laid out they will feel that, times 19,240.
What are you planning for your next project?
I would like to return to making my Bough House sculptures, as I feel a lighter subject matter might do me some good! But there is another number which I have been drawn to, which is the 73,000 men whose bodies still lie on the battlefields to this day. Someone should bring them home.
An opening ceremony for The Shrouds of the Somme takes place at 07:15 on July 1, 2016 at Northernhay Gardens in Exeter. The exhibition is then open to the public from 07:30 – 21:00 each day until Thursday 7 July.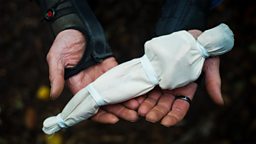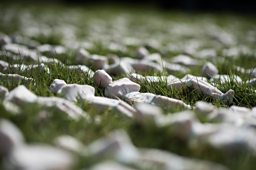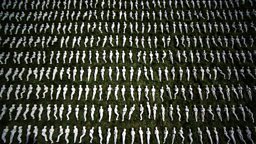 Battle of the Somme 100
Programmes commemorating and shining a light on the WWI battle, 100 years on
Arts highlights on BBC iPlayer
Watch 12 mesmerising performances from Dancing Nation, a sampler of UK dance in all its forms.

Chizzy Akudolu presents a new collection of dramatic short films.

The Oscar-nominated actress gives a singing masterclass.