Main content
The Somme Live Lesson
Remembering the Battle of the Somme 100 years on...
Join us for a very special Live Lesson in partnership with BBC Events, commemorating the sacrifice of those who lost their lives in one of the most significant battles in history.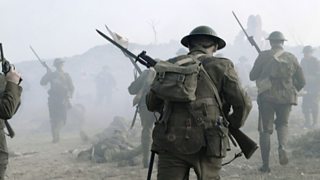 Fought between July and November 1916, the Battle of the Somme was one of the defining moments of the First World War. A hundred years on, we're exploring the story of this battle through the eyes and words of the poets who lived through the war, using their work to reflect upon the cost of conflict and to look towards peace.
The Live Lesson is hosted by Lucy Siegle from The One Show and Ben Shires from CBBC's Officially Amazing and MOTD Kickabout, and features performances by War Horse actor Lee Armstrong. We'll be revisiting the history of the battle and its impact on the Great War, as well as delving into the texts of Rupert Brooke, Wilfred Owen and Siegfried Sassoon to find out how their works helped tell the story of life on the front line.
Featuring live reports from Thiepval by historian and presenter Dan Snow and covering aspects of both the English and History curriculum, this Live Lesson is aimed at Key Stage 3/3rd Level students, but will be suitable for all secondary pupils.
Creating a poem live with classes across the UK
Students from secondary schools across the UK got the chance to contribute to a Somme-inspired poem written in real time, led by award-winning poet Paul Farley.
Throughout the lesson, Paul asked students to get involved with interactive activities and send their work in, culminating in a final poem written with contributions from students' work.
Find out more about the presenters and guests for our Live Lesson on The Battle of the Somme.
Get ready for the Live Lesson
More from the BBC on World War One
Find out more about learner guides and classroom resources on BBC Bitesize for World War One.

A collection of history content from across the BBC, ranging from Shakespeare and Florence Nightingale to Queen Elizabeth II.

School Report provides a resource for students who will be visiting battlefields as part of the World War One centenary events.