Main content
Shaolin Kung Fu... from space!
THE CHALLENGE
by Katie Parsons

Director
One of the most extraordinary things you can see from space is the impact that we, as humans, have on the Earth's surface.
From cities growing to forests shrinking; satellites give us brand new perspective on what we create, and destroy, across the planet.
But to see actual humans from space is a little trickier - we are just too tiny to see clearly on a satellite image. But when we come together in large numbers, we might just have a chance.
And so, the challenge was set – to see humans from space we would need to find a gathering of people on an enormous scale.
There are plenty of occasions where large numbers of humans get together – from festivals to protests - but this wasn't what we were looking for. We then came across something that might just do it.
A visual culmination of an ancient culture and modern-day phenomena that was unlike anything we had seen before. Thousands of children performing Shaolin Kung Fu in perfect unison.
Could we see this from space?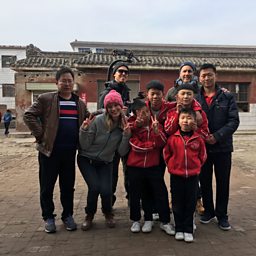 Film thousands of children performing Shaolin Kung Fu in perfect unison... from space.

The challenge
THE RECCE
A few weeks after discovering the potential story, I was on my way to a small town in China to find out more about this unusual event. I arrived after dark and checked into a local hotel.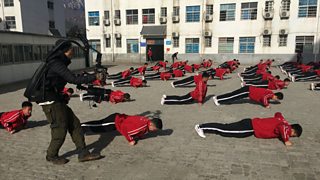 At 5am I woke to the sound of chanting - outside my window in the yard below, were hundreds of students practicing their early morning martial arts routine.
It was still early when we drove through the misty town, but everyone was already up. Lining the roadside, children were practicing similar moves, each group in a different colored tracksuit uniform.
But none of this would prepare me for where I was heading.
As I entered a set of tall white gates, I was met by a sea of red tracksuits – not hundreds, but thousands of children; from little tiny tots to teenager - all marching, back-flipping, whipping, sword fighting and practicing a plethora of other martial arts moves.
A whopping 35,000 pupils attend the school, with many only returning home once a year to see their families. Alongside normal lessons, they spend their days mastering the art of Shaolin Kung Fu.
I spent the next few days at the school - meeting students and watching them train with incredible discipline - a far cry from the solitary PE lesson once a week that I was familiar with.
Everyone here is training for one special event – where thousands of children come together and finally put what they have been learning into practice. Our goal was to film this unique performance from space.
It was here that I met Ching Yiu, a highly determined 13-year-old who wanted to take part in our filming. We now had our story on the ground - but whether we could see the performance from space was another matter.
After a series of meetings at the school, and a lot of Chinese tea drinking, we hatched a plan. I would come back in a few months with the crew and we would follow Ching Yiu's training, before filming the full performance, not just from the ground, but at the same time, from space!
A few months later, I was back on the plane with a dream-team crew.
We spent the next few days following Ching - from 5am in the morning until 5pm at night - watching as he trained with the rest of his class.
Kung Fu means 'hard training' and it certainly lived up to its name.
We soon got word from the satellite team the exact timing of the flyover for the following day – 10:30 am.
Unlike our usual method of filming, we couldn't change the timing or ask them to re-do the shot – we had one chance … and our entire story, and this whole trip, depended on a split-second photo taken from hundreds of miles above!
The entire performance would only last for 12 minutes - there was no room for error. This was starting to feel like a slightly mad idea!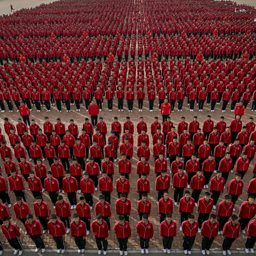 Photo credit - Freddie Claire
But none of this would prepare me for where I was heading.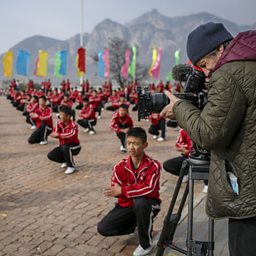 Photo credit - Katie Parsons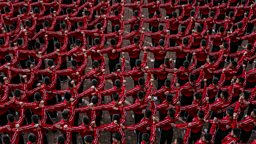 Photo credit - Freddie Claire
PERFORMANCE DAY
We arrived at the school and took our positions – five cameras and two drones ready to capture the action from all angles.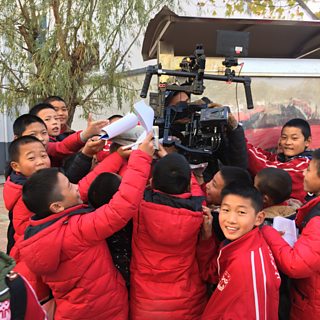 It was an overwhelming sight… breathtaking and unlike anything any of us had ever encountered before.
Andrew, the cameraman would follow Ching Yiu – and hopefully keep up with him as the performance played out. Simon, a second cameraman, would film from within the performance using a stabilized camera – risky business running into a mass of trained Shaolin Kung Fu students!
Three additional cameras would capture wide views of the scene, whilst Freddie would record the sound of the children's chants.
The drone team were our eyes in the sky… but they weren't the only ones. High above the earth's surface, the satellite was moving into position.
I was fitted with a headset so that I could continuously communicate with the crew and our fixer, way up on the high viewing platform. He would then translate to the lead trainer, who would give commands to the children.
The skies had to be clear and the children had to be in perfect position as the satellite captured the shot. With no satellite image – there would be no story. Everything now rested on one single moment.
Groups of students began to march into the main arena, arriving in their hundreds, until the entire area was filled with children, all practicing their individual parts of the performance. After a brief instruction from the lead trainer, the children quickly fell into position. You could hear a pin drop.
The pressure was on.
It's not often as a director that you call 'Action!' to thousands of people who not only react immediately but do so with military precision - what a brilliantly bizarre experience!
The children moved in unison, so precisely, that the entire scene looked like an optical illusion. It was an overwhelming sight… breathtaking and unlike anything any of us had ever encountered before.
This was a far cry from the usual annual Christmas school performance we have at home.
Humans are sometimes rather brilliant.

Whoah!
It is genuinely hard to find the words to describe the scene - to see this many humans moving as one, was just jaw-dropping – so much so that the crew each individually had to take a moment to take it all in.
Then half way through, as 10:30 am arrived, I thought about our satellite, whizzing past high above, (hopefully) capturing this mind-boggling event, in the middle of China.
Whoah! Humans are sometimes rather brilliant.
Ching Yiu nailed his performance and we filmed some really beautiful footage. But we would have to wait until we got home to see if we got the image from space.
Fingers crossed!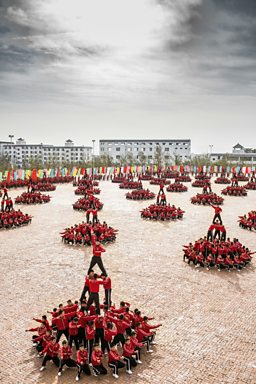 Photo credit - Freddie Claire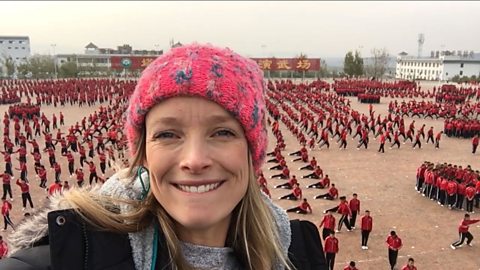 Katie Parsons directing thousands of students performing Kung Fu in perfect unison.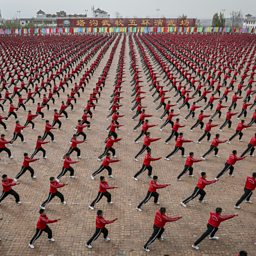 Photo credit - Freddie Claire
A Shaolin Kung FU time-lapse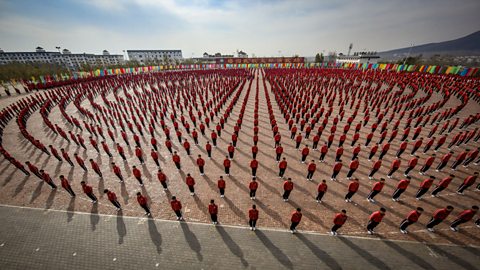 What better way to visualise the perfect unison of Kung Fu, than with a time-lapse.