Main content
The Royal Academy Summer Exhibition sees double for the first time
10 June 2016
Every year the Royal Academy holds its Summer Exhibition - the oldest open-submission art show in the world. This year, alongside artwork from unknown artists to established names, the exhibition will feature art from famous duos. Selected by this year's co-ordinator, the sculptor Richard Wilson, the likes of siblings Jake and Dinos Chapman, Gilbert and George, Jane and Louise Wilson and Pierre et Gilles, will be represented. WILLIAM COOK takes a tour and finds out why two artistic heads are, maybe, better than one.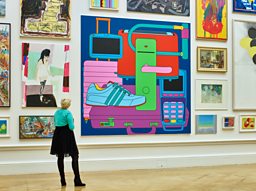 The Royal Academy Summer Exhibition, famed for its open submission policy. Photo: Stephen White.
Behind closed doors at Burlington House, one of London's most beautiful Georgian buildings, British sculptor Richard Wilson is putting the finishing touches to the biggest exhibition of the year. There are people up cranes and ladders, winching paintings into position. The floor is strewn with artworks. It's like being backstage on the first night of a West End show.
Richard Wilson is renowned for his spectacular outdoor sculptures, but this summer, instead of creating bizarre objects which make people stop and stare (a ship sawn in half; a bus on the roof of a gallery; a building with a revolving wall), he's curating the Royal Academy's Summer Exhibition.
We want to show exactly what is happening now in the art world

Richard Wilson, RA
The Summer Exhibition has been the Royal Academy's annual highlight since 1769, but its incredible longevity isn't the most remarkable thing about it.
From Joshua Reynolds to David Hockney, Britain's greatest artists have contributed to this ensemble exhibition, but the show's true stars are the unknown artists (ranging from gifted amateurs to jobbing journeymen) whose works are selected from thousands of entries every year.
'It's always full of surprises, but being a part of it – being part of the selection process - has been an eye-opener,' says Richard, as he walks me round these galleries, where his colleagues are hard at work, arranging all the pictures, like a gigantic jigsaw puzzle on the walls. 'It's not a solo show – it's a group show, and it's put together by a group of people.' So who gets to choose what goes on show here? And how does the whole thing work?
This year the Royal Academy accepted 12,000 entries online. Out of these, 4,000 were brought here, to be assessed by a Hanging Committee made up of Royal Academicians (drawn from the ranks of Britain's best artists, elected by their artistic peers).
From these, about a thousand were selected, to be hung alongside the works of Royal Academicians. Each room in the exhibition is arranged by a different member of the Hanging Committee.
As this year's co-ordinator, it's Richard's job to oversee the entire show. 'We want to show exactly what is happening now in the art world,' he says.
As well as showing open submissions and work by Royal Academicians, the Royal Academy also invites a number of other artists to take part in their Summer Exhibition.
This year, to shake things up a bit, all the artists he's invited are duos
As the co-ordinator, it's up to Richard who to invite. This year, to shake things up a bit, all the artists he's invited are duos.
Twenty two duos are taking part, including Jane & Louise Wilson, Jake & Dinos Chapman, and Gilbert and George.
The Wilsons' haunting photos of Chernobyl dominate the stairwell. In the gallery beyond, one of the Chapmans' spooky sculptures stands guard among the portraits and landscapes on the walls.
One reason Richard was so keen to showcase duos is that the Royal Academy only allows individuals to become Royal Academicians.
'Perhaps I can make a statement here,' he thought. And he has. As his selection demonstrates, many of today's leading artists work in tandem, rather than on their own. Surely the time has come for the Royal Academy to change their (rather antiquated) rules?
As a sculptor, Richard works alone, but sculpture is supremely practical and eventually teamwork becomes essential. His huge artwork at Heathrow Airport's new Terminal 2, called Slipstream, is a particularly good example.
'Seventy seven tonnes, 78 metres long, three and a half years to build, 82 people in the team!'
Though the creative process isn't collaborative, he inevitably ends up asking engineers for advice. 'I no longer employ people in my studio – I like that to be a very private thing. But as soon as I've got something that needs making, I bring someone in.'
Richard Wilson was born in 1953 in London. His father and grandfather were both artists. 'I think it's in the genes,' he says.
Even as a small child, he always enjoyed making things. 'I was inventing all the time.' He started training as a graphic designer (there were fewer openings for fine artists back then) but he missed working with his hands, so he became a sculptor instead.
He made his name in 1987, with a mind-boggling sculpture called 20:50. I saw it at the Saatchi Gallery. It was one of the most thrilling artworks I've ever seen.
I'm breaking the rules, challenging the rules, doing the unexpected

Richard Wilson
You walked along a metal gangway through a pool of oil, which cast such a perfect reflection that the room seemed completely empty.
Only when a ripple broke the surface did you realise you were submerged. 'I'm breaking the rules, challenging the rules, doing the unexpected,' he explains.
His subsequent creations include Turning The Place Over, made for the Liverpool Biennale. Here, he cut a massive disc out of the side of a redundant office block and rigged it up so that it rotated, not only round and round, but also inside out.
'If you take a derelict, forlorn, rundown building and you spin the façade, you stop people in the street because they look at it, because it's doing what it shouldn't do. But what you've also done is you've made people look at the ugly, the written-off, the abandoned, the forgotten.'
Richard's sculptures work on many levels, but the best thing about them is their childlike sense of fun. Hang On A Minute Lads, I've Got A Great Idea was inspired by the finale of that classic British film, The Italian Job, in which a busload of stolen bullion ends up hanging over a cliff edge. Richard mounted a life sized replica of that bus on the roof of the De La Warr Pavilion in Bexhill on Sea, about to topple over, just like the closing scene in the movie. Familiar yet incongruous, it was both populist and avant-garde.
So what are his future plans? Well, you can see models of two works he'd like to make right here in this exhibition.
One is an elaborate block of masonry, an entire building crushed into a compact cube. The other is a ship's wheelhouse that turns in circles, like colossal fairground ride. Neither of these works has been commissioned yet - they're still looking for a patron. That's the beauty of this show - it really is egalitarian. Richard may be the man in charge but he's still a working artist, just like all the other artists in this exhibition - bringing his art to market, touting for trade.
Before we say goodbye, I ask him about his father, and his eyes light up as he remembers his dad's studio, in his boyhood home.
'I used to like going in there because rules got broken – there was paint all over the carpet,' he recalls.
'That room was freedom - it should have had Freedom written on the door. My dad was in there, dreaming and making.' Sadly, most of us forsake our dreams as we grow older. Through his extraordinary sculptures, Richard Wilson RA keeps his childhood dreams alive.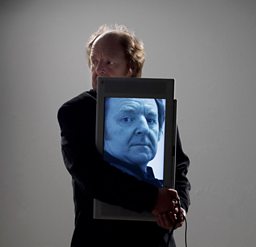 Richard Wilson, RA. Photo by Harry Borden.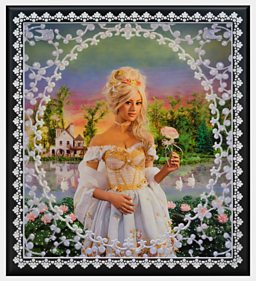 Marie Antoinette, le hameau de la reine, 2014. © Pierre et Gilles.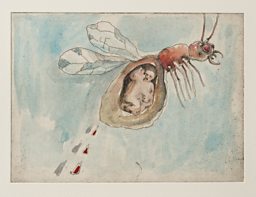 Human Rainbow II, 2014. © Jake and Dinos Chapman.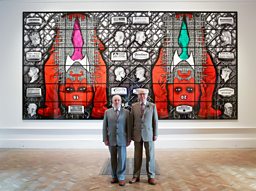 Gilbert and George at the RA. Photo: Stephen White.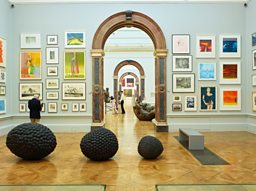 The Royal Academy Summer Exhibition features work submitted by unknown artists sitting alongside big hitters of the art world. Photo: Stephen White.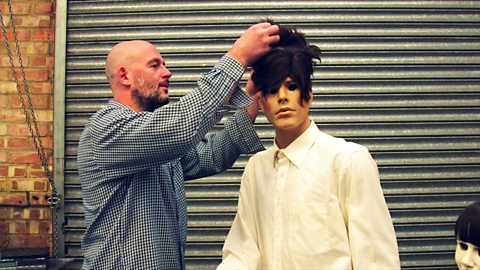 Jake Chapman talks about working as a duo and the forthcoming RA Summer Exhibition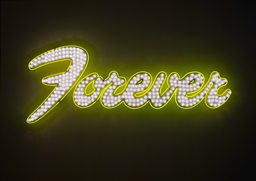 Forever (yellow), 2015. © Tim Noble & Sue Webster. Photography: Peter Mallet.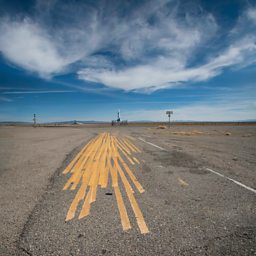 Tonopah NV, 2015. © Boyd & Evans, courtesy of Flowers Gallery London and New York.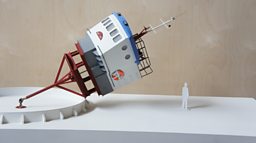 Wheelhouse, maquette proposal, 2016. © Richard Wilson.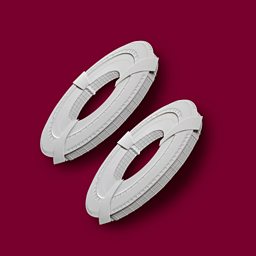 GC-HQ, 2016. © Langlands & Bell.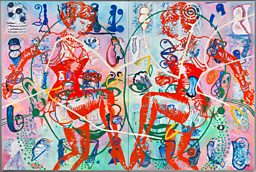 Transformer-Performer Double-Act VIII, 2015, (c) EVA & ADELE. Photo: Nicole Gnesa Gallery.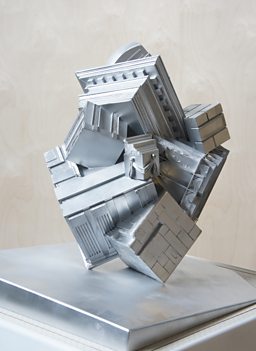 City Block, maquette proposal, 2016. © Richard Wilson.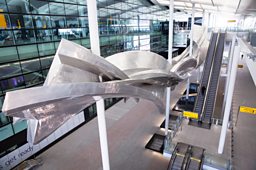 Richard Wilson's Slipstream at Heathrow. Photo by Oli Scarff/Getty Images.