Main content
Join the Audience
Trump's America: A Nation Divided?
Friday 13 October, 2017
17:00 – 18:00 ET
Charleston, South Carolina, USA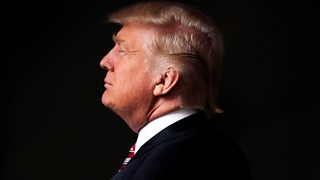 The BBC's Zeinab Badawi brought together a high profile panel of political and public figures from South Carolina and beyond to answer your questions about where America stands today.
On the panel were:
Marsha Blackburn Republican Congressman for Tennessee
Mark Burns Executive Board Member, President Trump's Faith Advisory Panel
Jaime Harrison Associate Chairman, Democratic National Committee
Dr Bernice A King CEO, The King Center
Frank Luntz Political Strategist
Donald Trump's presidency has been one of the most controversial in modern times.
He has polarised opinion on a range of issues with promises to cut taxes, create jobs, repeal Obamacare and build a wall with Mexico.
He has pulled out of the Paris climate change accord and taken on the North Korean leadership. All this on top of claims of chaos in the White House.
President Trump has - for better or worse - been shaking things up in Washington.
You told us what you thought of Trump's America, one year since his election to the most powerful position in the world.
This important and topical town hall discussion was recorded for broadcast on BBC World TV, radio and online reaching millions of viewers in North America and around the world.