Main content
5 reasons Angélique Kidjo is shining bright on your cultural radar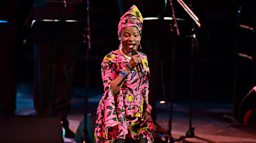 Angélique Kidjo is an African music icon. The Beninese native's career has seen her work with everyone from Bono and Peter Gabriel to Alicia Keys and John Legend, picking up three Grammy Awards in the process for music that stretches genre boundaries, spanning jazz, Afropop and even salsa.
To mark Kidjo's Proms debut, here are five things you need to know about the star.
1. She's the "Queen of African music"
Kidjo has been described as "the undisputed queen of African music", as well as "Africa's greatest living diva", and was picked to sing at the opening ceremony of the FIFA World Cup in South Africa in 2010, which marked the first time that the football tournament was held on the continent. Just to get a sense of just how much of a torchbearer the musician is – in 2015 she topped Forbes Afrique's list of the 100 most influential women.
Africa is on the rise. Africa is positive. Africa is joyful.

Angélique Kidjo during her Grammy Awards acceptance speech
But as much as Africa has taken her music to its heart, Kidjo gives back to the continent where she was raised too. She's a UNICEF Goodwill Ambassador and has over the years campaigned for causes like greater women's rights in Africa, better access to education and sustainable development.
She's a great champion of African music too. "Africa is on the rise. Africa is positive. Africa is joyful," Kidjo told the crowd when accepting her Grammy Award for Best World Music Album in 2016, adding that she wanted "to dedicate this Grammy to all the traditional musicians in Africa, in my country, [and] to all the young generation." She told BBC News at the time: "I have to continue working... to open the way for many artists from Africa to come."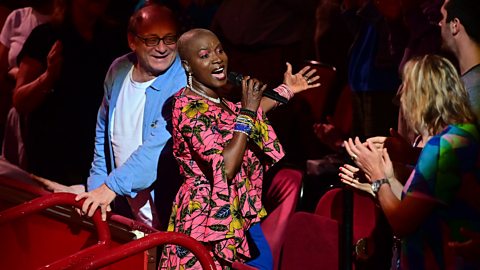 Grammy Award-winning icon performs Afirika during her debut Late Night Prom.
2. Kidjo left her homeland to escape censorship
Kidjo was born in Benin in 1960, growing up in the coastal city of Ouidah. Her childhood was a very musical one, with her 2010 album Õÿö a homage to the songs that soundtracked her upbringing, featuring covers of African classics as well as songs by Western artists like Curtis Mayfield, James Brown, Otis Redding and Aretha Franklin. She owes a lot of her early influences to the tastes of her father, telling The Guardian in 2010: "I took it for granted, thinking every kid in Africa grew up listening to James Brown and Otis Redding. Actually, we heard them because my father was open-minded."
Every artist was summoned to write propaganda. I refused.

Angélique Kidjo on leaving Benin
Finding early success in her homeland as a teen with her own take on the music of South African musical icon Miriam Makeba, Kidjo would come to a crossroads in 1983 when she saw the Marxist government of the People's Republic of Benin begin to infringe upon her artistic career. "The dictatorship in Benin was very difficult for me as a free artist," Kidjo later recalled. "Music from all around the world stopped coming in the middle of the '70s. They said no more music from the outside, so the radio and TV became propaganda. Every artist was summoned to write propaganda. I refused."
After being banned from touring, Kidjo decided to flee to Paris to continue her musical pursuits. She explains: "I was only allowed to leave because the customs officer at the airport was a fan of my music. For the next six years I couldn't speak to my parents because their phone was tapped. It was hell."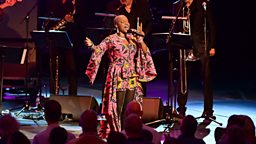 3. David Byrne is a famous fan
One of Kidjo's earliest champions in the West was Talking Heads' art-pop pioneer David Byrne. He remembers first hearing Angélique's music: "I loved it. [She was] bringing electronics to African music and African beats and I had never heard it done that way. The grooves didn't sound like electronic grooves, it was real African grooves... I thought, 'Wow, this is taking this to another level. This is taking this music and making it very contemporary and I loved that and I thought I can learn from that'."
I thought, 'Wow, this is taking this to another level... I can learn from that

David Byrne on first hearing Angélique Kidjo
Kidjo sensed the African influence in Byrne's own music too, recalling how upon first hearing Talking Heads' seminal hit Once in a Lifetime during a college party in the 80s, she remarked to friends: "It might be rock n roll, but there's something African to it," later elaborating: "I'm a very rhythmic person. Music is part of my heartbeat and every part of my body. This had an African touch to it."
Fast-forward to 2016 and Kidjo found herself revisiting Remain in Light, the classic Talking Heads album that birthed Once in a Lifetime, which she had never actually listened to before, apart from its lead single. Finding its themes of political turmoil and disarray poignant for these changing times, she decided to cover the album in full, releasing her full record adaptation in 2018. Angélique infused African language lyrics into Byrne's songs, saying: "I tried to keep the spirit of it, yet bring it back to Africa."
"What I've learned from David is his ability to not be afraid of any challenge as an artist," Kidjo says of Byrne. "For an artist, when you start getting afraid, when you start telling yourself, 'Oh no, I can't do that,' then it's not the right business for you, because every time it's a challenge. He's always doing something new."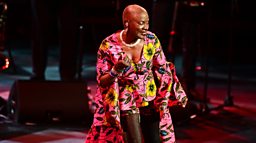 4. She's worked with everyone from Bono to Alicia Keys
The respect that Kidjo enjoys from musicians across the world is shown through the sheer breadth and variety in the list of global stars that she's collaborated with over the years. Kidjo's 1996 album Fifa saw her work with Carlos Santana, while she teamed up with the Latin American guitar master again on 2007's Djin Djin, an album that also featured singers Josh Groban, Alicia Keys and Joss Stone as well as luminaries like Peter Gabriel and Ziggy Marley.
Will I collaborate with someone famous if it means doing a song I don't like? Hell, no!

Angélique Kidjo
Since then, Kidjo has worked with everyone from Bono to Philip Glass. She's also about to head on tour with US band Vampire Weekend, whose own music has been heavily influenced by African-originated sounds and whose frontman Ezra Koenig featured on Kidjo's Remain In Light covers album.
It's not simply a matter of Kidjo chasing big names to work with though, as she points out: "Will I collaborate with someone famous if it means doing a song I don't like? Hell, no! That has not made my life easy. But that's the way it is, and that is the way I am."
5. Now she has embraced salsa
Kidjo's discography has certainly been diverse to date – and she says: "My whole career has been dictated by the songs I love." Her latest album is no different, seeing the artist take an unexpected detour to salsa while, of course, giving it an African twist. Celia, released in April 2019, is named after Cuba's "Queen of Salsa", the late Celia Cruz, whose career stretched from the 1950s to her death in 2003.
This woman has done so much for us. The world cannot forget her.

Angélique Kidjo on "Queen of Salsa" Celia Cruz
"As an African girl, when I first heard Celia Cruz sing Quimbara, it just struck a chord," Kidjo says. "Everybody knows that salsa is a very male-dominated business. And in that business with a very male mentality, a female artist is hard to find. So here comes Celia, and she just settled it. She said, 'Well, if you guys can do it so can I.'"
Kidjo also notes how she was inspired by Cruz's strong identity as an Afro-Cuban woman, and the struggles she faced: "She never shied away from who she was and that is one of the things I admire about her. The thing is, people call you all kinds of names, when you have to suffer from racism, if you are not going to have a bitter life, you have to find a sense of humour in that. Her answer to all of that was 'azucar.' Azucar, which means sugar – azucar was the word that she used to invite people to celebrate life."
"This woman has done so much for us. The world cannot forget her; I can't allow that to happen. I wanted new generations to understand how she impacted the artists of today."
More on the 2019 Proms...