Main content
10 songs that inspired Lewis Capaldi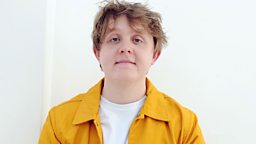 Lewis Capaldi is one of 2019's hottest new pop stars - he's had the year's biggest selling single so far with 'Someone You Loved', the fastest selling album of the year with his debut LP 'Divinely Uninspired to a Hellish Extent', and was runner-up for the 2019 BRITs Critics Choice prize.
From Paolo Nutini and Kings of Leon to Sia and Shania Twain, he reveals the music that means the most to him in Radio 2's Tracks of My Years with Ken Bruce.
Tracks of My Years sees famous stars choose ten pieces of music that's influenced them. You can hear a new episode on BBC Sounds every Friday morning, or listen to the latest guests throughout the week to Radio 2's Ken Bruce, 9:30-midday.
Below we take a look at Lewis Capaldi's Tracks of My Years and how they've shaped his life and career.
Paolo Nutini - Coming Up Easy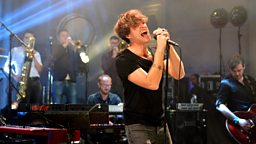 Why Lewis loves this track: "This was my first foray into my own taste of music. The first album had passed me by, as my brother was into Slipknot and stuff like that, so I was also into those bands. But I remember hearing this on the radio, which I found very strange because it had that kind of old school vibe, which I loved. And there's the bit at the end that just builds and builds. I thought that is exactly the kind of stuff that I would love to do.
"At the time I had that kind of youthful arrogance of I'm not listening to anything that's in the charts and on the radio, cos I'm cool man. But, really I was just a loser! It was a case of me being 'I can't believe this song's on the radio and in the charts'. I was full on into it, and it's probably why I wanted to start singing the songs.
"It was kind of cool that it was someone from down the road. He's in Paisley and I was born in Glasgow, and brought up in West Lothian. Capaldi's an Italian name, but Paolo Nutini's a cooler Italian name because he got the first name too. He also got the Italian genes and I've got my mother's looks - she's a youthful lady, but she's very pale just like me, I look like a happy ghost! I remember being 'that's so cool its a Scottish guy who's doing this'."
Kings of Leon - WALLS
Why Lewis loves this track: "Kings of Leon were another act I got into way late. Even when Sex On Fire and Use Somebody were these massive songs on the radio they kind of passed me by. Maybe I was more focused on the Paolo Nutini side of things, but everyone always said you need to listen to Kings of Leon.
"Then I was OK, I'll do it, I'll concede and everyone tells you that the earlier stuff was the best. And I did go back and start listening from start to finish. There was a ten week period where I spent two weeks on each album and then they brought out the WALLS album [in 2016]. This is obviously the title track, and the one that really just stood out to me. I loved the fact it was so stripped back and acoustic. With Kings of Leon, one of the things I love is Caleb Followill's voice. He's got this amazing raspy voice that feels like it could tear and go away at any minute."
Shania Twain - You're Still The One (album version)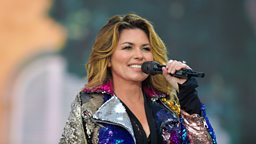 Why Lewis loves this track: "I think it's one of the greatest songs ever written and especially the non-edited version, where she does this weird kind of whisper in the intro - 'when I first saw you, I felt love.' It was very sultry, and made me feel a bit uncomfortable as I think I first heard it when I was with my mother in the car.
"But then you get into the song and it just blows you away. Her voice is incredible. Obviously you have Man, I Feel Like A Women and That Don't Impress Me Much but this one I just think is brilliant. No matter where you are, you're just into it, I just love it, I think she's incredible."
Bob Dylan - Like a Rolling Stone
Why Lewis loves this track: "The first album I ever bought with my own money was a Bob Dylan compilation album. I think the name of the album was just Dylan, and it was a red cover, with just 'Dylan' in black writing across the front. I bought it not knowing who Bob Dylan was, but thinking I'm gonna be so cool. I must have been ten, I was already buying it to seek approval of people a lot older than me.
"It led me to being massively into Bob Dylan and this song in particlular. I just remember hearing it and thinking 'here we go, this is something special.' Ever since then I've just been so obsessed with Bob Dylan."
The Beatles - Lucy In The Sky With Diamonds
Why Lewis loves this track: "Lucy In The Sky With Diamonds is the first ever Beatles song I heard. I had that kind of feeling of just like, 'What is this. I've never heard anything like this before, it's incredible.' Immediately from there, I had to find out more about this band and go find everything they've ever done. I really like the weirder stuff towards the second half of their career. I think stuff like this is when they're at their best. It's just amazing to see the arc of it all."
Florence + The Machine - What Kind Of Man
Why Lewis loves this track: "I've been a massive Florence + The Machine fan for so long. I remember when the album, How Big, How Blue, How Beautiful, came out, and this was the first single. It starts off all floaty and it's all very lovely stuff, she sounds amazing, I'm into this, I'm chilled, then there's this massive guitar riff that comes in.
"When people come back with new albums you wonder what the vibe is going to be this time, and you don't know what to expect, especially nowadays when people change their sound up so much from album to album. I remember just hearing this, and as soon as I heard the riff from that one song, I knew instantly that I was going to love the entire album. There was something so instant about it."
Oasis - Stop Crying Your Heart Out
Why Lewis loves this track: "Oasis for me, that's when the idea of universal song-writing, in terms of writing something everyone can relate to really came to be a part of my life. Hearing these songs that were written when I was a child, but being able to relate to them."
Sia - Elastic Heart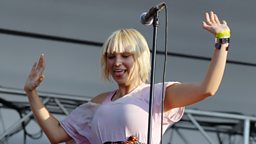 Why Lewis loves this track: "Her voice has the same kind of appeal to me as Caleb Followill of Kings of Leon has. She has this quality where it always feels like she's on the edge of going completely. There's something in that which is so exciting to listen to. She's obviously a very talented singer. There's an excitement immediately before you even hear the song, there's just an edge. I just love her voice. I don't think anyone can sing a Sia song better than Sia does.
"And she's written so many massive tunes, and I look up to her in that regard, the way she's managed to consistently write amazing songs over the course of at least the last six years."
Joe Cocker - With A Little Help From My Friends
Why Lewis loves this track: "This performance of this song was something I saw when I was going through my phase of being so into The Beatles. It was on a programme called The Beatles at the BBC, and I thought it was going to be Beatles performances, but it was actually people covering The Beatles over the years, and this was one of the things that came up. It just sounded so good, and I remember seeing it and going 'that's how I want to sing, that's how I'd love to sound'.
"At the time I didn't sing with that much rasp myself, then at the ages of 14,15,16, I sounded horrible because I was trying to put this rasp into my voice that just wasn't there. We got some rasp in the end, but I think I've probably done some irreparable damage to my throat! All courtesy of Mr. Joe Cocker."
Queen - We Are The Champions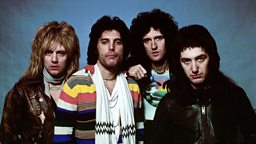 Why Lewis loves this track: "This particular Queen song is the first song I ever sang on stage. I was four years old, and I was in France on holiday with my parents. We used to drive from Glasgow, and stay in caravan parks. My mum used to love Queen, Fleetwood Mac, Elvis Presley; My dad was Genesis. I just remember them being a constant on these drives. The Proclaimers were also a big feature.
"One year, I had this Queen CD that I'd got free in a paper. It was two songs, We Will Rock You and We Are The Champions. I remember just constantly playing these two songs over and over again. There was a cabaret karaoke thing, and the guy said if anyone wants to come up and sing, feel free to. And me being four and not realising the gravitas of the situation, I was like 'cool, let's give this a bash!' So I went up and sang We Are The Champions first and loved it. I immediately wanted to go back up and do another one. I went and sang We Will Rock You as well.
"That was a very crucial moment in getting the bug for being on stage live. Even now playing live is my favourite thing. Everything else is a means to doing that. I learned how to play guitar so I could my songs live. I started writing songs because I thought if you're going to play live you're going to need to write songs.
"And I've been massively into Queen ever since."
Watch highlights of Lewis Capaldi's chat with Ken Bruce