Main content
NSSA New Partners Announced

BBC Radio has announced Cambridge University and First Story as its two new partners for the BBC National Short Story Award, the BBC Young Writers' Award and the BBC Student Critics' Award, in a three-year collaboration starting in 2018.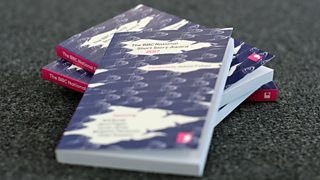 These short story awards already serve to highlight the BBC's commitment to the short story form and to bringing it to a wider audience.
The University of Cambridge will support all three of the awards.
The charity First Story will support the BBC Young Writers' Award and the Student Critics' Award.
These two new partners replace BookTrust who have been the valued partner on both awards, working with BBC since 2006.
This new partnership heralds an expanded programme of activity around the awards. A short story symposium will be hosted by the new University of Cambridge Centre for Creative Writing, at the Institute of Continuing Education's Madingley Hall campus.
The symposium is aimed at new writers and anyone interested in short stories and creative writing, comprised of writing workshops and author talks, with guests including friends of the awards.
Cambridge will host the 2018 prizegiving, with a special short story edition of Front Row broadcast live from the University Library, and the Cambridge School of Arts and Humanities will host First Story's Young Writers' Festival for 600 young people in 2018.
Entrants to the Young Writers' Award will have the opportunity to write their own short stories inspired by a treasure trove of literary artefacts, as the Cambridge University Library opens up its digital archives for writing prompts. Through the Student Critics' Award selected 16–18 year olds around the UK will read, listen to, discuss and critique the five stories shortlisted for the NSSA and have their say.
They will have access to discussion guides and teaching resources created with BBC Learning, and in-school events with writers, judges, First Story networks, and staff and students from the Faculty of English at the University of Cambridge.
The prizes for both the BBC National Short Story Award and the BBC Young Writers' Award remain the same. The five writers shortlisted for the BBC NSSA will all be celebrated individually on Radio 4: as in previous years, the stories will be read on BBC Radio 4 and the authors will be interviewed on Front Row, followed by a live edition of the programme where the winner is announced.
For the Young Writers' Award, the shortlist will have their stories published on the BBC Radio 1 website and the winning story will be broadcast on Radio 1. The awards will open for entry in December 2017.