Main content
Five remarkable works of art made out of pollution
The pollution that circulates the air and water of the globe is changing the world we live in. It's infiltrating our daily lives – from the food we eat, to the air we breathe. Yet in the hands of some artists, smog, landfill and sewage have become beautiful, witty and challenging statements.
In Art of Now: Filth, Emma Critchley meets the artists who are finding original and compelling ways to help us understand the crisis of pollution. From costumes which glow red in response to carbon, to mountainous piles of stinking cigarette butts, they take us beyond facts and figures and force us to face up to the contamination we are inflicting on the planet.
In the hands of artists, smog, landfill and sewage become beautiful, witty and challenging statements. Emma Critchley meets the artists making us face up to the crisis of filth.
Kasia Molga's carbon capes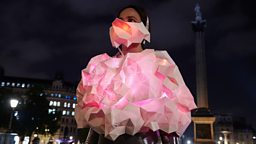 Kasia Molga, Human Sensor LDN, 2018 at Under Her Eye. Photo: Angela Dennis, courtesy of Invisible Dust
Kasia is an artist working with design, technology and science. For her project "Human Sensor," she has made futuristic-looking capes from recycled laser-cut acrylic, which change colour as the wearer inhales and exhales, and react to air pollution. "When there is more black carbon in the air, it becomes more and more red," explains Kasia.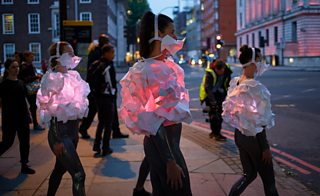 Kasia Molga, Human Sensor LDN, 2018 at Under Her Eye. Photo: Angela Dennis, courtesy of Invisible Dust
The project was inspired by her own bodily condition – asthma. One hot summer she was hospitalised by a dramatic asthma attack. She realised she could sense pollutants much faster than a healthy person – her breathing was a sensor for whatever was happening in the air. So, as wearable devices like fitness trackers took off, she asked: rather than using them to monitor our bodies, why don't we explore the connection between us and the environment?
Kasia's costumes are worn by dancers who promenade through busy urban streets. Like creatures of the deep, their glowing colours rhythmically pulsate with each breath, as they perform a choreographed dance. Despite wanting to highlight pollutants, Kasia also wanted to create something beautiful. There is enough "doomsday news," says the artist. "We need things that give us hope."
John Sabraw's toxic sludge paintings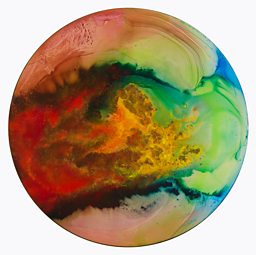 Chroma S4 Chimaera, painting by John Sabraw. 48x48 inches ©2018 Art Boy Inc., All rights Reserved. Photo by John Sabraw
In the rivers of Ohio, polluted by the old coal-mining industry, artist and professor John Sabraw is collecting toxic sludge. He's realised he can use this "big, orange, sludgy, sulphur-smelling pollution running through creeks killing everything" to make pigment for his paintings.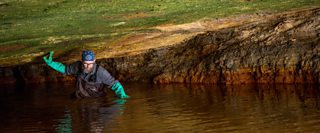 John Sabraw deep in Acid Mine Drainage in Bat Gate cave, Sulfur Springs Hollow, Ohio ©2018 Ohio University, All rights Reserved. Photo by Ben Siegel.
By washing the sludge with reverse osmosis water, he can pull out and dry a beautiful, powdered iron-oxide (which artists have been using since the earliest cave paintings). He mixes it with acrylics or watercolours and then uses his bespoke pigments to create a series of circular paintings, exploring the fragility of our relationship with nature.
But for John, the main point of the project is cleaning up the waterways. He intercepts the pollution before it has a chance to get to the stream, performs his process and then returns the clean water. It just so happens that he ends up with vibrant paintings, which help to highlight the issue and further the conversation.
Zack Denfeld and Catherine Kramer's pollution puddings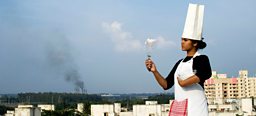 Image courtesy of The Centre for Genomic Gastronomy
Zack and Catherine are based in Bergen, Norway, but they gather air pollution from around the world by standing in the streets, whipping up egg whites, and baking the polluted air into meringues. They then serve them up as their "Smog Tasting Project".
People are actually putting their bodies on the line... That's what is really exciting.

Zack Denfeld on the Smog Tasting Project
They got the idea when in Bangalore. "Every day I would come home and blow my nose, and the colours of the rainbow would come out," says Zach. They then learned from a cookery book how whipping eggs "harvested" the air. What emerged was the concept of using meringues to capture air quality.
When they serve up their pollution puddings, people question whether they want to opt in and eat or not. "People are actually putting their bodies on the line," says Zach. "That's what is really exciting."
The artists are using taste to make air quality something more tangible. "People can say Beijing makes their throat burn, or Mexico City tastes sulphurous... We don't need more data or more sensors", says Zach, "we need to find a way to use our bodies, and food and flavour and joy and passion to enact change."
Ilana Boltvinik and Rodrigo Viñas's cigarette butts
Photo: Regina Deluise
In Mexico City, Ilana and Rodrigo (the collective known as TRES) have worked with rubbish for a decade. They have spent months on Australian beaches, crawling through marine plastic in 40-degree heat; they've sold Mexican waste in the streets of Copenhagen; and they've cordoned off an area of pavement, donned workers uniforms and told pedestrians they're "restoring" all the fossilised chewing gum in order to spark debate.

Photo: Regina Deluise
But perhaps their most provocative artwork is "Huella Latente." They collected 300,000 cigarette butts from the streets of Mexico City, numbered 40,000 of them, and put them up on the walls as if they were butterflies in a science museum. The remainder were placed around the room, on the floor and on tables.
The piece was born after smoking was banned in private and public buildings and the streets of Mexico City piled up with butts. They may be small but they are difficult to sweep, get embedded in cracks in the pavement and enter the drainage system. With so many in one place the element of pollution was impossible to ignore. One of the most powerful things about the art installation was the smell – the piece seemed to almost enter the body. "The smell was so terrible that it came out from the museum to the streets," says Rodrigo.
Nut Brother's polluted bottled water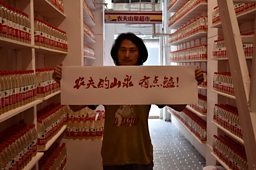 Photo: Brother Long 龙弟兄
Chinese performance artist Nut Brother has walked the streets of Beijing for 100 days, sucking filthy air into a vacuum cleaner, and has recently courted controversy by turning his attention to water pollution.
In the Shaanxi province, drilling for gas has polluted the water supplies in the local villages with iron and manganese. To highlight the issue, the artist bought 10,000 bottles of China's best-known bottled water, and swapped the contents with the polluted water. Then he stuck the profile pictures of the people who supported the project on social media on the labels. He managed to transport the water bottles to Beijing and exhibit them for over a week before the spring water company complained about a copyright violation and most of the bottles were confiscated. The project garnered media attention and instigated some positive changes, including new wells for the effected villages. "We used art as a medium to spread the word," says Nut Brother.
Now, art and activism are inseparable for him. Rather than focusing on abstract art, he believes that using an art platform to tackle problems in the real world is what art is all about: "It's more interesting if you take the whole society as your art stage."
More from Seriously...
Emma Critchley meets the artists making us face up to the crisis of filth.

John Doran explores the radical music being made in the margins of Britain.

Featuring salamanders that can regrow limbs, cyborgs, and pigeon whistles.