Main content
Quinoa & Cannellini Bean Soup
Vegan food writer and blogger, Áine Carlin's new book 'Cook Share Eat Vegan' provides helpful tips and encouragement for anyone interested in eating a plant based diet.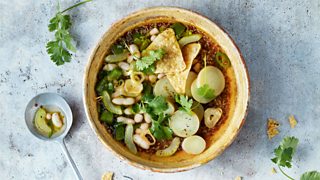 QUINOA & CANNELLINI BEAN SOUP

S E RV E S 4
The inspiration for this dish came via the internet, specifically a travel diary of sorts on YouTube. The video followed a fabulously hippy vegan's exploits in Peru. In a snippet of no more than 5 seconds in length, she was served a bowl of soup in a magnificently ramshackle establishment of the kind that you just know serves the best food. All I could think was that I'd be willing to fly halfway around the world to sample that exact bowl of plant-based awesomeness, but then reality kicked in and I realized I'd have to make do with creating my own. I watched that same 'blink and you'll miss it' shot on repeat, until I was satisfied I'd got the gist of the dish. Of course, I can't be sure about the seasonings used, but by golly if this is not the most comforting bowl of goodness ever to pass my lips. And in deference to the place that inspired it and the hippy who led me to it, I vow to make that voyage to Peru one day.
1 tablespoon rapeseed oil
1 large spring onion, chopped
1 celery stick, chopped
1 green pepper, cored, deseeded and diced
1 small green chilli, minced
3 garlic cloves, finely sliced
small bunch of fresh coriander, leaves stripped and stalks minced
300g salad potatoes, cut into 1cm rounds
100g quinoa (any colour), rinsed
1 litre water
1 vegetable stock cube
230g canned cannellini beans, rinsed and drained
sea salt flakes and black pepper
50g lightly salted tortilla chips, to garnish
1. Heat the rapeseed oil in a heavy-based saucepan over a medium heat. Add the spring onion, celery and pepper, season and sweat for 2–3 minutes until starting to soften.
2. Add the chilli, garlic and coriander stalks to the pan and sauté gently until aromatic, about 2–3 minutes. Add the potato and quinoa to the pan and stir to combine, then pour over the measured water and stock cube and stir to dissolve. Bring to a gentle simmer, cover with a lid and cook for around 30 minutes, or until the potato and quinoa are completely cooked.
3. Add the cannellini beans to the pan, season and cook for a further 5–10 minutes, or until the beans are warmed through. Divide the soup among heated bowls and garnish with the coriander leaves and a few lightly salted tortilla chips.
Cook Share Eat Vegan by Áine Carlin, published by Mitchell Beazley
Photos ©Danielle Wood
More Food on the BBC
Browse our selection of recipes from top chefs, cooks and food writers who have joined us on Woman's Hour...

Download this interview, or subscribe to the Cook the Perfect...downloads