Main content
Volunteering for dementia
Fast Answers
Why volunteer for dementia?
Whether you are a person living with dementia, know someone who is, or just want to help a good cause, you can make a difference.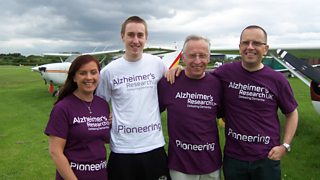 Fred Walker and family - see Fred's story below
Dementia affects 850,000 people in the UK. Through volunteering you can help researchers find treatments and hunt for a cure, or by offering support improve the lives of people with dementia now.
Who's it good for?
There's such a range of ways to get involved that whether you are outgoing or shy; sporty or arty; looking for the rewards of an ongoing relationship or just want to help at a one off event; there should be an opportunity to suit you.
Where you can you do it?
Depending on the sort of volunteering you opt for the possibilities are (almost) endless. You can help from home; in charity offices; in care homes and day centres; pounding the streets in your running shoes; on day trips to garden centres, tea rooms, sports matches… sky high (see Fred's story below). There's even a mobile phone game you can play to generate dementia research data wherever you are.
What does it involve?
There's a whole range of ways you can help including campaigning; fundraising; promoting awareness; supporting with logistics; reviewing health information; or befriending someone with dementia. If you have a skill like art or music you could offer it to a day centre or care home. And whether you are living with dementia or not there are research studies you can take part in.
Who does it help?
You can help people currently living with dementia, and provide a little support and respite to those who care for them as well. Or, by building awareness and furthering research, there are ways to help all those people who may develop dementia in the future too.
Commitment Level?
It's up to you. It can be as little as two minutes playing a mobile game, or you can develop long-term relationships.
Getting Started
If you are interested in helping with dementia research then Join Dementia Research links interested volunteers (whether they are living with dementia or not) to studies in their area. The projects range from healthy over 60s completing online thinking tests, to sending a swab of saliva to provide DNA for dementia studies, to having brain scans. There is no obligation and once you register you can decide on a case-by-case basis.
If you'd like to raise awareness then you can become a Dementia Friend, learning more about the condition and the small ways you can help. The scheme aims to enable you to be part of a transformation in the way the nation thinks, acts and talks about the condition.
All the major Alzheimer's and dementia charities offer a wide range of volunteering opportunities too – explore their volunteering pages to find one that suits you.
Alzheimer's Research UK
Alzheimer's Society
Alzheimer Scotland
Dementia UK
Young Dementia UK
For local opportunities you can also search the major volunteering aggregators like Do-It, Volunteer Scotland, Volunteering Wales and Volunteer Now (Northern Ireland) using their advanced search options.
And if you are between 6 and 25, girl or boy, you could join the Scouts and get involved in their A Million Hands project, specifically working with older people with dementia.
Be Inspired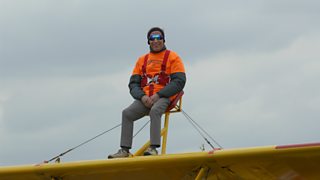 Fred Walker, Alzheimer's Research UK volunteer
After I nursed my wife through her experience of dementia I wanted to help researchers develop treatments and even find a cure. First up, at 73, I did a sponsored climb of Snowdon. Then, at 74, I thought I'm not fit enough for a marathon – what's spectacular but not energetic? And decided to do a sponsored skydive from 14,000 ft. In the end I roped in my son, daughter and grandson too. Now I've just done a sponsored wing walk over Yorkshire at 78! And apart from the fundraising I do talks and presentations about dementia to anyone who will have me – from WI groups to universities. It sounds odd but Alzheimer's disease is my hobby – I read up about the latest research and neurology, speak to scientists, meet new people… it keeps me on the ball mentally and physically. I simply really enjoy it. Fred Walker, Alzheimer's Research UK volunteer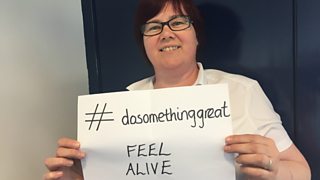 Jill Jenkison, Alzheimer Scotland volunteer
Most weekends I spend a couple of hours with an older woman, Elsie, who is living with dementia. The first time we met I was terrified – would we get on? Would I be able to cope? But we connected immediately over a shared love of scones and gardens. Since then, in the two hours we spend together, I get all the good stuff – we go on trips; visit the cinema; feed the ducks at the local pond, where I hear Elsie's stories of skating on the frozen ice as a child… I genuinely enjoy spending time with her and for me the rewards are priceless – the smile of recognition, the shared stories, the history lessons, and knowing that whatever time you give you are making a difference, not just to Elsie, but to the family that cares for her too. Jill Jenkison, Alzheimer Scotland volunteer (Elsie's name has been changed.)
Further Resources: Unlocking Memories
If you are interested in befriending someone living with dementia, but are concerned about where to start with them or what you might talk about, then you might find two online BBC resources useful.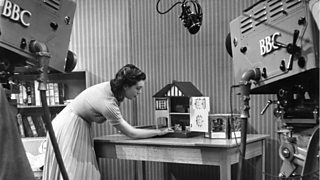 BBC RemArc is the BBC Reminiscence Archive, currently being piloted. This archive of BBC video clips, audio clips and images provides access to a selection of content from the BBC Archives, designed to support reminiscence work with people living with dementia, their carers and families.
The principle of reminiscence therapy is to assist people who have dementia to interact and converse in a natural way by stimulating their long-term memory with material from the past. It is often the case that long-term memory can still function when the person's working (short-term) memory is degraded. Tapping into long-term memory can make it possible once again for them to enjoy interacting with others, through their stories.
RemArc invites the user to browse through various items until something triggers a reminiscence.
Your Memories is another digital pilot project that offers a more personalised service. Input a few biographical details and Your Memories creates a slideshow of photos, music and BBC programme clips that are evocative of a person's life story, particularly their childhood and early adult life, when people with dementia often retain the most vivid memories.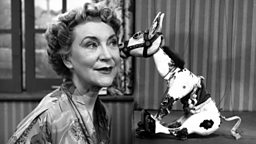 Muffin the Mule with Annette Mills
Further Resources - BBC Dementia Hub
Where Next?
Try our on-line quiz to get personalised volunteering suggestions.

See our full list of volunteering guides for more ideas about how you can get involved.

Are you inspired to volunteer? Or maybe you volunteer already? Motivate others with your volunteering exploits and photos - email us on dosomethinggreat@bbc.co.uk or tweet using #DoSomethingGreat and you may appear on our website!