Main content
How Glyndebourne changed opera forever
By Tom Churchill | 12 May 2014
Glyndebourne revolutionised the opera world when the festival began in 1934 – thanks to a trio of exiles from Nazi Germany.
Founders John Christie and his wife Audrey Mildmay brought musical director Fritz Busch, artistic director Carl Ebert and general manager Rudolf Bing to their Sussex country house, where Christie had built a theatre in the grounds.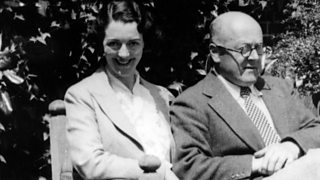 Audrey Mildmay and John Christie
Together they produced the first season of Mozart operas – and the inaugural performances of Le nozze di Figaro and Così fan tutte set a new standard for professional performance in Britain.
BBC Music Magazine editor Oliver Condy says: "Before Ebert and Busch got their hands on the country opera house, Mozart's operas were minority interests in the UK, Don Giovanni and Le nozze di Figaro aside.
"But they were both determined, and their bold programming of Così fan tutte cemented Glyndebourne's reputation with their canny choice of singers and ample rehearsal time that lavished care and attention on every bar of Mozart's masterpiece."
Innovative stagings
Glyndebourne archivist Julia Aries explains: "It was intended from the very beginning that Glyndebourne would become the home of international opera in this country.
They wanted to bring the standard of performance they had been enjoying in Europe into England

Julia Aries
"What they wanted to do was bring the standard of performance that they had been enjoying in Europe into England, which at that time had very little opera – and what there was was extremely poor.
"It was nothing like what we understand opera to be today. There was no producer, and it was normal for singers to simply arrive with their favourite piece of costume, stand on the stage and sing. There might have been a stage manager, but that's as far as it went."
The new approach – featuring intense rehearsals and meticulous attention to detail – had been honed in 1920s Germany, where all three new arrivals had held prominent positions before the Nazis took hold.
Busch, who trained as a conductor at the Cologne Conservatory, was director of music at the prestigious Dresden State Opera from 1922, where he became famous for his innovative stagings of works by Mozart and Richard Strauss.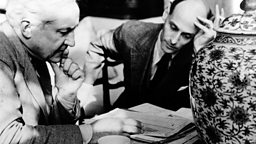 Carl Ebert and Rudolf Bing
Modernising and refining
But as an outspoken critic of the Nazi regime, he was removed from his post shortly after Hitler came to power in 1933, and worked for a brief spell in South America before Christie brought him to England.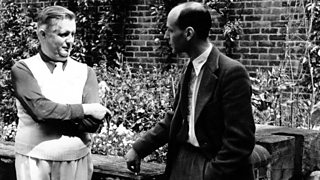 Fritz Busch and Rudolf Bing
On being appointed Glyndebourne's first music director, he recruited his friend Ebert – with whom he had collaborated in Berlin and Buenos Aires – as artistic director.
A former actor turned opera director, Ebert spent several years modernising and refining the presentation of opera before being appointed to run the Städtische Oper in Berlin in 1933.
When the Nazi Party came to power later that year, Hermann Göring offered him control of all the opera houses in the German capital, but Ebert refused and fled to Switzerland before joining Busch in Argentina and then following him to Sussex.
Bing, likewise, had been managing opera houses in Berlin before moving to England with his wife, the Russian ballerina Nina Schelemskaya-Schlesnaya, in 1934, and became Glyndebourne's General Manager two years later.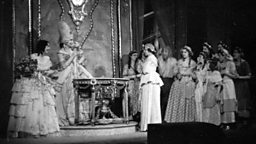 Le nozze di Figaro at Glyndebourne in 1934
Instant success
With the new arrivals free to concentrate exclusively on the music and presentation, and Christie handling all financial matters and providing purpose-built facilities, Glyndebourne was able to cultivate a level of professionalism never before seen in Britain.
John Christie had the foresight to give his golden pair an unusual amount of artistic freedom

Oliver Condy
Oliver says: "John Christie had the foresight to give his golden pair an unusual amount of artistic freedom – and paid them handsomely – and it was a gamble that paid off.
"If Salzburg had been the centre of the operatic universe before 1934, there was no doubt that Ebert and Busch's powerful collaboration drew sceptical European eyes westwards towards Lewes."
The first Mozart productions were an instant success with audience and critics alike, cementing Glyndebourne's reputation and paving the way for 80 years of world-class opera.
Julia says: "What happened with that first performance was an overwhelming public response. Nobody quite believed what was happening here in the heart of Sussex.
"There was a quality of performance and production that had never been seen in this country before, and it absolutely established Glyndebourne on the operatic map."
Oliver adds: "John Christie may have lost money on Così, but he won the respect he was after – and Glyndebourne still has a reputation for its Mozart productions, 80 years after their smash-hit openers."
More on Glyndebourne
Archivist Julia Aries reveals the most treasured item in the opera house's vaults - a dress worn in the inaugural production of Figaro in 1934.

Photo gallery and tributes to Sir George Christie, chairman of Glyndebourne from 1958-99, who died on 7 May 2014.