Main content
Radio 2's All Star Party 2018
Radio 2's Saturday night line-up of Trevor Nelson, Craig Charles and Ana Matronic are coming together for a second All Star Party - live from the iconic Bridlington Spa, on Saturday 29 September.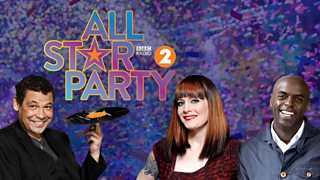 Craig Charles, Ana Matronic and Trevor Nelson
Celebrating the best of specialist music on Radio 2's Saturday night schedule, there will be DJ sets from Radio 2 favourites as well as live music from great soul, RnB, disco and dance acts.
Trevor Nelson, Craig Charles and Ana Matronic will all be broadcasting their live shows from the Art Deco ballroom of the seaside venue. They'll be joined for a spectacular night of live music by chart topping stars and soul legends:
Clean Bandit
Incognito
Kid Creole and the Coconuts
Lemar
Rozalla
The Fantasy Funk Band (featuring Gabrielle, Jaki Graham and John Turrell)
What's On
8-10pm: Trevor Nelson's Rhythm Nation
Trevor will deliver his unique mix of soul and R&B in front of a live audience of and will introduce his personal selection for the All Star party – Incognito. The British acid jazz band have had 17 studio albums, collaborated with the likes of Stevie Wonder, Chaka Khan, Jools Holland and Paul Weller, and have been one of the most enduring jazz acts of the past four decades.
Trevor says: "I can't wait to kick off the second Radio 2 All Star Party. It's always a blast taking my show on the road and I love DJing live. It'll be fun having the whole Saturday night crew hitting Bridlington and I'm excited to introduce my pick for the party – the legends that are Incognito!"
10pm – midnight: Craig Charles' House Party
Craig will be picking up the reins with his ultimate Saturday night party playlist at 10pm, with a performance from The Fantasy Funk Band featuring British soul legends Gabrielle and Jaki Graham. Gabrielle released her debut single, Dreams, 25 years ago and is set to release her fifth studio album this summer. Jaki Graham is one of Britain's most versatile female vocalists, with a string of hits dating back to the 1980s including Round and Around, and Set me Free.
Craig Charles says: "It's a pleasure to be partying at the legendary Bridlington Spa, playing the best music and performing with some of my favourite musicians. This is not an evening to be missed!"
Also performing live during the programme will be Kid Creole & Coconuts. The American group incorporate a mix of disco, Latin American and Caribbean influences and have released 14 studio albums, including Tropical Gangsters which went platinum in the UK.
BRIT and MOBO award-winning Lemar will also be performing on the evening. With five studio albums and seven top-ten singles to his name, Lemar is one of the most defining contemporary soul singers in the UK.
Midnight – 2am: Ana Matronic's Disco Devotion
Following a hit-filled performance from Clean Bandit, join Ana Matronic for her exclusive Disco Devotion after-party with house, disco and other floor fillers.
Clean Bandit shot to fame with their 2014 hit single, Rather Be featuring Jess Glynne. Since then, the band have worked with a host of musicians including Sean Paul, Anne Marie, Zara Larsson and Demi Lovato.
Ana says: "Clean Bandit are one of the coolest acts around right now, so it's a delight to be following them to bring one of the best parties of the year to a close. I'll be playing some of my all-time favourite dance and disco tunes and I can't wait to be by the beach!"
Rozalla, best known for her 90s club classic Everybody's Free (To Feel Good), will also be performing during Ana's show.
You'll be able to catch-up on all programmes for 30 days after broadcast.