Main content
Seven Ages of Woman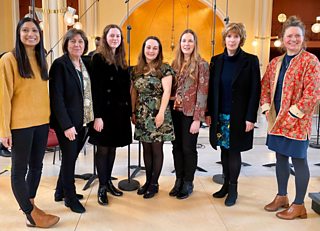 To mark International Women's Day 2020, BBC Radio 3 has commissioned seven very different composers to write a movement each of an a cappella choral work entitled Seven Ages of Woman. Each composer represents her own decade, from Helena Paish in her teens, to Rhian Samuel who gracefully brings the piece to its culmination.
Each composer brings her unique perspective to their choice of text – ranging from the beloved poetry of Charlotte Brontë, to francophile Heather Dohollau's poetry, who was born in Wales but moved to France and died only seven years ago; from Deirdre Gribbin's son's striking poem about mortality in the form of an elephant graveyard, to Emily Hall's choice of Russian poet Marina Tsvetaeva's poem celebrating the unending life-force that flows through her veins.
Each woman gives their individual take on where they are in their lives - right now as a woman in 2020 - and the resulting piece of music as a whole will take listeners on a journey through time of mind, body and soul. You can meet the composers here.
Click on the image to hear the world première recording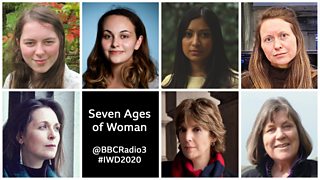 1. Helena Paish: Life
2. Electra Perivolaris: Eternal Waking
3. Samantha Fernando: Have It All
4. Emily Hall: Veins
5. Deirdre Gribbin: Grieving Elephants
6. Cecilia McDowall: Photo 51
7. Rhian Samuel: The Shape of Trees
Are you interested in performing this piece with your choir? It can be performed as a whole, or as individual movements. Get in touch with lizzie.ibrahim@bbc.co.uk
1. Helena Paish (b. 2002)
Text: Life by Charlotte Bronte – it's all about how sad times often lead to good times in life and that we should enjoy every moment.
Gifted 17-year-old chorister and composer Helena Paish has written the first movement of the Seven Ages of Woman commission. Helena won the BBC Young Choristers of the Year Competition 2014 at the age of 12 and won the BBC Proms Inspire competition for young composers in 2019. Her winning choral composition, Twilight, was performed in August 2019 at the BBC Singers' Proms concert. Helena is a chorister at Truro Cathedral.
2. Electra Perivolaris (b.1996)
Text: Heather Dohollau née Lloyd (1925-2013). Born in Wales but wrote poetry in French. Poem: For Ilaria del Caretto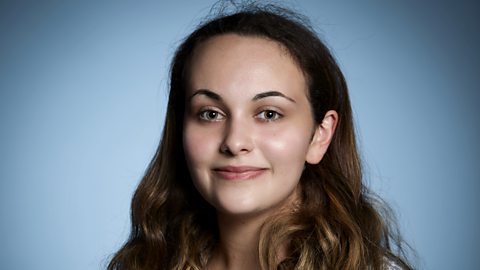 Electra explains her unusual choice of librettist and discusses her use of a soloist.
Scottish composer and pianist Electra Perivolaris has been described as a "one of a new generation of female trailblazers" by BBC Radio 3's Verity Sharp as well as a "Classical Star of the Future". A scholar of the Royal Conservatoire of Scotland, Electra graduated with first class honours and is an Associate Member of the London Symphony Orchestra's Soundhub scheme for young composers and is Ambassador for the BBC Proms Inspire young composer's scheme. Her music, which sets physical and emotional landscapes at its core, has been performed by BBC Singers, Hebrides Ensemble, DeCoda Ensemble and the Red Note Ensemble.
3. Samantha Fernando (b. 1984)
Text by the composer – to convey the many things a working mother juggles on a daily basis in the form of a list.
How Samantha reflects the juggling involved in being a creative and a mother in the music
Berkshire-born composer Samantha Fernando's music is filled with harmonic colour and meditative qualities. The 2013 RPS Composition Prize winning composer has written for the Philharmonia Orchestra and has worked with ensembles such as the Riot Ensemble, the choir of Selwyn College Cambridge as well as the LOD Munziektheater (Ghent), the Silbersee Vocal Ensemble (Amsterdam) and the London Sinfonietta. Having studied at the Royal Academy of Music and the University of Oxford, Samantha has a doctorate in composition and she is currently a lecturer in composition at the Royal Holloway (University of London).
4. Emily Hall (b.1978)
Text: Marina Tsvetaeva (1892-1941): I've cut open my veins, irrevocably... (tr. Emily Hall). 'Simple task of setting the table, domesticity mixed in with the life force that she sends out into the world. It's the mix of passion, creativity, domesticity, everydayness of life, written at my age, blood, vitality, life force, connected with my phase of life, bringing up children and writing.'
Intertwining the use of technology and live performance, much of Emily Hall's work leans on her close creative relationships with singers to help her compositions come to life. Emily studied composition at York University and the Royal College of Music (London), and her work has been performed by ensembles and orchestras including the London Sinfonietta, LSO, BBC National Orchestra of Wales, the Brodsky Quartet, Opera North, LCO and the Hungarian Radio Choir. Her first opera, "Sante" was described by The Times as a "dynamic new opera worth everyone's time and hopes". Emily has been the recipient of the Paul Hamlyn Foundation Award for Artists (2013), the Genesis Opera Prize (2006), the Corinthia "Artist in Residence" (2015) as well as the Royal Philharmonic Society Composition Award (2005).
5. Deirdre Gribbin (b.1967)
Text: Ethan Stein (b 2006): Grieving Elephants. "The theme of the 2020 International Women's Day is 'Each for Equal'. I am a mother of a 13-year-old boy who has Down's Syndrome. He struggles with everyday speech but has an incredible gift for writing poetry. In light of the above theme and my connection as mother to his unique and remarkable view of the world I have set one of his poems."
They walked into death
And damp ground.
They walked crying with their trunks,
Catching bones
Carrying.
Death to death.
The little cub standing in the legs
Of his father.
They were silent
Then crying in the dust.
Where was I?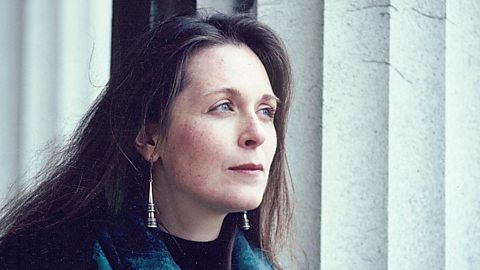 Deirdre and her son Ethan, the librettist, explain their inspiration to Fiona Talkington.
Belfast-born composer Deirdre Gribbin won the Huddersfield Festival Prize as a student. A graduate of Queen's, Belfast and Guildhall School of Music, London she was also the Chester Schirmer Fulbright Fellow and Visiting Fellow in Creative Arts at Trinity College Cambridge. She has written extensively for orchestra, including 'Empire States', which won a UNSECO International Rostrum of Composers Award. Her first opera, "Hey Persephone!", an Aldeburgh Festival commission, won the Arts Foundation Opera Award. Her music has been performed by the BBC Symphony , RTE and Danish Radio Orchestras and the Philharmonia and has been featured at Focus Festival at Lincoln Center, New York. She has written for BBC Radio Drama, including music for "The Possessed" starting Benedict Cumberbatch. Deirdre pursues on going collaboration with geneticists at the Sanger Institute, Cambridge. Her string quartet Hearing Your Genes Evolve, based on DNA, was featured at The Berlinale Film Festival. She is the recipient of the PRS Woman in Music Award for her piece "Reflected Glory". Her violin concerto "Venus Blazing" lent its name to a year-long festival highlighting female composers hosted by Trinity Laban Conservatoire of Music and Dance. She is a lecturer in composition there. Deirdre was awarded a prestigious Major Individual Arts Award from Arts Council of Northern Ireland in 2019.
6. Cecilia McDowall (b.1951)
Text: Seán Street. "It is about Rosalind Franklin. She gave her first lecture on the subject which became the double helix/discovery of DNA, in 1951, the year in which I was born. The iconic x-ray was called Photo 51 I have commissioned a poet I've worked with Seán before (on Standing as I do before God); he has taken Franklin's words and created a kind of poetic double helix.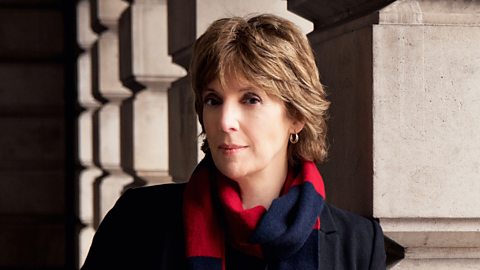 How writer Seán Street made Rosalind Franklin's DNA lecture into a poetic double helix.
London-born composer Cecilia McDowall has long been recognised as a gifted composer. Cecilia studied at Edinburgh and London Universities and was a prize-winning student at Trinity College of Music. Since then, she has received many accolades, including being short-listed eight times for the British Composer Awards as well as winning in 2014 for her composition "Night Flight" in the choral category. Cecilia has also been honoured as a Fellow of the Royal School of Church Music for her outstanding contributions to church music. Cecilia is currently the Composer-in-Residence at Dulwich College, and her distinctive style resonates with many, and her most distinctive compositions fuse fluent melodic lines with occasional dissonant harmonies and rhythmic exuberance.
7. Rhian Samuel (b.1944)
Text: Anne Stevenson (b.1933): From The Sun Appears in November – Shape of trees
"Anne is a poet with whom I've worked many, many times, and I have her permission to use this. I'm fortunate that I already had my eye on it before the project came along, and am so happy that it contains an appropriate metaphor: in the autumn, when leaves have fallen from trees, you can see their shape, and to what species they belong, so much more clearly..."
Welsh-born and Welsh-speaking Rhian Samuel has published more than 120 compositions over the course of her career, spanning chamber, vocal, choral and orchestral music, which has been performed all across the world. She has been awarded the first prize at the Greenwich Festival (1979) as well as the joiner winner of the ASCAP-Rudolph Nissim Award (1983). She has taught composition at Magdalen College, Oxford, the University of Reading, and the St. Louis Conservatory. Rhian is currently the Emeritus Professor at University London.
BBC Radio 3's new commission for International Women's Day is performed by the BBC Singers, conducted by Grace Rossiter. Photo: Miroslav Lucan