Main content
If you were given free money to spend – what would you buy?
If you were given free money to spend in the free world for the first time in your life, what would you buy?
That's the question most East Germans found themselves answering suddenly and unexpectedly following the fall of the Berlin Wall on 9 November, 1989 as they flooded euphorically west to celebrate new-found freedom, reunite with friends and family, and better yet, collected a handout of 100 Deutschmarks each from the West German government (approximately £90 in today's money).
Journalist Malcolm Jack tells a little-known story from the fall of the Berlin Wall.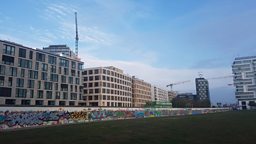 The Berlin Wall at the East Side Gallery
Begrüßungsgeld or "welcome money" was a long-standing policy intended to put a little something into the hands of the few East Germans who managed to depart the GDR prior to the fall of the Wall, typically with little to their names. As millions suddenly crossed over en masse, an unprecedented multi-billion Deutschmark spending spree was unleashed throughout the final weeks of 1989. Citizens of the communist east, accustomed to shortages, austerity and limited choice were abruptly launched into the capitalist west in all of its glittering consumerist, materialist glory, clutching the first true spending money most of them had ever had.
Thirty years after the fall of the Berlin Wall, BBC Radio 4's Welcome Money meets a variety of former "Ossis", as East Germans were known, to ask them about the sometimes surprising ways in which they spent this unexpected windfall from the west, and to find out what these purchases and indeed the money itself meant in the grand scheme of their lives, on the long journey from division through reunification to the Germany of today. Here's a taster of four of their stories…
1. Tasso
Today Jens Müller AKA Tasso is a graffiti artist who travels the world to exhibit and promote his work. Back then he was a young butcher, who drove up to West Berlin with friends from his hometown of Meerane, following the fall of the Wall.
His life changed with the purchase of his first ever Edding 850 marker pen from a Karstadt department store, using 10 Deutschmarks of his precious welcome money. He started out tagging walls in his local nightclub, before progressing on to creating large-scale street murals, and eventually began a full-time career as an internationally renowned artist.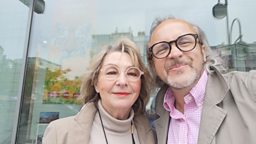 Street artist Jens Tasso Muller and muse and translator Karin.
2. Else Gabriel and Ulf Wrede
Else and Ulf were bohemian East German performance artists who spent the first nights and days in the west in a happy drunken haze – bankrolled by their welcome money which, like many who knew how to cheat the system, they claimed more than once.
What was left over after all the beer was consumed, they combined with other cash earned in the west, changed it into Ostmarks on the black market, smuggled the haul back into the GDR, and used it to pay off a loan on a grand piano, which Ulf still owns and plays to this day.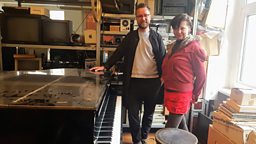 Performance artist and lecturer Else Gabriel with presenter Malcolm Jack in her Berlin studio
3. Grit Seymour
As a young catwalk model and clothes designer, Grit couldn't wait to escape the dreary and oppressive GDR – and not only because of its famously bad fashion.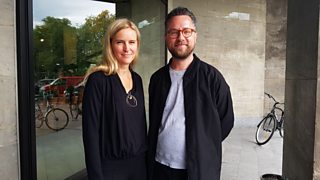 Model and designer Grit Seymour with presenter Malcolm Jack in Berlin.
To her surprise, her exit visa was approved suddenly one day in 1988, and she was given four hours notice to pack up and say her goodbyes. She arrived in West Berlin with next to nothing but the priceless feeling of freedom.
With her welcome money, she bought a copy of Vogue Italia – and a window into the glamorous world of western fashion. She was soon modelling for Gianni Versace in Milan.
4. Peter Keup
Thanks to his generous West German grandparents, Peter was no stranger to Deutschmarks as a teenager, which he would be sent as a gift now and again. He saved the cash up as precious tokens of an invisible world beyond the wall. When he tried to escape the GDR aged 19, he hid 80 DM in the seam of his jeans, but it was confiscated after he was caught and imprisoned by the Stasi. His grandparents helped arrange a ransom, and after 10 long months, some of it in solitary confinement, suddenly Peter found himself free in the West. Where, to his surprise, he was handed his welcome money. The first thing he bought? A bunch of colourful freesia flowers for his grandmother.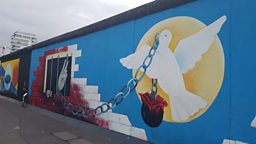 Berlin Wall at the East Side Gallery