Main content
Wagner's Ring Cycle: 15 hours of epic opera
BBC Arts and The Space presented Richard Wagner's monumental Ring cycle, in a radically stripped-back, critically acclaimed production by Opera North. Filmed during live performances in Leeds in 2016, the complete work was available to watch here and on BBC iPlayer from 12 February to 12 August 2017.
Part 1 - Das Rheingold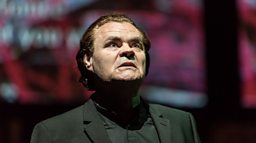 Set in a world populated by dwarfs and giants, gods and river-maidens, Das Rheingold establishes the cycle in thrilling fashion, beginning with music that evokes the very dawn of time.
The dwarf Alberich renounces love and steals the Rhinegold, a priceless treasure, from the river Rhine. He uses it to forge a magic ring which confers wealth and power on its owner, drawing the attention of Wotan, king of the gods.
In need of gold to pay for his new fortress, Valhalla, Wotan takes the ring from Alberich, setting in motion an epic conflict between love and power.
Part 2 - Die Walküre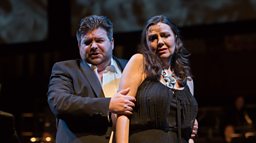 In Die Walküre, it is human emotion that takes centre stage, with musical highlights including Winterstürme and the Ride of the Valkyries.
Wotan, king of the gods, strives to undo the curse placed on the ring by the dwarf Alberich, by fathering a mortal hero to reclaim it.
But when his son Siegmund falls in love with his estranged twin sister, defying the laws of incest, Wotan sends his favourite daughter, the Valkyrie Brünnhilde, to ensure Siegmund's death. Yet her defiance will mean that Wotan has to say a final goodbye to her too.
Part 3 - Siegfried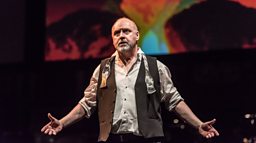 Wagner's unparalleled orchestral scene-painting reaches new heights as we meet the daring hero Siegfried, the grandson of Wotan, king of the gods.
Siegfried has been raised by the dwarf Mime in the forest, where he has never learned fear. When he learns of his parents' deaths, he forges an unbreakable sword from the shards of the weapon that belonged to his father Siegmund, kills the dragon, Fafner, and claims the magic ring.
Fearless and free, Siegfried braves the fire surrounding the sleeping Brünnhilde, now a mortal woman, whom he innocently awakens, only to discover an all-consuming, passionate love.
Part 4 - Götterdämmerung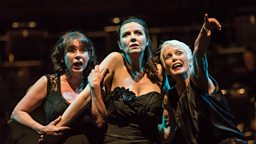 The musical and dramatic power of Götterdämmerung is awe-inspiring, as the epic cycle concludes with the end of the old world of the gods, and the dawn of a new era.
The hero Siegfried leaves Brünnhilde to journey down the Rhine, seeking new adventures. Arriving at the hall of the Gibichungs, Siegfried is tricked into Brünnhilde's betrayal, and killed by Hagan, son of the dwarf Alberich, who is plotting to gain control of the ring.
But a devastated Brünnhilde finds a way to return the ring to the Rhine, and, finally, to redeem its curse.