Main content
BBC Sussex Community Heroes Awards winners
The winners have been announced in this year's BBC Sussex Community Heroes Awards 2015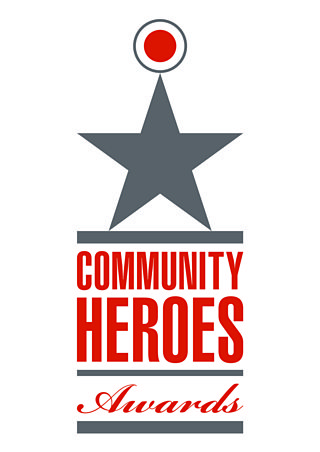 Unsung heroes from across the county were honoured last night at the annual BBC Sussex Community Heroes Awards for 2015 at the Gatwick Crowne Plaza Hotel.
The animal welfare category was won by Pauline Grant, founder of the Sussex Horse Rescue Trust in Uckfield. Now in her eighties, Pauline has been running the sanctuary for over 40 years, and has rescued thousands of horses, ponies and donkeys in need.
The 999 award went to Phil Maynard. Phil's skills made a life or death difference during a trip to Peru. The West Sussex Fire Station Manager was on his way back from a trip when his group came across a minibus that had crashed and rolled down from the country's highest road. Thanks to Phil's quick thinking, and despite the most basic of conditions, all of the casualties survived.
The overall winner in this year's new category of Green Champion was Carrie Cort from Billingshurst. Carrie works tirelessly to protect the environment for future generations. She encourages youngsters, through running after-school clubs, to grow their own produce. Carrie even set up a website, packed full of tips and information.
Also celebrating is Seaford Musical Theatre in the Music and Arts category. The organisation puts on regular performances and non-acting members volunteer front of house, backstage and as technicians. The group also maintains The Barn Theatre as a vibrant community venue.
Keith and Trixie Rodaway were named as Volunteers of the year. Their daughter Zem was born in 1964 with spina bifida and hydrocephalus. They set up the Heathfield-based charity Sasbah to help others in a similar situation. Over the past 50 years, they've been critical in the development and existence of this much loved charity, currently serving over 500 members and their families and carers.
The winner in the Young Achiever category was Tyler Murphy. Tyler was diagnosed with a brain tumour in 2010 and underwent numerous operations at Chichester Hospital. While undergoing radiotherapy, Tyler met other poorly children and decided to buy them gifts. From that, Tyler's Trust was born and now regularly provides gift boxes to other children with life threatening injuries.
At the end of the evening, a Special Recognition award went to the emergency services of West Sussex who assisted in the rescue operation following the Shoreham air disaster. The award was received by the Chief Constable of Sussex Police Giles York, the Operations Director of South East Coast Ambulance Service Paul Sutton, Assistant Chief Fire Officer Gavin Watts and Senior Coroner Penelope Schofield.
Some specially invited guests were in attendance to hand over the awards. They included the TV and radio presenters Nicholas Owen and David Hamilton, Louise Goldsmith, leader of West Sussex County Council and the High Sheriffs of East and West Sussex. There were also performances from the musician Michael Armstrong, plus Shoreham Chamber Choir and Sussex Chorale.
Mark Carter, BBC Sussex Assistant Editor, oversees the awards each year. He said: "Last night's awards were a wonderful celebration of true heroes from across the region. This is now our fifth year of these awards and the stories we heard were incredible."
BBC Sussex Editor Sara David added: "I'm so pleased that we are able to put on these awards each year. In these troubling times, the people we've recognised this evening demonstrate just how much good work there is going on in our communities. I'm particularly pleased that we were able to recognise the amazing work of our emergency services in the most traumatic of circumstances."
The ceremony will be aired on BBC Sussex FM/Online/DAB on Sunday, 6 December at 17:00 GMT, Christmas Day at 18:00 GMT and on Friday, 1 January at 18:00 GMT.
Awards highlights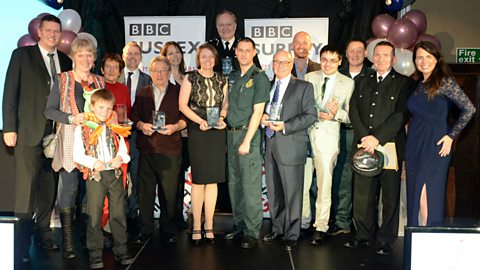 Listen back to highlights from the BBC Sussex & Surrey Community Heroes Awards 2015.