Main content
Memory Tapes - May 2015
"The Full Bhuna, Musically Speaking"
Gary recently stumbled across a box of actual Memory Tapes – you know, from the days where making a mix meant sitting by your stereo and recording each song in, one by one. It's clear this ongoing project was a real labour of love, and the tunes are cracking. We'll let Gary talk us through that time in his life.
"Here goes..the email to end all emails, The full bhuna, musically speaking - AKA I didn't think it would be like bearing my soul!!!
Hunting through my loft recently for some new CDs for my car (it's a blummin' ancient Nissan Micra and has no DAB or iPhone input so good old CDs it is) I came across a big ol' box of CD singles and at the bottom were all my old mix tapes
I started out early 97 whilst at college when I couldn't afford to buy CD albums so I would go out and buy the cd/vinyl/cassette singles for a couple of quid and stick 'em all onto a tape which I listened to on my walkman (remember them) kinda making a compilation album in the process. As you can see from the pictures they are all geekyly dated with all the bands names and song titles written out (tho reading that writing is bit tricky - horrendous handwriting back then - even for such nerd) .
After moving to London and getting real money in my pocket I carried on making my mix tapes by going to Oxford Street every Monday and buying every single (vinyl or cd) that was from a band I liked or if I just liked the artwork (oh how I miss those days of 12" artwork). I'd listen to my tapes on the Underground to work everyday, loved it! This wee routine kept going till 99 when I left London for Glasgow and discovered Fopp Music where CD albums were such a good price you just couldn't say no, so the singles bit the dust and the Album was again king.
I have whittled down my mix tapes to 3 that provide a good splattering of styles (as early ones are firmly stuck in the Oasis brit Pop guitar style era). Feel free to pick your fave. Mine is the last one (1999 - March-April) but don't let that sway you!
"The Full Bhuna, Musically Speaking"
1997 Sept - Oct
Side 1
Radiohead - Karma Police.
Bentley Rhythm Ace - Bentley's Gonna Sort You Out (B-sides Run On The Spot, On Her Majesties Secret Service)
Portishead - All Mine (B-side Cowboys)
Super Furry Animals - Play It Cool (B-Side Pass The Time)
Pixies - Debaser (B-Side No13 Baby)
Blur - MOR (B-Side Swallow's In…)
Side 2
Daft Punk - Burnin'
Primal Scream - Burnin Wheel (B-Sides Hammond, Burnin Wheel Chemical Brothers remix, Higher Than The Sun)
Ash - A lifeless Ordinary (B-Side Where Is Our Love Going)
The Verve - The Drugs Don't Work (B-Side Three Steps)
Belle & Sebastian - Le Pastie
1998 May
Side 1
Catherine Wheel - I Want To Touch You (B-Side Little Muscle)
Kenny Rodgers - Just Dropped In (from Big Bukowski sound track free newspaper CD)
Elvis Costello - My Mood Swings (from Big Bukowski sound track free newspaper CD)
Massive Attack - Teardrop (B-Side Euro Zero Zero)
Alabama 3 - Ain't Going To Goa (B-Side Moa Tse Tung Said)
Bluetones - If..
Six By Seven - Candle Light (B-Side Young Mans Stride)
Side2
Smashing Pumpkins - Ava Adore
Jesus and Mark Chain - I Love Rock N Roll (B-Sides Easy Life Easy Love, 400,00k, 1966)
Money Mark - Maybe am Dead
Spiritulized - Come Together
Super Fury Animals - Smokin (B-Sides Ice Hockey Hair, Mu-Tron, Let's Quit Smokin)
1999 March - April
Side 1
Moloko - Sing It Back
Lamb - B Line (B-Side Gorecki)
Feeder - Day In Day Out (B-Side I Need A Buzz, Don't Bring Me Down)
Sound 5 - Alakaboo (B_Side Smile, Rodger Likes)
Side2
Cast - Beatmama (B-Side Get On You)
Clint Boon Experience - Comet Theme No1
Alabama 3 - Ain't Going To Goa (B-Sides Hypo Full Of Love, Sister)
Gus Gus - Ladyshave (B-Side Star lovers)"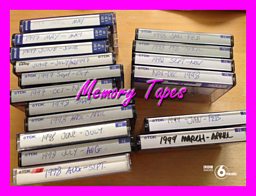 Thanks for the Memory Sticks
Wednesday 20 May, by Frank Palmer Team Laverne
Everyone get ready to go "N'aww". Today's Memory Tape is warmer than a cabin's stove and fuzzier than a peach. Lizzie's dedicating her mix to her ultimate man-friend, Jerome. Here she is to tell us all about the dude…
"This memory tape is for my best friend, my big love and my musical compadre, Jerome. As we near a year of parenting our gorgeous baby together I wanted to thank him for being the greatest co-parent imaginable - he has been a patient rock of calm and love throughout and I am so grateful to be sharing this fantastical adventure with him.
Our relationship is very firmly rooted in music from forming memories at gigs, festivals and club nights to posting a memory stick back and forth full of our new music finds to now, as I overhear him serenading our little boy with 'Boys Don't Cry' on the guitar. So this feels like the most apt and obvious way of saying 'Thanks pal!' Hope you enjoy it!
So here goes nowt....
Thanks for the Memory Sticks
This is the Kit - Two Wooden Spoons
- The words say it all
Sweet Baboo - Motorhome
- This track was the final push we needed to buy our camper this year !
Sea of Bees - The Woods
- We watched this lady perform whilst we were sat on rugs, drinking tea and eating cake... she was breathtaking.
Bob Dylan - Don't Think Twice it's Alright
- One of the songs Jerome put on a mix tape for me and on another that he made for the baby to listen to whilst he was but a bump.
The Tallest Man on Earth - There's no Leaving Now
- both love everything by this chap
Allo Darlin'- Half Heart Necklace
- A recent find, lots of dancing around the living room to this one.
Neil Young - Heart of Gold
- Late night whiskey drinking sound tracked by Harvest
Edward Sharpe and the Magnetic Zeros - Home
- Again, it's in the words
Noah and the Whale- 5 Years Time
- One Jerome sent to me during turbulent times, about 5 years ago...!
Public Service Broadcasting (Errors Remix) - Go!
- A new one! Two of his favourite electronic music makers combined
Sigur Ros - Hoppipolla
- We saw these guys at End of the Road in 2013, it was a memory maker
MaybeSheWill- He films the clouds pt 2
- Just a gorgeous track
Lizzie x"
Lily's Memory Box
Wednesday 13 May, by Ashley Clivery Team Laverne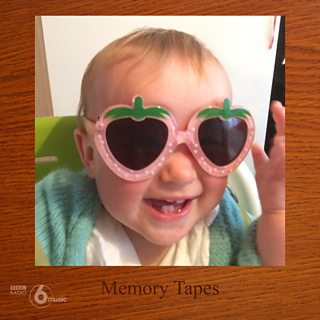 We just love Memory Tapes on this show. Obviously, every tape we get we know that a tremendous amount of thought has gone into it. But every now and then, you get a tape that really hits a nerve because its intended outcome is going to bring so much joy and happiness to someone some day. There is nothing more personal than a Memory Tape, and today's belongs to listener Benjamin who made it for daughter Lily:
"These Memory Tapes are for my daughter Lily. She turned 1 last Wednesday (6th May), and she and her mother are my everything. I wanted to put some songs together for her that we love and mean something to us. This mix tape is now in a memory box I have made for her (as I am a carpenter) so she can listen to it when she is older. I hope you like it, and even if you can't play it out could you please give her a little shout out.
Ben"
Lily's Memory Box
1. Nils Frahm- You (CL remix) - I heard of Nils through your show and loved this song and thought it was the a beautiful start to her cd
2. Khruangbin - A Calf Born In Winter - A couple of days before Lily was born my wife em was struggling with sleeping. It was a beautiful day so we went for a country drive this song came on nanna Newsomand it seemed to ease the stress.
3. Joanna Newsom- This Side Of The Blue - When wooing Lily mother Em I made a mix tape for her and this is one of the songs that started everything off.
4. Mazzy Star- Fade Into You - This was our first dance to our wedding and the last dance of our 1 st year anniversary, as we went to field day festival and saw mazzy there.
5. Otis reading- These Arms Of Mine - Because its the most beautiful song ever written
6. The Beach Boys- God Only Knows - Emma and Lilys song
7. Bob Dorough - Three Is The Magic Number - Lovely song, a sample for a great song and the obvious reason that there is three of us know
8. Nick Cave - Into My Arms - This song should be heard by everyone
9. Imogen Heap - One of my wife favourite songs. Its incredible that this is only acapella
10. Lapsley - Falling short( theo remix)- Me and lily heard Lapsley on 6 music and she loved it. I found this remix and its her favourite song to bounce to. PLAY IT LOUD
11. Grimes- Genesis - LOVE IT
12. Aphex Twin - IX- UZ- Another tune she love bopping to
13. Joe Goddard - Taking over- Always bring a smile to my face and reminds me of happy times
14. SBTRKT- Wildfire - Saw him at the Shepard bush empire and this was the best gig me and em have ever seen.
15. Wu Tang- C.R.E.A.M - When Lily was a little baby hip hop seemed to sooth her, so there are a couple of tunes on the mix.
16. Biggie - Hypnotize
17. Omega Watts - The find( PPP remix) this is one of my favourite tunes
18. The Roots- The Seed
19. Lewis Parker - 101 pianos - One of the greatest songs ever made
20. Little Dragon- Twice- the only way to end
Uptempo, Fun, Afrobeat, Highlife
Wednesday 6 May, by Ashley Clivery Team Laverne
Today's Memory Tape was made by Kwes' brother (!) at the request of listener Fred Butler as she requied the ultimate running tape. Fortunately, help was at hand and all in good time for the mammoth London marathon. Here's Fred Butler to explain all:
"My best friend went to photograph the conflict in east Democratic Republic of Congo in 2001 so I have been aware of the situation over there for the last 14 years. In that time, not much has improved and it is largely neglected by the world news.
My friend Gemma (Cairney) introduced me to a charity working in this area with protection projects for women and children = The Music Circle.
I'm a runner with London's RunDemCrew and applied for a London Marathon place to both work on spreading the word and to raise funds for the charity. I came up with the idea to ask producers from Damon Albarn's "Kinshasa 12" album to make me running mixes to promote my campaign. In the end, KWES's brother Coby Sey kindly offered to make a mix for me.
My brief was 'Uptempo, fun, Afrobeat, Highlife'. His compilation comprises of lots of cosmic sounds, e.g. two from "Awesome Tapes From Africa", and a cracking Sheila E number!
I have since discovered that it was my 1st birthday on the day of the inaugural London Marathon. This means I'm exactly the same age as the institution which is celebrating its 35th anniversary this year. So, we ran 26 miles on 26th April."
Uptempo, Fun, Afrobeat, Highlife
Shabazz Palaces - Forerunner Foray
FaltyDL - New Haven
Fresh Touch - Harar Rhythm
Guy Warren (aka Kofi Ghanaba) - Monkies and Butterflies
Sheila E. - Koo Koo
Battles - Ice Cream (BDG Gang Gang Dance Remix)
Ata Kak - Bome Nnwom
Nozinja - Wa Chacha (Tessela Version)
Teddy Obina - Onyegbula
Beat Spacek - Tonight
Lahbib Boutaxi - Unknown Track (Track 1)
Aby Ngana Diop - Dieuleul-Dieuleul
Elias Tebabel - Unknown Track (Track 1)
Theo Parrish - Tympani
The-Dream - Yamahaled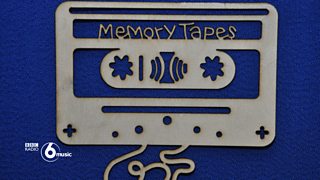 Did you ever make a mix tape for somebody? Did they ever make one for you? We've had mixtapes for friends and from loved ones, the soundtrack to breakups, starting bands, songs played in shops to self-help playlists. We want to hear your Memory Tape, simply email us with the track-listing and story behind it: lauren.6music@bbc.co.uk
The Desert Island Disco is your opportunity to create the perfect dance floor soundtrack. Send us 10-15 of your best party tracks, and check out what previous listeners have selected.