Main content
Green Hackney Weekend
At BBC Radio 1's Hackney Weekend we will aim to reduce the environmental impact of the festival and have put together ways you can help us by doing your part, while still having an awesome festival.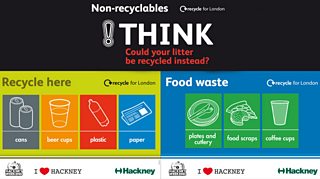 ZERO WASTE is our goal!  We will set up a three-bin separation system so you will be able to dispose of your waste in a responsible manner. But what goes where?
Compost Bin: Food Scraps, plates, bowls, coffee cups, cutlery, napkins, pizza boxes, chip cartons.We are going with sustainable packaging that is also compostable, so when you buy food from the traders at Radio 1's Hackney Weekend, everything your food comes in is biodegradable. Please make sure NO PLASTIC goes into the compost bins as otherwise the whole load may be rejected.
Recycle Bin: Plastic bottles, aluminium cans, newspapers, magazines, cardboard.
Landfill Bin: Crisp packets, some coffee cup lids, straws, plastic shopping bags.
TRANSPORT: Do you know that the biggest CO2 impact on festivals is simply through the audience travelling to get there? Please help us reduce our carbon footprint and use public transport to get to the festival or if you live locally consider walking. For more information on how to get to the festival, check our Travel Section here. 
GREEN MESSENGERS: To support all our green initiatives we will have a lovely group of volunteers called The Green Messengers. They will be all around the festival helping you when disposing of your waste to pick up the right bin, supporting our Environmental Initiatives and supporting the recycling/compost operation.
Julie's Bicycle and A Greener Festival are helping and advising, all part of their work helping the UK music community reduce its greenhouse gas (GHG) emissions.
Julie's Bicycle is a not for profit company that brings together music biz know-how and climate science to research where we're at now, and what a low carbon music experience should look like. Its primary goal is to reduce the GHG emissions which cause climate change. Emissions come from many sources: the energy used for lighting and sound, the waste that ends up in landfill which produces methane, water and sewerage treatment and audience travel.
A Greener Festival provide information, education resources and facilitate the exchange of good ideas about environmentally efficient methods that are currently being employed at music and arts festivals and also provide information about how the impact of festivals on the environment can be limited at future events.
Discover the UK's biggest free ticketed music event - this year on a massive scale to celebrate 2012.