Main content
In 2016 I will get creative by... crocheting
2 January 2016
It's gone from a method to make old-fashioned doilies to a form of subversive protest, and in between has picked up a legion of followers who use it to make cute animals, blankets, socks, corsages, even wedding dresses - and just about anything in between, really. It was the third most searched 'how-to' on Google last year, and over the internet people are sharing exciting patterns and ideas. Crochet is knitting's easier, quicker cousin - so what's not to like?
If you've vowed to pick up (just the one) needle in 2016, we're here to help.
We've enlisted Get Creative champions the UK Hand Knitting Association (don't be fooled by the name - they do both knitting and crochet) to give some top tips, and asked two first-time crocheters what they've got out of learning the craft. Get ready to get hooked.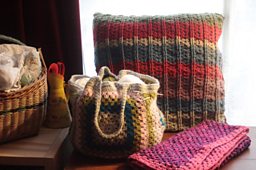 Credit: Red Barn Creative
Top tips for getting cracking with crochet
Get Creative has asked Juliet Bernard, from champions the UK Hand Knitting Association, for her top tips on starting crochet:
Crochet patterns work up really fast so you will have a finished item to show off very quickly
"Crochet is a fantastic craft to take up. If you have ever found knitting too difficult but love all of the pretty yarns in the shops you may find crochet easier. Crochet patterns work up really fast so you will have a finished item to show off very quickly – and you can learn one basic stitch and still make something amazing. So if you have been lucky enough to find some yarn and a crochet hook in your Christmas stocking, but don't know where to begin, here are some tips to get you started.
1. Use the internet!
The Simply Crochet website is packed full of tutorials – from how to hold the hook and yarn when you first pick it up, to how to make a slip knot and chain (the stitch you need to make at the beginning of every crochet project) to double and triple crochet for when you get more advanced. There are plenty of online blogs and YouTube tutorials to help you out – check out Ravelry, which is a huge, free social networking site for knitters and crocheters.
2. Get (granny) square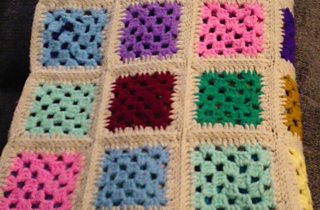 Many people choose to start out making 'granny squares' as a way to master the basics. There are lots of different versions, but you can't go wrong with the Attic 24 blog with its clearly photographed tutorials – definitely one to bookmark.
3. Take it easy
Once you've mastered the basic stitch, choose a small project to start with so you don't lose heart: a simple corsage or small toy can be made in just one evening.
Amigirumi is the Japanese art of crocheting small, cute creatures, and can be done with just a crochet double stitch, and again you can find patterns for free online.
4. Buddy up
Get advice from others and move your crochet on by looking up on of the groups that take place all over the country who get together to crochet and have fun in libraries, coffee bars, yarn shops or even the pub – you can find some of them on the UK Hand Knitting website.
5. Do it on the move
One of the great things about crochet is that it's portable – you can take it on the train, in the car or even on a plane (airline security permitting!). So get practising your stitches when you're on the move!"
Get Creative Crochet Champions
UKHKA is a not-for-profit organisation dedicated to promoting hand knitting and associated yarn crafts, with 559 registered knitting groups on their site as of April 2015

A wool shop that holds three knitting groups each week and runs a programme of workshops teaching different knitting and crocheting techniques, including complete beginners

Matching knitters with good causes. Many keen knitters need outlets, so its distribution service sending items to those in need is a valued resource. It also promotes knitting and crochet as an activity that has benefits to the individual and society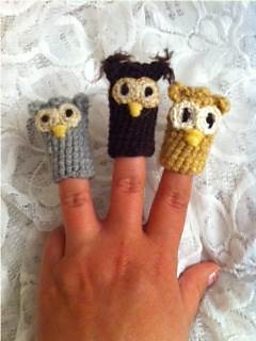 Starting small: crocheted owl finger puppets by Kate Simner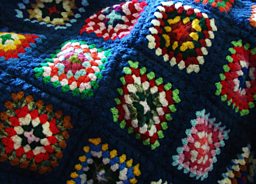 Granny squares: a great way to start out
Crochet got me hooked: Jen Snow
When Jen became disabled after the birth of her son she found herself socially isolated and lonely. She looked for local craft groups to join but found they catered for people either older or younger than her, so she turned to the internet, where she developed a strong online community of friends. Many were also disabled, and they started to share skills and projects, discovering that crafting helped them to cope with all manner of challenges - and from this, Craftable, a health-based craft group was born.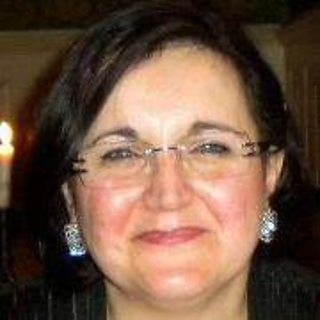 Crochet bestows a gift on anyone who tries it - the ability to be creative, to never be bored, to counter some of the negative stuff that happens in every life
"Crochet has always eluded me. I even invested in a recent partwork magazine collection a few years ago with the intention of learning one square at a time. I fell behind after the very first week! However I'm a little bit stubborn and hate to be beaten by anything.
I really love the look of filet crochet and want to master it eventually. So in the past few weeks, I have watched a lot of YouTube clips by different crocheters and I spend about an hour a day practising chain, double and treble crochets. Developing muscle memory is the best way to tackle tension problems, and once I've got tension nailed, I'll feel ready to experiment with different yarns, stitches and textures.
What do I get out of crochet? The very real sense of achievement that I'm overcoming something that's eluded me for years. Crochet has a rhythm that is very different to knitting. It feels good to carry a hook and ball of yarn around with me wherever I go so that I can practise in otherwise uncomfortable places, such as hospital waiting rooms. My knitting projects are generally too complicated to do this. It is also extremely good for the arthritis in my hands, giving my muscles a somewhat different workout and keeping them as active and strong as possible. I love listening to an audiobook while I'm doing it; it transports me away from everyday grumbles and gripes. It's also a brilliant mindfulness tool.
My advice to someone who wants to give it a try is practice, practice, practice. Crochet bestows a gift on anyone who tries it - the ability to be creative, to never be bored, to counter some of the negative stuff that happens in every life."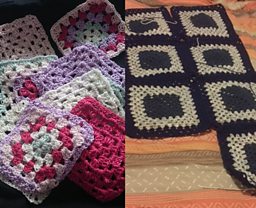 Left: Jen's first 'granny squares'. Right: Naomi's current work in progress, a sofa throw
Crochet got me hooked: Naomi Dickinson
In November 2014, Naomi found herself recovering from a minor operation and was sofa-bound for a couple of weeks, and so decided to give crochet a go - though didn't really get stuck in until 2015. A knitter since she was a little girl, but having seen a lot of crochet shared on social media, Naomi decided to take the wool into her own hands and teach herself how to do it via tutorials on YouTube.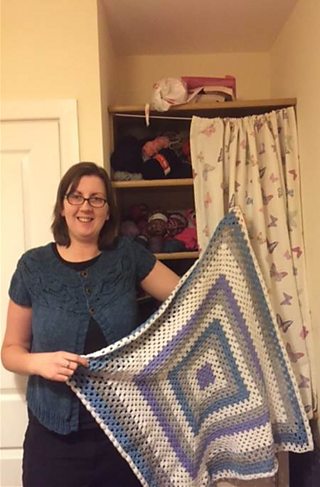 Naomi with the finished blanket, started by her husband's grandmother
A big part of Naomi's motivation was her husband's grandmother passing away. "In among her possessions were needles and patterns and a half-finished blanket. I wanted to finish the blanket".
"When I had some time free I sat down with a tutorial playing on the TV and said 'I'm not leaving until I've got it!' And I got the gist of it in around three hours, just making granny squares", Naomi says. "It's a different challenge from knitting – it's more like you can watch TV and do it at the same time. You can use oddments of wool and it still looks good – when people first started making 'granny squares' they used to use up bits they had. Knitted blankets are slower – crochet is quicker, and you can pick it up and drop it more easily, which is perfect to fit around working full time and being a mum. You can do soft toys, jackets, corsages…anything! Once you learn you can make anything. It's one of those things like riding a bike - it's a lifelong skill, and just because you don't learn it at school doesn't mean you can't get into it".
"I find it really relaxing. I like the way it's productive – I still find it amazing how you start with a ball of wool and make something out of that."