Main content
Alasdair Gray at 80: A vision and a voice
23 December 2014
As Scots artist and author Alasdair Gray reaches his 80th year, his home city of Glasgow celebrates with a season of events and exhibitions. Curator SORCHA DALLAS discusses the impact of Gray's art - rooted in the local, but tackling universal themes which have taken his influence from Scotland, to Europe and beyond.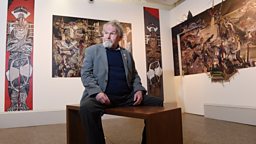 Alasdair Gray is an inspiration to writers and artists based in Scotland seeking an international voice
Alasdair Gray is a prolific polymath. Over the last 50 years he has built an extensive body of work within both the literary and visual art fields. His written oeuvre is unique across all genres - fiction, poetry, plays, critical essays and reviews: it is renowned, but his visual work has been less widely acknowledged due to it never being thoroughly researched, archived and promoted.
My professional relationship with Alasdair Gray began in 2007. I had been working with a younger generation of Glasgow-based artists through the gallery I ran. Many, like myself, admired Gray's unequivocal vision - often at odds with current practices - and the way he used the familiar, Glasgow, to deal with international ideas and concerns.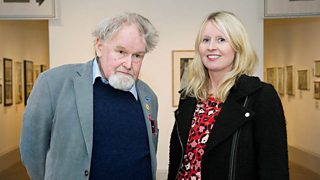 Alasdair Gray and Sorcha Dallas
I had encountered his work long before as a painting student at Glasgow School of Art in the late 90s. Lanark was a key text, and cited as a constant source of inspiration for many an emerging artist. Studying in Glasgow I witnessed an increase in experimental and 'environmental' art within the city, with many artists using the city itself as the context to their work.
Their energy had been critical in establishing the artist-run Transmission Gallery in the 1980s. It was the catalyst in creating a vibrant, grassroots art scene which encouraged artists to stay in the city, to build an international dialogue and root it firmly back into a local community. (In the past many artists would have had to move to London for both economic and career opportunities).
Transmission encouraged cross-pollination of mediums, politics and ideas. Gray and a new generation of writers, such as James Kelman and Liz Lochhead, were involved in readings and events, such as 'Transmission Goes Verbal' in 1987.
Gray's politics, publications and artworks continue to inspire writers and artists seeking to achieve an international voice whilst still being based in Scotland. His work has always been rooted in the idea of the local. However, Gray has always striven to use this idea as a starting point to acknowledge and discuss more universal themes, a sentiment that inspired the Transmission generation and still holds strong to this day.
He is a committed socialist and this comes through in the democratic way he lives his life and makes his work. His murals are a great example of how he allows his work it to be accessible to all. Gray also pays his assistants the same rate at which he earns, and acknowledges the need for collaboration and support to allow him to make ambitious murals and assist with his books.
Although Gray trained at Glasgow School of Art and considered himself an artist who fell into writing, it was the latter for which he was best known. Walking around the west end of Glasgow you could experience Gray's murals, however it seemed most encountered his visual work through his books.
His distinct illustrative style in his visual work is due to a strong sense of graphicality and use of line. It was inspired through his experience of encountering artworks in books like Blake and Beardsley and also through comics, Ladybird books and the Harmsworth Encyclopedia.
My main aim has been to recontextualise Gray visual work - to show that it is as unique and autonomous as his literary works - and to make a wider public aware of the incredible body of work spanning over 65 years.
Arts agent and curator Sorcha Dallas devised the Alasdair Gray season, running at venues across Glasgow until May 2015. Focusing on the Gray's visual work, it includes exhibitions at the city's Kelvingrove Art Gallery and Museum, GoMA and the Glasgow School of Art.
Alasdair Gray at 80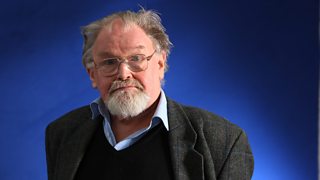 An intimate documentary on Gray, filmed over 15 years, reveals a character who is by turns incisive, chaotic and laugh-out-loud funny. Alasdair Gray at Eighty was on BBC Two Scotland on 27 December 2014 and is available on iPlayer until 26 January 2015.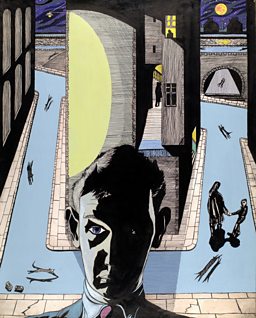 Night Street, Self Portrait, 1953 © Alasdair Gray