Main content
Cooking for Mugs: The mug recipes that'll make you fall back in love with your microwave
If you've given up on your culinary skills and opted for fast food deliveries to your couch then perhaps it's time to get up off your arse.
Mug chef, Zarah Hill, has four recipes that will get you back in the kitchen and enjoying… well, sometimes enjoying, home-microwaving again.
Right, let's crack on.
Ignore the Italian screams and try this Neapolitan classic in a mug. Here's what you'll need…
Ingredients

Self-raising flour.
All purpose flour if you have it. Unfortunately, there's only baking powder in the cupboard. Bosh either of those in. It'll be fine.
Milk, full fat, as always.
Extra virgin olive oil.
Salt
Marinara
Mozzarella or "Mozzareyaaa" depending on how Italian you are feeling.
If you don't want to waste a whole tub of marinara on a wee mug pizza just mix tomato purée, passata, ground garlic and mixed herbs.
For this recipe, the pizza will be topped with chorizo but stick what you want on it.
Add your flour, milk, oil and salt into your mug and give it a good mix.
Okay, now add the marinara sauce on top of the dough. It'll look pretty gross. Place the mozzarella on top of that and finish with the chorizo.
If you're feeling cheesy, grate some extra cheddar on top of your chorizo and sprinkle with more mixed herbs.
Pop your mug into the microwave for 1 minute 30 seconds and pray to the pizza gods. This is also a good time to bite into your block of cheddar cheese.


The verdict
Unbelievably, this worked… it actually worked. It looks like a cake, because of the self-raising flour, but it tastes really good.
The dough is fluffy and spongy but it tastes amazing with the savoury sauce.
Bellissimo cake pizzas for all.
Why wait an hour on your cake mix baking in an oven when you can blast a mug of chocolate cake in a microwave for a minute and a half.
Here's what you'll need...
Ingredients

Self raising flour.
Milk, semi-skimmed this time. Not because it's what you need for the recipe, but because it was all that was left in the fridge.
Vegetable oil if you are posh, chip oil if you're not.
Sugar.
Cocoa powder or an already opened sachet of hot chocolate.
Chocolate spread.
Next you'll need your mug. Remember, it has to be a good looking mug. An ugly mug won't work. Got it?
Okay, so now you stick everything, except the choco-spread, into that beautiful mug. Mix it all together.
Note, you could add a bit of vanilla extract but you need to have some in your cupboard to do that.
Once your ingredients are all mixed together, spread a tablespoon of chocolate spread on top. You know what? Just add two spoonfuls. Or three.
Your cake mix is now ready to go into the microwave for a minute and a half.
Why not pass the time with some press ups, maybe you could clap your pet, maybe you could stare at the wall and contemplate what life is really about?
The verdict
After the glorious microwave 'ding', it's time to test the mug cake. It looks really gross but, somehow, kind of nice.
But it tastes… actually really, really good.
Mac 'n' cheese in a mug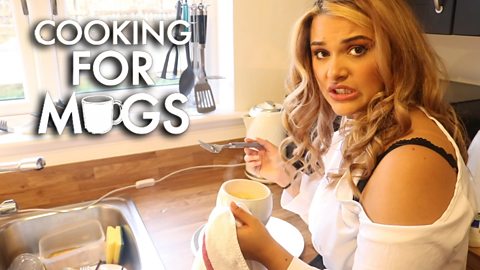 Zarah tries a macaroni recipe in a mug that takes less than five minutes!
A timeless American classic starts with the simplest of things: water.
Of course, it takes more than H2O to make this work so here's what you'll need...
Ingredients

Full fat, whole, blue milk.
Extra mature red cheddar.
Macaroni.
Cayenne pepper.
Salt.
White pepper.
Step 1, put the macaroni in the cup, filling it to about a third of the way up. Then add your water. Once that's all stirred in, pop it in the microwave for 2 minutes.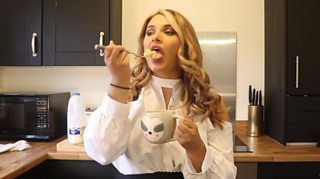 This will, most likely, start bubbling so do yourself a favour and put a plate under your mug.
Once you take your mug out of the microwave, you might be faced with a little setback. The mix may have solidified but do not worry. Just add more water and pop back in for a further 2 minutes. Resist adding butter and oil.
Then you add the milk, cheese and seasoning before blasting it for another minute.
After the 'ding', if there's too much milk left, just drain the excess. You can add more cheese to thicken it up. Once you have drained the milk and added extra cheese, pop it back in for 10 seconds. Now pray to the mac 'n' cheese gods.
The verdict
This may have sounded like a recipe that was made up on the spot but the outcome is actually delicious. There is a weird texture to it but it's the taste that matters, right? RIGHT!?
Curry in a mug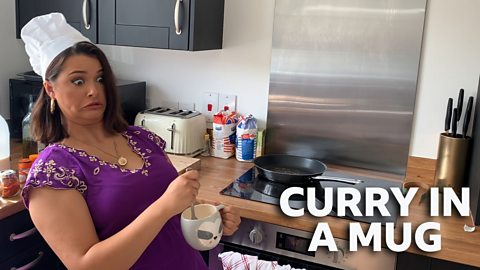 Zarah takes on her most ambitious mug-based meal yet - curry (and a wee naan).
Last but not least, we are cooking an all time favourite... butter chicken curry! Oh, and a naan bread. You can never forget the naan.
You are going to need…
Ingredients

Butter
Double cream
Salt
Olive oil
Self-raising flour
Milk
Chopped tomatoes with added garlic.
Leftover chicken, you can cook fresh chicken if you really want.
Onion powder or onion salt.
Turmeric
Garlic powder or salt.
Garam masala
Ginger
Chilli
Cayenne
First thing you'll need to do is make your naan which will go at the bottom of your attractive mug.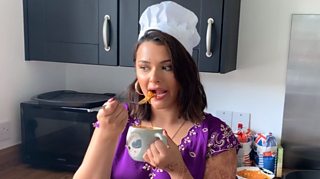 Add salt, olive oil, milk and self-raising flour. Mix it all up and flatten it out.
Grab a bowl and begin to add your curry sauce ingredients: onion salt, butter, double cream, chopped tomatoes, chicken, turmeric, masala, ginger, chilli and cayenne. Stir it altogether.
Pop it in the microwave for a minute and a half.
While it cooks, you can either pray to the curry gods or practice your twerking. Whatever you fancy.
The verdict
Well, it had to happen eventually. This is rotten. Not good. Erase all memory of this recipe.
What a way to wrap up this "cookbook".