Main content
The Curators: Hans Holbein and the court of Henry VIII
3 January 2018
To accompany the first episode in Andrew Graham-Dixon's Art, Passion & Power series, Isabella Manning of Royal Collection Trust uses Holbein's drawings and paintings to offer insight into the famous artist's creative mind and the process of developing a portrait.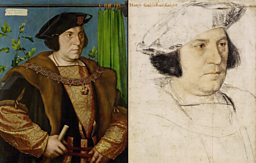 These drawings and paintings of William Reskimer and Sir Henry Guildford form part of Hans Holbein the Younger's extraordinary series of portraits which bring to life the court of Henry VIII. Of the many portrait drawings Holbein made, only eleven corresponding paintings survive, of which Guildford and Reskimer are two.
This provides a fascinating opportunity to look at the drawings and paintings together, offering insight into the creative mind of Holbein and the process of developing a portrait.
Guildford was a close friend of Henry VIII, and almost continuously held important positions at court. The drawing was made during Holbein's first visit to England in 1527. The artist focuses on the soft contours of his face, smudging the chalk to convey the texture of flesh. He delights in depicting the luxurious textures of fur, velvet and gold cloth, accentuating Guildford's status.
More on Holbein at court
In Windsor Castle's Print Room, Andrew Graham-Dixon is shown remarkable portrait drawings by Hans Holbein the Younger.
Similarly, in his drawing of Reskimer, made during his second stay in England, Holbein focuses on the intricacies of the face; on the shadow across his cheek, the lines around his eyes and the heavy outlines of his ear and nose. Holbein bases his painting on all of these key details, developing aspects of light and shade and including twisting vine leaves that symbolise protection against disease.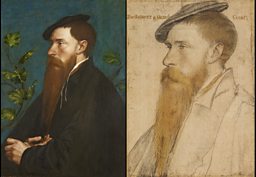 These comparisons emphasise the original function of the drawings. Although now considered artworks in their own right, they were intended as preparatory studies, giving Holbein an opportunity to record important details that he would later develop in paint in his studio.
The drawings also served a technical purpose, highlighted by evidence of indentation in the drawing of Reskimer. This suggests that Holbein traced the outlines of the drawing onto panel using a fine point and explains the close similarity with the painting.
In 1627-8, Charles I exchanged his book of 80 Holbein drawings with the Earl of Pembroke, for a painting of St George and the Dragon by Raphael. The 'great booke' was subsequently recorded in the collection of Charles II in 1675, although it is not certain when or how he acquired it.
The Curators
The family retreat at Buckingham House was filled with works by British artisans and artists.

These albums became precious mementos for Victoria after the untimely death of Albert in 1861.
Royal Collection season highlights
An exhibition reunites the treasures amassed by Charles I for the first time in 370 years.

How Charles II, the 'Merry Monarch', overruled austerity to project power through art.

Andrew Graham-Dixon views drawings by da Vinci that have been lost for centuries.