Main content
Johnny Vegas 60 second teapot challenge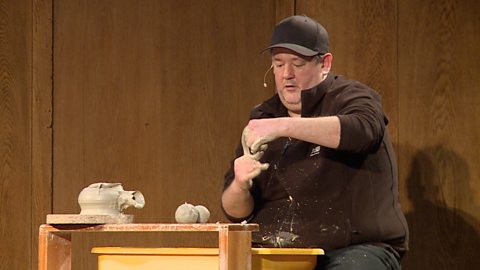 At the launch of BBC Get Creative, comedian Johnny Vegas shows off his pottery skills
Comedian Johnny Vegas is known for his anarchic humour and quick wit but what's less known are his pottery making skills.
To show off his artistic side, he set himself the challenge of making a teapot from a lump of clay in just 60 seconds, at the launch of BBC Get Creative.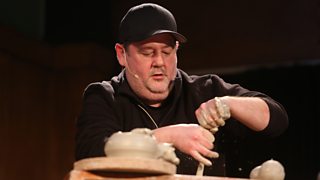 If it inspires one of you then it's worth it
"Aesthetically it's not going to be the most beautiful pot but it doesn't matter because it's me expressing myself," he said in his typically self-deprecating style.
"I want people to look at this and say 'I can do better than that' and get off their backsides and go to a pottery night class.
"You can do better than me – that isn't a big achievement in life. But if it inspires one of you then it's worth it."
While Vegas took up his position at the pottery wheel in front of an audience at Conway Hall in London, the BBC's Creative Director Alan Yentob began the stopwatch, giving a second-by-second countdown.
But did Johnny complete the challenge? Watch the film and see for yourselves.