Main content
Fan-tash-tic quiz: Can you match the moustache to the musician?
The facial furniture of famous musicians can be every bit as iconic as their hair, clothes or taste in vintage guitars, and some have taken the tonsorial topiary of their upper lip to extreme levels.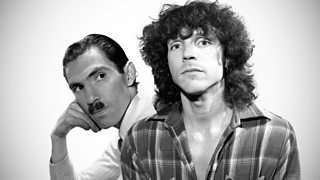 BBC Radio 2 has been celebrating the career of Sparks - a band whose keyboard player Ron Mael has one of rock's most iconic moustaches - with the two-part documentary The Birth of Sparks: From Beach Boys to Blighty.

So, can you identify the star from their soupstrainer alone?