Main content
Terrific Scientific - Live Lesson
Watch the live lesson again
What happens when I eat?
As part of the new BBC science campaign Terrific Scientific, this Live Lesson will help your pupils to think and work like a scientist, with a focus on taste, nutrition, and the energy that food provides.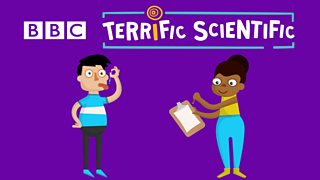 The lesson is designed for 9-11 year olds:
Year 5 and Year 6 pupils in England and Wales
Primary 5, Primary 6 and Primary 7 pupils in Scotland
P6 and P7 pupils in Northern Ireland
We will be looking at the relationship between human taste and nutrition and encouraging pupils to learn how to think and work scientifically - including planning, measuring, observing changes, controlling variables and using test results.
Help your pupils prepare for this Live Lesson by doing their own Terrific Scientific taste investigation. All the information you need to deliver this simple classroom activity can be found on the BBC Terrific Scientific website.
Add up how many of your pupils are tasters, non-tasters and supertasters, and email your results to live.lessons@bbc.co.uk - we will reveal as many as we can during the live programme.
Access a full lesson guide and activity sheets, available in the 'Get ready for the Live Lesson' section below.
If you'd like to be reminded by email or sent more information, please email us at live.lessons@bbc.co.uk
About Terrific Scientific
Terrific Scientific is an ambitious new campaign from the BBC. Our goal is to inspire primary school pupils to discover their inner scientist. Currently, fewer than 15% of 10-14 year olds aspire to pursue a career as a scientist, leaving the UK with a potential skills shortage. The BBC has partnered with leading universities to create a series of child-friendly nationwide scientific investigations. The data gathered will be sent to the universities and will feed into real academic studies. Join us on a national journey of scientific discovery! Teachers can register on the Terrific Scientific website.

How to get involved
If you've got burning questions for our special guests about working scientifically and setting up experiments, send them in to live.lessons@bbc.co.uk or get in touch on #bbclivelessons and they could be featured in the live Q&A on the day.
If you are sending in any images or videos that feature children, please ensure that you have parental permission, as they may be shown during the Live Lesson and on our website. Read our Terms and Conditions for more information.
Get ready for the Live Lesson
Find out more about the presenters and special guests on our Terrific Scientific - Live Lesson.

Find out more about the BBC's new UK wide initiative designed to engage 9-11 year olds in science.

Learn more about the digestive system with this helpful guide for KS2/2nd Level from BBC Bitesize.