Main content
Brexitcast: 5 things you may have missed this summer
Have you spent the summer forging 'bi-lateral agreements' with the beach?
Did you pass a two week 'divorce bill' with the office?
Say 'no deal' to early morning rises?
Laura Kuenssberg, Katya Adler, Adam Fleming and Chris Mason fill you in on what you may have missed during the long, hot summer of Brexit negotiations.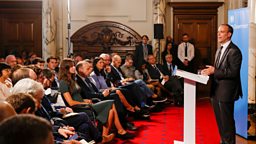 1. 'The British love slide presentations'
British negotiators have been talking the EU Commission through Theresa May's "Chequers Proposal" - her plan for the UK's future relationship with the EU after Brexit.
The 12-point strategy, released in July, looks at how customs, movement of people, budgets and trade will work after we leave.
Laura Kuenssberg says "the EU is more favourable towards the 'Chequers plan' because the Commission misinterpreted the plan when they first saw it".
"They talked the EU through it using a slide presentation (because we love them), ramming home the message that we're not trying to create something new."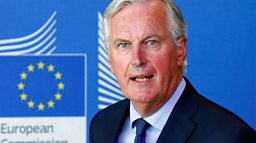 2. There have been moans about Barnier
As the EU 'warm' to Theresa May's Brexit plans, Katya Adler says "EU countries have been distancing themselves from the Commission.
"They're fed up with Barnier because they feel he is too much of a stickler for the rules.
"Chequers is favoured by EU member states who feel we need a more creative political solution.
"However, there is no sign they'll take over negotiations. There are moans about Barnier, but it's not coup time."
Adam Fleming adds: "The little differences don't add up to some massive change in the UK's favour."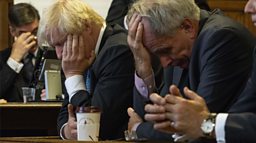 3. The Conservatives are in 'a total froth'
Not everyone is warming to the Chequers plan however, with talk of a rebellion among Conservative MPs says Laura Kuenssberg.
"The Tory party is not 'in a bit of a froth' about Chequers – they are in a total and utter fankle mess.
"There is a hell of a row around the Chequers proposal.
"There is a very concerted, determined and organised effort to force the PM into a U-turn, and if she doesn't they'll carry on through to the party conference."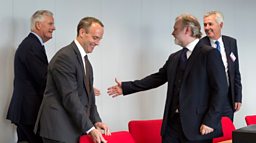 4. The EU are 'less combative'
As both sides work to complete a deal before 29 March 2019, Katya Adler says the EU tone has become "less combative".
"They're saying: 'Listen, we don't want to give the UK a hard time. We want a deal. We want this withdrawal agreement, we want to get together a framework agreement on our future relationship, we're not going to cause trouble.
But they are going to stick to their principles.' "
5. The clock has changed
Laura Kuenssberg: "For two years we've been asking these questions – what if? In 10 weeks we'll be able to answer the questions."
Chris Mason: "For 2 years we've been talking about the autumn of 2018 and here we are."
Laura points out that Donald Tusk – President of the European Council – has a particularly busy autumn ahead, as shown in his online trailer!
"It's got to be the first time Multi-lateral has appeared on screen to 'that' music!" - Chris Mason
Summer bonus trivia: Cigarette packaging might have to change
Chris learned that the health warning images on cigarette packages might have to change because the EU owns the copyright on the pictures.

He says: "It illustrates the amount of unwinding the UK has to do from it's relationship with the EU."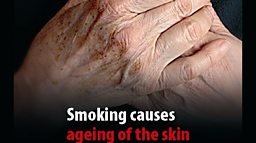 Download the podcast!
There's actually been quite a lot going on this summer apart from Theresa May auditioning for Strictly. Don't worry, we've been following it all so you didn't have to. You're welcome.