Main content
Antiques Roadshow is coming to Eltham Palace and Gardens on Sunday 10 June
What story will you bring?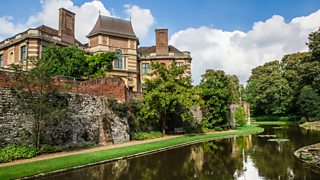 BBC One's Antiques Roadshow will be filming at the Art Deco marvel Eltham Palace and Gardens in Greenwich on Sunday 10 June.
Fiona Bruce and the team of Antiques Roadshow experts will be waiting to welcome you, so dust off your family heirlooms and dig out those car boot bargains and bring them along for free advice and valuations to visitors.
A moated medieval palace Eltham Palace was transformed into a marvel of Art Deco design back in in the 1930s by its glamorous owners - the Courtaulds. The palace is now looked after by English Heritage.
Doors open at 9.30am and close at 5.00pm. Entry to the show is free, everyone is welcome, and no tickets or pre-registration is required.
By public transport
Nearest train station – Mottingham 1⁄2 mile (about 10 minute walk). When exiting train station walk east towards Court Road/A208, turn left onto Court Road/A208 for 0.3miles, then turn left into the entrance road to Eltham Palace and Gardens visitor centre, following the road round until you arrive.
Bus
TFL bus services 124,126, 160 or 161 and then a short walk to Eltham
By Car
Directions:
Please use Sat Nav postcode SE9 5NP to help direct you to the car park.
Off Court Rd SE9, Jct 3 on the M25, then A20 to Eltham.
Free parking
Public will enter parking field 1 & 2 via Court Road. Please exit via the entrance on Court Road where there will be a one in one out system
Access
We have allocated a number of disabled spaces for blue badge holders and our parking attendants will direct you on arrival.
No dogs allowed, although assistance dogs welcome at Eltham Palace – please do not bring your dog and leave it in the car.
Visitors are welcome to just turn up on the day but they can also share their stories about the special items they are bringing along using Share Your Story on the Antiques Roadshow website. Visitors are also asked to use Share Your Story to tell us about any large/heavy objects as we are unable to offer assistance on the day with these items.
Alternatively, email: antiques.roadshow@bbc.co.uk or write to Antiques Roadshow, BBC, Whiteladies Road, Bristol BS8 2LR.
Please check bbc.co.uk/antiquesroadshow for any updates before setting off
More information, frequently asked questions, and parking information, can also be found on the show's Facebook page.
The locations for Antiques Roadshows in 2018