Main content
80 questions about the 80s: Take Radio 2's Ultimate 80s Quiz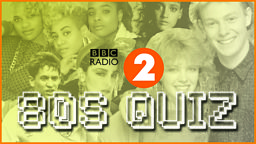 If you love the 1980s, Radio 2 has plenty on offer, from Sounds of the 80s with Gary Davies to weekly SO 80s mixes, available now on BBC Sounds.
It was a decade like no other, with big hair, flashy gadgets and bold fashion choices. But what do you remember about the era that brought us the Rubik's Cube, legwarmers, EastEnders, and Kylie & Jason?
Put your 80s knowledge to the test!
For all things 80s, Radio 2 has you covered...
Gary Davies takes you back to the best decade in music, with a diverse mix of classic pop, dance, rock, hip-hop and alternative pop.

Dido chooses her greatest musical inspirations from the decade as Gary Davies presents an amazing selection of 80s videos.