Main content
Sharenting: Six things parents should think about before hitting 'Post' on social media
'Sharenting' is when you put too much information about your children on social media. It could be baby photos, details of what they're doing, what they've achieved or even how potty training is going. You might think your post is sweet or funny, but when your children grow up, they might not agree.
BBC Radio 4's Woman's Hour spoke to Claire Bessant, a solicitor and Associate Professor at Northumbria Law School and Leah Plunkett, author of Sharenthood and an Associate Professor of Legal Skills at the University of New Hampshire in the US. They shared the top six things parents should be thinking about before they post...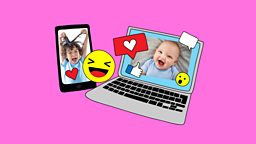 1. Would you – and more importantly, would your child – be happy for that information to be available to everybody?
"If it's online, it can go anywhere," says Leah Plunkett. "Parents may think they are protecting their children's privacy by configuring the privacy settings on their social media accounts so that their posts are not available to the public. But privacy settings aren't enough to keep your children's information private, anything that is posted can be shared (including by taking a screen-shot and re-posting)."
If the answer's "No" or you're in any doubt then it's probably best not to post it.
2. Ask yourself 'Is it really yours to share?'
"Remember that even when you share information about being a parent you are inevitably sharing information about your children and their lives," says Claire Bessant.
"Might your child be embarrassed by what you share? How might their friends react? Don't post anything embarrassing or private, such as naked or semi-naked photographs. Remember that even seemingly innocuous photos can affect a child's reputation, incite bullying or expose children to ridicule."
3. Talk to your children and take their lead
"Start to have a conversation from an early age to find out how they feel about their information being shared online. Explain why you'd like to share and who will see the information," says Claire.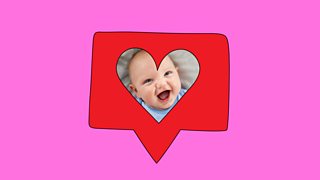 Remember that once information is out there, and particularly if it has been tagged or reposted, it is very hard to take down.
"If they say they don't want their information shared ask them why. Explore whether information could be shared in a way that both of you are happy with. Consider using the NSPCC's family online agreement to help with your discussions, to build a relationship of trust, and mutual respect."
"You can learn digital citizenship habits from your children," adds Leah. "Kids and teens are often more thoughtful and sophisticated digital citizens than we, their parents, are. Not only have they been growing up in a digital world, but they may be studying digital citizenship in school."
4. Remember sharing on social media is forever
"Parents have always shared stories and photos with friends and family. 'Sharenting', however, takes sharing to a different level," says Claire.
"Sharented information has a reach and longevity unimagined 20 years ago. Remember that once information is out there, and particularly if it has been tagged or reposted, it is very hard to take down. Would your child – indeed would you – want the posts you made when they were seven to be viewed by their university friends, work colleagues or future employers?"
5. Is your sharenting potentially exposing your child to danger in the real world?
"Photographs and videos accompanied by information about a child's school, age, or location may expose children to online grooming," says Claire. "The metadata behind photographs used in conjunction with technologies which facilitate user tagging, automated facial recognition and compilation of disparate pieces of information, can also provide third parties with significant amounts of personal information about children's identity, location and friends."
6. Imagine it was about you. How would you feel?
"Here's a helpful hack that parents can use to reflect on whether or not to share a pic or piece of information," says Leah.
"Ask yourself if you would be surprised or embarrassed to find that very same type of information online about yourself. For instance, let's pretend that your parents had taken out an ad in your local newspaper when you were four years old to tell everyone in town that you were finally potty-trained. Now let's pretend that local newspaper finally got around to putting all its old editions online, so anyone who Googles you can find this story. If you would be upset, don't share potty training or similar types of private information about your kids. Just because you can tell the world with a few clicks or swipes, instead of having to take out an ad in print, doesn't mean it's a good idea!"
Listen to this episode of the Woman's Hour parenting podcast here. Woman's Hour is on BBC Radio 4 on weekdays at 10am and at 4pm on Saturdays. You can catch up with all episodes via BBC Sounds.