Main content
Chilled – five great Russian winter pieces you've mostly never heard of …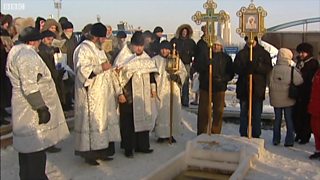 BBC Moscow correspondent Steve Rosenberg (himself a handy pianist – check out his famous rendition of all 65 Eurovision Song Contest winners in five minutes...) has chosen five pieces of classical music for Radio 3 Breakfast: some you love, and some he suggests you might grow to love, on the theme of Russian Winter.
So go on, like the hardy Muscovites you can watch here, take the plunge!
1. Giorgi Sviridov: Waltz (Snowstorm Suite)
There's something magical about the Russian winter. A blanket of snow can transform even the bleakest landscape into a wonderland. Perhaps that's why winter has inspired so much Russian music.
One of my favourite pieces is the "Snowstorm Suite" by Giorgi Sviridov. Whenever I hear it, the music transports me to that winter wonderland I was talking about – complete with sleigh rides, and snowstorms… and romance! Yes, it IS possible to fall in love in the freezing cold. I did – in the winter of '92, just after the fall of the USSR.
I was teaching English in Moscow at the time – and, to keep healthy, I used to eat bags and bags of peeled mandarins from the local market. I ate so many, in fact, that I turned orange. And it was during my orange period that I met my future wife. Much later she admitted that it was my mysterious tangerine tan that had caught her attention. So here's the Waltz from the "Snowstorm Suite" by Giorgi Sviridov.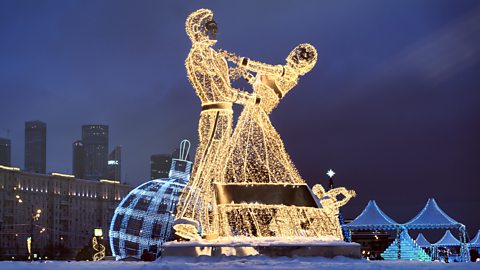 With the USSR TV Radio Symphony Orchestra conducted by Vladimir Fedoseyev.
2. Erast Abaz: Utro tumannoe (The Misty Morning)
It is said that Erast Abaz, an officer in the army of Tsar Nicholas, had two great passions in life. Passion No.1 was music – he played the guitar and wrote songs. Passion No.2 was gambling – he played cards. Until one fateful day, when he put his hand in his army bag and felt something unusual... something that hadn't been there before.
The mysterious object turned out to be a Russian icon. A sign from above, he thought! So, he ditched the cards and concentrated on music. And thank goodness he did. Because Erast Abaz went on to write one of the most beautiful Russian songs I know: a Russian romance called "The Misty Morning". It starts like this: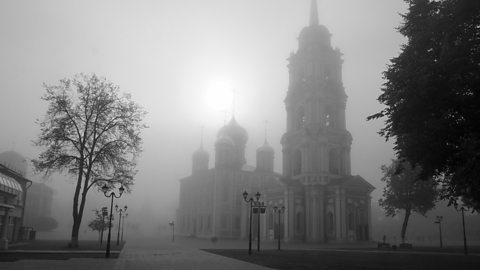 With Sergei Zakharov (bar) and the Vasily Solovjov-Sedoy Variety and Symphonic Orchestra.
3. Scriabin: Andante (3rd movement of the Piano Sonata No.3 in F sharp minor, Op. 23)
I'd like to take you back to the Russian winter of 1941-42: a bitter winter, one of the coldest of the 20th Century. Imagine what it was like for the people of Leningrad – their city encircled, besieged and bombed by the German Army. There was no central heating – oil and coal stocks had been exhausted. In the siege of Leningrad, cold and hunger would kill hundreds of thousands of people.
And yet, even in this hell, there was music. And through this music – the message: Leningrad will never surrender. On December 12, 1941, in Leningrad's Pushkin Theatre, Russian pianist Vladimir Sofronitsky gave a solo concert. The temperature inside the hall was -3 celsius. The performer warmed up the piano keys by stroking them with the palm of his hand. Sofronitsky played in mittens, with the finger tips cut off. Artillery shells were exploding outside. But, inside, as the pianist would later recount, "How the audience listened to my music!" Sofronitsky performed Beethoven, Chopin, and his favourite composer Scriabin. And we'll hear him now performing the Andante from Scriabin's Third Piano Sonata.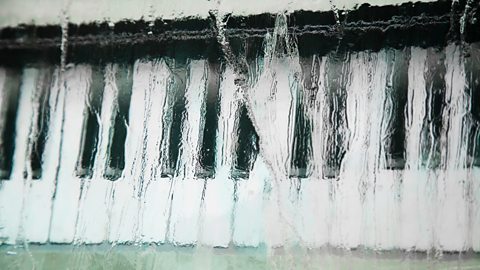 Performed by Vladimir Sofronitsky.
4. Prokofiev: Troika from the Lieutenant Kijé Suite
There are occasions when film music is so brilliant, so inspiring, that it totally eclipses the movie for which it's been written. Take, for example, the 1934 Soviet comedy Lieutenant Kizhe. Not one of the most memorable films ever made, for sure. But it produced what has become one of the most recognisable, most popular, and most festive pieces of Russian music ever written.
The man who wrote it is Sergei Prokofiev. And the piece is "Troika". Now, "Troika" means "three" or "triple" in Russian – and it refers to the three horses that traditionally pulled a Russian sleigh. For me, the piece conjures up such a vivid image of a provincial Russian winter: I only have to close my eyes and that sleigh bell accompaniment whisks me away to the countryside and on to that "troika" charging through the snow.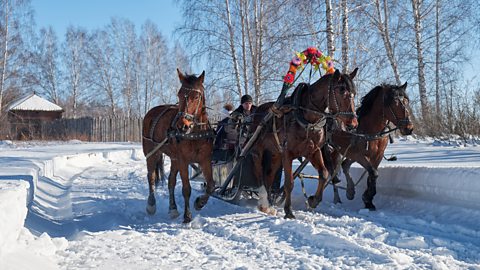 With the St Petersburg Philharmonic Orchestra conducted by Yuri Temirkanov.
5. Trad: Valenki, valenki
Spare a thought for a BBC correspondent in a Russian winter. It's not easy. On one occasion I was out filming in minus-33 centigrade! I turned to the camera to record my stand-up and, seconds later, my mouth froze. I literally couldn't speak! So, based on bitter experience, here are my top tips for surviving the Russian winter. You need a thick coat, lots of layers, a warm hat – and – most important of all – a pair of traditional Russian felt boots. They're known as "valenki" and, believe me, they keep your feet toasty warm.
Russians love felt boots so much, they even write songs about them. Like the folk song: "Valenki, Valenki", which dates back to the early 1900s. It tells the story of a young lady and her gentleman friend who are both experiencing a footwear meltdown – their felt boots are falling apart, and that keeps them apart. But so desperate is she to see him that she runs barefoot through the snow. Tell you what… I wouldn't try that in minus-33! Singing Valenki, one of the greatest and best-loved performers of Russian folk songs, Lidiya Ruslanova."
In a daily feature Steve Rosenberg, amateur pianist and BBC Moscow correspondent, introduces music for a Russian Winter.
Russian music and culture on Radio 3
Turn the dial up to одиннадцать.

Korobushka is a Russian folksong - but you may know it as something else. Tetris, anyone?

Donald Macleod unravels the lives and masterpieces of the musicians who shaped musical life from the USSR's inception.