Main content
BBC Arabic Young Journalist Award Winners 2014: Amal Salloum & Abdelfattah Farag
The 2014 BBC Young Journalist Award was granted to co-winner Amal Salloum and Abdelfattah Farag on the closing night of the BBC Arabic Film Festival in 2014. The award includes training and equipment for an aspiring non-fiction filmmaker who took part in the Festival and was under the age of 30. Last month, Abdelfattah received his training at the BBC Arabic bureau in Cairo where he was also handed his new kit. Here, he blogs about his experience.
I just received the BBC Arabic Young Journalist Award training at the BBC Arabic bureau here in Cairo. The training covered shooting skills with cameraman, Sherif Foley; script writing and dramatic development for documentary filmmaking with Deputy Programmes Editor, Louay Ismail; and picture editing with TV director, Michael Ghattas.
The Training

Starting with the technicalities of camera work, I was familiarised with the importance of 'depth of field' and how to use focus. I was also introduced to 'white balance', a very important element that I knew nothing about before. Apart from shooting, I was taught how to properly mic subjects for optimum sound recording.
Dramatic development was one of the elements that I was most keen to learn about. The most interesting thing I learned in this area was how to start my film, creating a strong and effective beginning without telling too much. Part of that is presenting the viewer with an unexpected opening.
In teaching me this, Louay introduced me to the six forms of documentary – poetic, observational, expository, participatory, reflexive and performative – an eye-opening overview of mechanics, structures and styles of non-fiction film.
Michael Ghattas took me through beginner levels of how to use the Final Cut editing software, showing me simple editing tricks. Going through the programme, I learned how to put timelines together and sync sound. I also learned how to place and cut my shots according to my script or the director's vision and use insert shots. By the second day of this training, I was able to cut my own short reports. It was very useful to me that, after two days, I was able to pick up the secrets of this vibrant tool. But the most important thing I learned is that I should always make the film I want to make, I should express my own thoughts and not be influenced by others.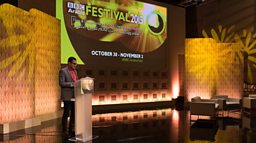 My Next Project

I have never used professional equipment in any of the documentaries or reports I produced in the past. But with my new camera kit, I am about to start. Part of my training was to learn to use this particular camera and all it offers. I believe that, with my strengthened knowledge and access to professional tools, my next project will be a much stronger quality production.
The discussions and workshops that I had about script development have already influenced the way I am thinking of directing my next story. As was instructed, I am already putting together the strong beginning and end which will help me piece together the remaining, informative part of the story. My training has allowed me to think on more than one level, approaching the production from more than one angle, in more than one way.
After the announcement that I had won the 2014 BBC Arabic Young Journalist Award last November, I remember just going up to the stage with great pride and joy and saying, 'I feel like I am in a dream, and I don't want to wake up.'
I consider myself very lucky to be the first winner. I was very happy to be part of the BBC Arabic Festival last year because I consider the BBC to be among the finest media outlets in terms of integrity, accuracy, impartiality and professionalism.
Abdelfattah Farag is a filmmaker and BBC Arabic Young Journalist Award winner.