Main content
Child prodigy from Reading retires
Master W.R Grossmith from Reading was one of a number of 19th Century children playing prominent acting roles in Shakespeare and other plays across the country.
Here we see him saying farewell as he prepares to step down from the stage, aged just 11.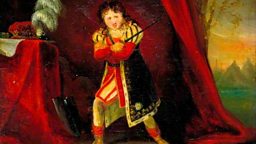 W.R. Grossmith. Credit: V & A Museum/Images.
The phenomenon of young actors playing Shakespeare was sweeping across the country and audiences eagerly sought out the latest child sensation.
These entertainers made a fortune for their families, until the novelty of their performances wore off and they were usurped by younger rivals. You can see an example on the playbill on this page, from the British Library's collection.
It shouts :
All the world's a stage, And all the men and women merely players; They have their exits and their entrances, And one man in his time plays many parts, His acts being seven ages.

As You Like It (Act 2, Sc 7)
"THE YOUNG ROSCIUS, NOT YET ELEVEN YEARS OLD…", adding he…"Has been induced as a consequence of the kind reception he met with from a highly delighted auditory (300 persons) on Wednesday last to meet the wishes of those families who could not attend."
In other words, he had such a good reception from the 300 people who enjoyed his performance last Wednesday that he returns with an act that includes new material, for those who missed him. And that's after a mini-tour of four towns in the area.
He will also deliver A Farewell Address to his Friends in Newcastle – and so it seems clear he is about to retire from the stage.
The play he is performing this evening is a great showcase for his range of comic and tragic characters as he excelled at playing young maidens, women and old men.
"The Seven Ages" or "All the World's A Stage" will ring bells with Shakespeare lovers as the phrase is used as the beginning of a speech in "As You Like It", by the melancholy Jacques.
Child Actors in the 1800s
Master William Grossmith of Reading, Berkshire, was a child prodigy - one of several young actors who feature on the playbills from the British Library collection.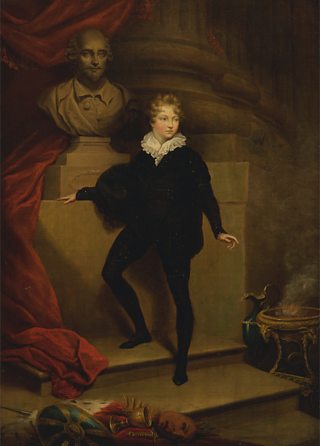 Master Betty. Credit: Yale Center for British Art and Paul Mellon Fund
His father was a picture framer. William made his first appearance at the age of six at London's Royal Coburg Theatre.
Like the other youngsters who trod the boards, he is described as the Infant Roscius, then as he got older he grows into the sobriquet Young Roscius (Roscius was a Roman actor. "Roscius" later became a synonym for renowned/gifted actor). His biography was published in 1825.
He performed until around 1831, when he was about 11 years-old, so this playbill could well mark one of his final performances.
Master Grossmith is just one of several child actors who appeared in the wake of one of the first, and probably the most successful, of these youngsters, the celebrated Master Betty (1791–1874).
Betty was a sensation when he first trod the boards at the tender age of ten, coining in a fortune, and inspiring "Bettymania" from his frenzied fans, who mobbed him everywhere he went. These devotees included the Royal Family and other important members of society.
Where Betty led, others followed, so noted a newspaper rather wearily, and the craze included other youthful entertainers such as Clara Fisher (July 14, 1811 – November 12, 1898) and the Caelham brothers.
The playbill advertises that Master Roscius will perform at Durham on Tuesday 30, Stockton on Thursday 2 and at Darlington on Friday 3 December, 1830, as part of this farewell tour. It is a tour which also included Stafford on 12 December, Lichfield on 14 December, and Birmingham on the 19 December. Also on the bill was the next youthful actor in the family (and potential source of income), his five-year-old brother, Master B Grossmith.
The extra expense of producing such a playbill indicates the theatre management's confidence that the evening would warrant such lavishly illustrated publicity, and be a success.
It's difficult to find details of Grossmith's life after he retired. According to an article in in The Idler magazine of February 1893, the comic actor and writer George Grossmith, remembered today as the author of "The Diary of a Nobody", claimed to be nephew of Master Grossmith the 'Infant Roscius'.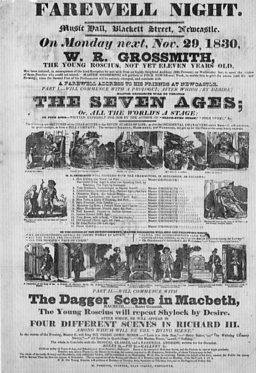 Playbill courtesy of the British Libray
About Shakespeare on Tour
From the moment they were written through to the present day, Shakespeare's plays have continued to enthral and inspire audiences. They've been performed in venues big and small – including inns, private houses and emerging provincial theatres.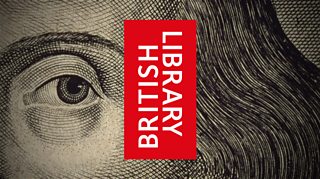 BBC English Regions is building a digital picture which tracks some of the many iconic moments across the country as we follow the 'explosion' in the performance of The Bard's plays, from his own lifetime to recent times.
Drawing on fascinating new research from Records of Early English Drama (REED), plus the British Library's extensive collection of playbills, as well as expertise from De Montfort University and the Arts and Humanities Research Council, Shakespeare on Tour is a unique timeline of iconic moments of those performances, starting with his own troupe of actors, to highlights from more recent times. Listen out for stories on Shakespeare's legacy on your BBC Local Radio station from Monday 21 March, 2016.
You never know - you might find evidence of Shakespeare's footsteps close to home…
Craig Henderson, BBC English Regions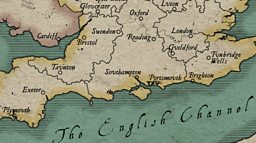 Shakespeare on Tour: Around Berkshire
Queen Victoria enjoys a performance in Windsor

Newbury and Speenhamland audiences flock to the theatre
Shakespeare on Tour: Around the country
Plus, the small Cheshire town that attracted Shakespeare's players