Main content
The Fourth Dimension
The Crusade
WHO DIRECTOR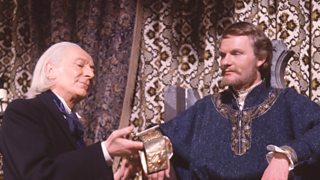 This is the first story to be directed by Douglas Camfield who would direct many more Doctor Who adventures and would be regarded as one of the best directors to work on the series. He had previously worked as a production assistant on An Unearthly Child and Marco Polo and had directed the aborted fourth episode of Planet of Giants. The Crusade is his first complete story.
ROYAL COMMAND PERFORMANCE
Julian Glover guest-stars as King Richard, a part he would later play again for director, Douglas Camfield in the TV series Ivanhoe. Glover would return to Doctor Who in the future to play opposite Tom Baker's Fourth Doctor in City of Death and became well known for his starring roles in the James Bond movie, For Your Eyes Only and Indiana Jones and the Last Crusade.
ALSO KNOWN AS
For a while, this story went under the title of The Saracen Hordes.
FAMILY CIRCLE
Jean Marsh makes the first of her three Doctor Who appearances, here as the King's fiery-tempered sister, Joanna. Marsh would return only a few months later as Sara Kingdom in The Daleks' Master Plan and then much later in Battlefield with Sylvester McCoy's Seventh Doctor. Marsh was also briefly married to Jon Pertwee who would play the Third Doctor. She is now principally known for co-creating the TV series, Upstairs, Downstairs with Eileen Atkins, a series in which she also starred as Rose. Eileen Atkins, at the time of The Crusade, was married to Julian Glover. As the Doctor himself once noted, it's a small universe!
THE PRETENDER
Nicholas Courtney, who would play Jean Marsh's brother in The Daleks' Master Plan, and later the recurring role of Brigadier Lethbridge-Stewart, was also considered as a possible candidate to play King Richard.
IAN'S HOLIDAY
William Russell took a holiday during the making of the third episode of the story. Ian's only appearance in this episode was in a pre-filmed fight sequence.
DVD RELEASE
The Crusade was one of many Doctor Who stories to be 'lost' when the BBC deleted it from its archives some years after transmission. Happily, the first and third episodes have since been found and returned to the BBC. Both episodes were released in 2004 on DVD as part of the Lost in Time box set.
AUDIO RELEASE
The full soundtrack, with linking narration from William Russell, has been released on CD and for MP3 download by BBC Audio.
Related Content
The TARDIS lands in 12th Century Palestine where King Richard the Lionheart is waging a war with the Saracen ruler, Saladin.