Main content
How craftsman Jim Steele makes a Windsor chair using traditional methods
What started off as a hobby for Jim Steele, encouraged by his wife Val, has grown into a love-affair with the Windsor chair.
Like a suspension bridge, every part reinforces the other. It is the only chair that is constructed in this way.
Over twenty years on, Jim is one of the few remaining craftsmen in the country to make these chairs using ancient techniques and tools. He makes them in a variety of styles from three English timbers: elm, ash and yew.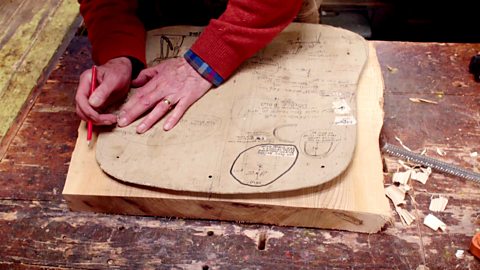 When shaping and bending wood it is important to work with the strength of the tree.
The process
The Windsor chair is characterised by its splayed legs and leaning back and side supports consisting of turned spindles fitted into a sculpted seat.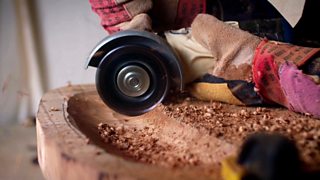 All the round parts are turned on the bobbin bow lathe. All the curved parts – including arm back, top bows, crinoline stretcher and under-arm supports – are steam bent.
The seat of this ergonomically designed chair is carved for the comfort of the sitter – deeper at the back than at the front, in order to hold the person in place. Unlike the frame chair, every part of the Windsor chair is inserted into the seat, the starting point for its dry assembly.
For Jim, the charm of these chairs is in the absence of corners or straight edges:
"Windsor chairs are very different from what we call case furniture. You will find that a cabinet maker will not want to make a Windsor chair. He'll shy away from it because there isn't anything square on it.

When you make a chest of drawers, you've got to make everything square for the drawers to slide in and out. But the human body isn't like that; there is nothing straight in its frame. With a chair it's much freer. That's what I like about it."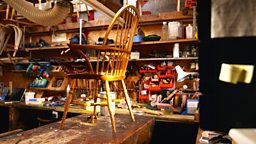 Jim Steele's Windsor chair