Main content
Is this the feel good show we all need right now?
Singalong anthems? Check. Feel good vibes? Check. The promise of romance? Check. What more do you need to brighten up these dark and dreary nights?
There's something missing from today's online dating scene: instant chemistry. It can be hard to find the perfect partner amid a never-ending stream of carefully phrased bios and artificially posed selfies. What if you could make a deep connection with someone simply by singing your heart out?
Radio 1's Arielle Free plays Cupid on Love Song, an unashamedly feel good show where singing singletons search for 'the one'.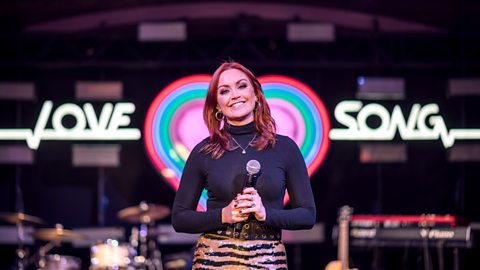 Lewis has a date who has seen more of him than he is comfortable with.
How it works
On Love Song our songbirds belt out a track of their choice in front of an audience and three potential partners.
Each of these suitors grabs their chance to to impress by joining in. The singing star must then choose whose dulcet tones mark them out as the perfect musical match.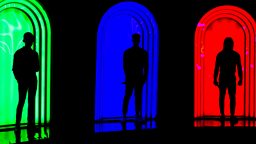 Potential partners are kept hidden until it's their time to shine
Swapping swiping for singing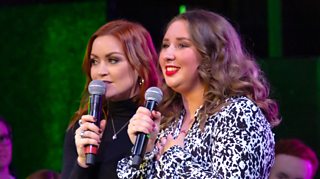 Presenter Arielle Free supports Sophie as she makes her choice
Edinburgh girl Sophie is one of the first to swap swiping for singing, and she performs Abba's Dancing Queen in front of her three mystery men.

"I've tried every dating app under the sun," she complains before taking the stage.

"I think that meeting someone via singing, the thing that I love the most, and they love most hopefully, will be a great way for us to meet on common ground."

Sophie's hopeful that she can find that special someone via the medium of song, but there is still one other important factor she's looking for:

"I like to think that I'm going to go for someone based purely on their vocal talent," says Sophie. "But, you never know, you kind of need that spark there so hopefully they're all really fit!"
Latest features from BBC Scotland
Intrusive selfie requests contributed to Ewan McGregor's decision to leave the UK.

Gary McLean's spinach cake recipe would make even Popeye's eyes pop out.

Read the full scripts for the critically acclaimed series Guilt.

It's cheaper and better for the environment, but would you give a pre-loved present?

The comedian studies top influencers as she bids to make it big.

Swapping swiping for singing in the search for true love.

Open conversations are rare, so how can we know what's normal and what's not?

Don't worry if you missed her first time around — Anna's coming back!

One fitness expert believes modern life is leaving us 'wired and tired'.

An unusual treatment can transform the lives of people with a potentially fatal infection.

Anthony Capaldi is one of the new actors starring in an alternative take on Burns.