Main content
How a hole in the BBC archive helped wake the comedy ghosts of Alf Garnett, Albert Steptoe and Tony Hancock

When I was asked to produce Lost Sitcoms, my first thought was 'run'. And my second was 'keep running'! These are classic comedies, perfectly formed, so why would we touch them?
But then I read the scripts and immediately changed my mind — because scripts this good are very rare and, once you've read them, excitement overcomes fear.
The other, important, reason we did this is that these old episodes of Till Death Us Do Part, Hancock's Half Hour and Steptoe and Son were wiped from the archives. The scripts still exist, but the broadcasts have been lost as the BBC didn't automatically keep important shows until the 1970s.
As a result, there are generations of comedy fans who will never get to see them in all their glory.
Something old, something new
And so here they are, produced from the original shooting scripts, with a brand new cast, recorded at Pacific Quay in Glasgow.
The pressure of this series is that the original shows are loved and revered, and the writers are comedy royalty. We had to find a way of restaging them that was true to the spirit of the originals but also felt like its own thing.
The creative team quickly agreed that a stripped down, almost theatrical presentation was the way to go, echoing the originals, but also feeling distinct from them. And I'm remarkably biased, but I think it looks magnificent.
Taking on classic characters like Albert Steptoe, Alf Garnett and Tony Hancock is no small task and it was important that the actors played the characters in the script, rather than impersonating the original cast.
Simon Day's take on Alf Garnett
Simon Day played Alf Garnett, not Warren Mitchell, and you're watching his version of that character — even though the rhythms and cadence of the dialogue are instantly recognisable.
The rehearsal weeks were probably the most fun I've had with my socks on and seeing the likes of Kevin McNally and Lizzie Roper throw themselves into these roles was a privilege.
Everyone was excited by the scripts and any nerves were quickly buried beneath a joy in bringing them to life.
Actors are brave, brilliant people at the best of times, but particularly so on this production, in taking on such iconic roles, and you can probably guess how I feel about the work they did.
So, a huge thanks to the massive eejit who taped over the original shows with episodes of Grandstand, for making this happen.
And the biggest thanks of all to those brilliant writers, Johnny Speight and Galton and Simpson, who are considered comedy royalty for very good reason.
Other missing comedies
Hancock's Half Hour, Steptoe and Son and Till Death Us Do Part are not the only gaps the BBC comedy archive.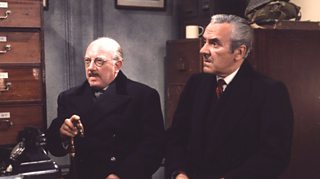 Dad's Army
Three episodes from the second series about the Walmington-on-Sea Home Guard are missing from the BBC archive. One of the episodes, A Stripe For Frazer, has been recreated using animation.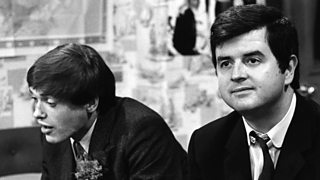 The Likely Lads
The bulk of series two and three of The Likely Lads has been lost.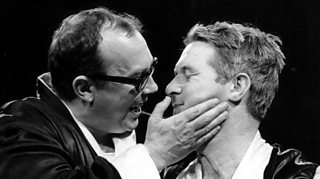 Morecambe and Wise
Only a fragment of Eric and Ernie's first series from 1968 has survived.