Main content
Which eight songs would Bruce Springsteen take to a desert island?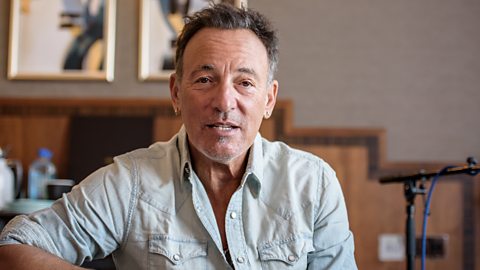 Bruce Springsteen on preparing for Friday nights at the YMCA.
Elvis Presley - Hound Dog (1956)
I was so very young but it still hit me like a thunderbolt
The iconic Elvis version of the Big Mama Thornton track had a massive impact on an entire generation of emerging rock and roll fans and burgeoning musicians. And the young Bruce was amongst them:
"When I heard it, it just shot straight through to my brain. And I realised, suddenly, that there was more to life than what I'd been living. I was then in pursuit of something and there'd been a vision laid out before me. You were dealing with the pure thrust, the pure energy of the music itself. I was so very young but it still hit me like a thunderbolt."
And the song continues to influence Bruce and his craft:
"It sounds great to this day. We still base our snare drum sound, one of the ultimate snare drum sounds, on Hound Dog."
The Beatles - I Want To Hold Your Hand (1963)
It's impossible to quantify the impact that the Fab Four had on music across the globe. It certainly had a major effect on the youthful Springsteen:
"This was another song that changed the course of my life. It was a very raucous sounding record when it came out of the radio. It really was the song that inspired me to play rock and roll music - to get a small band and start doing some small gigs around town. It was life changing. It's still a beautiful record."
The Rolling Stones - It's All Over Now (1964)
I put the record on and I sat there all night until I was able to scrape up some relatively decent version of Keith's solo
Bruce is an unabashed Stones freak, even as a stylish teenager:
"I would use my mother's hair clips to pin my hair down, then I would sleep on it exactly right, because I had Italian curly hair so I would pin it down until it was as straight as Brian Jones's."
But this particular track plays a very important part in the Bruce Springsteen story:
"It's All Over Now held a special place for me because when I got thrown out of my first band, I went home that night and I was pissed off, so I said 'All right I'm going to be a lead guitar player'. And for some reason that solo felt like something I might be able to manage. I put the record on and I sat there all night until I was able to scrape up some relatively decent version of Keith's solo. It was a very important record for me as it was the first solo I ever learned."
Van Morrison - Madame George (1968)
The previous tracks helped to lay down the foundations of the figure who would become Bruce Springsteen - the rocker. But once he'd started on his artistic journey, other influences began to emerge:
"Astral Weeks was an extremely important record for me. It made me trust in beauty, it gave me a sense of the divine. The divine just seems to run through the veins of that entire album. Of course there was incredible singing and the playing of Richard Davis on the bass. It was trance music. It was repetitive. It was the same chord progression over and over again. But it showed how expansive something with very basic underpinning could be. There'd be no New York City Serenade if there hadn't been Astral Weeks."
Marvin Gaye - What's Going On (1971)
Inspired by the witnessing of police brutality and violence during an anti-war demonstration, Marvin Gaye's soulful protest song illustrated to Springsteen that music can have a message: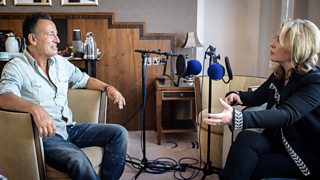 Bruce Springsteen and Kirsty Young in conversation
"This entire record [the What's Going On album], from start to finish, is a masterpiece. It was sultry and sexual while at the same time dealing with street level politics. That had a big influence on me. Along with the idea that it was a concept record without being cursed by that name. It was a record that had a thread you can follow from the first song to the last and it created a world that you could walk into and then come back out of. But bring along with you things that you learned and energy and a source that you'd found for living."
James Brown - Out Of Sight (1964)
It's virtually impossible to give due justice to the sheer immensity of the Godfather of Soul in mere words, but Bruce does a pretty good job:
"Pure excitement, pure electricity, pure 'get out of your seat, move your ass'. Pure sweat-filled, gospel-filled raw, rock and roll, rhythm and blues. It's like a taut rubber band."
It's another track released when Bruce was a teenager, an age that obviously means a lot to him:
"Your formative years, the music that you use to build your identity, always remains very prominent in your tastes."
The Four Tops - Baby I Need Your Loving (1964)
Like all great artists, Springsteen is something of a cultural magpie, identifying and subsuming moments across music history:
"I had to have some Motown because Motown was an incredible part of my youth. Also, if you wanted to know how to write, how to structure successful pop records, you could learn it all from Motown. The sound of the band, the importance of a great singer. Motown was the school where you wanted to go to learn your craft."
Listen to Berry Gordy, the founder of the Motown record label, on Desert Island Discs
Bob Dylan - Like A Rolling Stone (1965)
Obviously a kindred spirit and a massive influence on his work, Dylan, and this song in particular, transformed Bruce's life:
The snare drum that opens this song feels like someone kicked open the door to your mind.
"This could be at the top of the list."
"The first time I heard it, it came out of the radio. I didn't know anything about Dylan's acoustic music. I was a creature of top 40, so the first time I really heard him with this song, it just instantly started to change my life."
"When I inducted Dylan into the Rock and Roll Hall of Fame, I said 'the snare drum that opens this song feels like someone kicked open the door to your mind.' Like a Rolling Stone feels like a torrent that comes rushing towards you. Floods your soul, floods your mind. Alerts and wakes you up instantaneously to other worlds, other lives. Other ways of being. It's perhaps one of the most powerful records ever made and it still means a great deal to me along with all of Dylan's work."
Unsurprisingly, this is the one record Bruce Springsteen would save should a storm ever hit his desert island.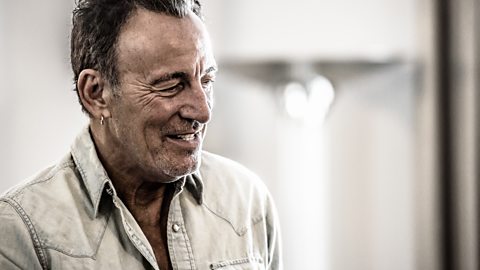 Bruce Springsteen describing Bob Dylan's 'Like a Rolling Stone'.
The Boss on the BBC
Take this simple test to estimate your precise level of Bruce-ness…

We asked BBC presenters and DJs to pick the Springsteen track they'd take to their own desert island.