Main content
The Witterlist - 16th April 2021
Edith Bowman and Anna Bogutskaya take the reins this week to review the latest films available on home streaming services and talk to the star of upcoming comedy, Black Bear.
The Interview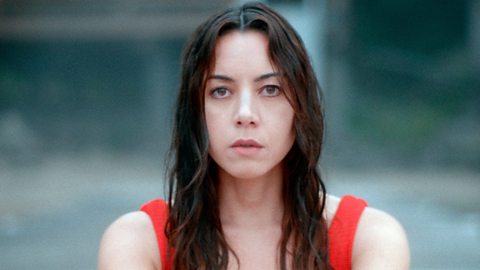 Edith Bowman talks to Aubrey Plaza about her new film, Black Bear.
Edith talked to Aubrey Plaza this week, the star of upcoming comedy drama Black Bear. Aubrey plays a filmmaker struggling artistically and personally, who heads to a rural retreat and is confronted by her inner demons. Writer/director Lawrence Michael Levine wrote the script with Aubrey in mind, and she talked to Edith about her reaction when she first read it, how she is attracted to projects that scare her and the difficulty in making a film on "haunted lands".
Writer/director Emerald Fennell's seething tale of revenge features a blisteringly sharp performance from Carey Mulligan, as a young woman who aims to pay back the people responsible for the trauma in her past, and unmask the predatory men who stalk the bars in her town. Intricately plotted and designed, Fennell's eye for detail and knack for smartly savage dialogue is what makes the film so astonishing and powerful in delivering its message.
Leigh Brooks's documentary follows the members of metal band Life of Agony, exploring their lives, their career and the way their music has been an outlet and a way of confronting their traumatic pasts. The film isn't the most innovative or groundbreaking in its presentation, but the story of the band - and in particular lead vocalist Mina Caputo's transition in the early 2010s - is a fascinating, uplifting and important one that needed to be told.
Gillian Wallace Horvat co-wrote, directed and stars in this weird, genre-bending comedy horror in which she plays a kind of version of herself, struggling to make successful movies until she realises that her skill set would also be ideal for becoming a serial killer. Unusual, inventive and funny, I Blame Society is a brilliant showcase for Horvat's satirical skills.
"It's unwatchable."
Anna pulled no punches in her review of Neil Marshall's shockingly bad witch trial thriller The Reckoning, one of the worst films she has seen in years.
Mark Kermode joins Simon Mayo to give his verdict on the week's movies