Main content
From making friends to facing struggles: 5 Lovatics reveal why they love Demi Lovato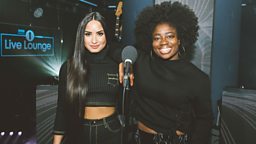 It's been a while - a little over a year, to be precise - since Demi Lovato first graced Radio 1's Live Lounge with her presence (#historicalmoment), so you can imagine how well and truly amped we were to welcome the superstar back to our humble digs once more.
She threw it back to 2K11 with a performance of Skyscraper, brought us up to date with a slowed-down version of Sorry Not Sorry and blew our socks off with her own homage to Sam Smith via a cover of Too Good At Goodbyes. All in all, it was a more than major Monday.
But while we were prepping for an onslaught of ALL THE FEELS (Skyscraper will do that to you!), some pretty cool people were gathering outside Radio 1 HQ, hoping for a sighting of their favourite star. That's right: Lovatics were in attendance.
In a bid to learn a bit more about the incredible relationship that Demi has with her fans, we quizzed five of the loyal Lovatics - Emilia, Marielle, Sarah, Luca and Nicole - to find out just why Demi means so much to them...
A given? Sure! But a pretty important given, all the same...
Her music's not just written to be throwaway, it means stuff

Sarah
Demi first debuted her vocal talents on the 2008 Disney film, Camp Rock, when she was a baby-faced 16 year-old. Since then she's amassed a whopping 50 awards (pressing question: where on earth does one human store FIFTY awards?!) and a jaw-dropping 149 nominations.
With so much experience under her bedazzled belt, how did Demi feel about taking on the Live Lounge for round two?
"It's just like putting on an old pair of slippers... I love it, it's acoustic and it's comfortable in here and yeah, I like it. It's like singing in the shower, exactly! But with better soundproof stuff." We think we've just stumbled upon a new Live Lounge tagline. Thanks, DL!
"She's very talented, ever since she was in Camp Rock - that was the first time I saw her - she keeps growing," Marielle told us. "Her voice is amazing."
Over to you, Sarah: "Her music's not just written to be throwaway, it means stuff and she stands up for mental health, which not a lot of people do."
Which conventiently brings us to...
2. They love her message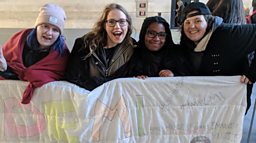 Demi has been vocal about her struggles with depression, bulimia, self-harm and bullying throughout her career and it's her openness, honesty and realness about these struggles that's part-responsible for the loyal fandom she's amassed.
"She shows how she really is, she's not fake, she's not hiding her feelings," according to Marielle. "That's a way that her fans can feel a little bit closer to her. That's very important nowadays. She's just her, so transparent, and that's cool."
Nicole feels the same, sharing that Demi has inspired her to open up about her own troubles: "Her music and her personality and her inspiration and her own struggles, made me feel like if she can do it, I can. Before she was open about those things, I was struggling for some of the same reasons.
"I couldn't really talk to someone, because I didn't understand that it was something that a lot of people go through. So when she talked about them I was like well, I'm not alone, there are people who can help. If she can be healthy once again, then so can I."
In between flooring us all with her Live Lounge set, Demi found some time to chat to Clara about the impact her songs - Skyscraper in particular - have on fans.
Sometimes it's unfathomable when [fans] tell me that that song, or that I, have had an influence on saving their life

Demi Lovato
"[Skyscraper] is extremely important to me because I recorded it before I went into treatment - which is rehab - and it got me through that entire process. It really helped me and shaped me into the person I am today.
"People have said that [it means a lot to them] and it means the world to me. Sometimes it's unfathomable when they tell me that that song or that I have had an influence on saving their life.
"Y'know, it's something that you just can't comprehend, so it means the world to me and, as much as I can't comprehend it, it's everything to me."
3. They love how she makes them feel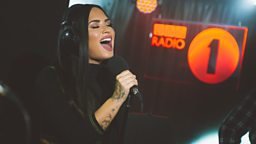 The music. The message. The feels. Demi and her tracks bring with them a trifecta of goodness for her fans; just ask Sarah, Nicole and Amelia.
Her music and her personality and her inspiration and her own struggles, made me feel like if she can do it [then] I can

Nicole
Emilia: "First of all she's been through a lot, I feel like myself and people in my family have been through some of the stuff that she's been through and it's just nice to know that somebody our age has been through it and can get through it and is not scared to speak up."
Nicole: "Her music and her personality and her inspiration and her own struggles, made me feel like if she can do it, I can."
Luca: "She's helped a lot of people, she's helped me. I had issues with food, and she helped me a lot, really."
Sarah: "Her music has changed my life. I've made some of the best friends I've got. She brings together so many people, it's incredible. Her being so open proves to people that they can reach out. If she can do it, they can do it. It gives you the inspiration that you can't always find."
Well we've got news for you, guys: we reckon you've got another Lovatic joining your ranks...