Main content
Dividing Opinion / A Career in Quotes: Allen Jones

Pop art pioneer Allen Jones's work has attracted controversy, opprobium and admiration in equal measure. A career-spanning retrospective at the Royal Academy in 2014 allowed a cooler appraisal. Browse a selection of his works alongside some of the divided opinions from critics, 1973-2014.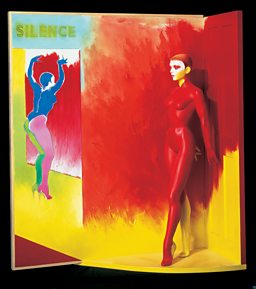 Stand In, 1991/2. Oil on plywood and fibreglass, 185 x 185 x 63 cm. Banbury, Private Collection. Image courtesy of the artist. © Allen Jones
The price of being controversial is usually increased fame, but for Jones it has resulted in his work being ostracised in this country. Allen Jones is an immensely charming, erudite and sophisticated artist who uses colour, subject and form in inventive and intriguing ways. His career deserves to be properly reassessed.

Andrew Lambirth, The Spectator, 2014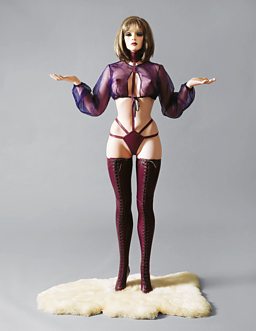 Hat Stand, 1969. Mixed media, 191 x 108 x 40 cm. London, Private collection. Image courtesy the artist. © Allen Jones
Allen Jones was a Duchampian before the Hirst generation were even born. His art is an icy joke about the power of desire: it pays homage to Duchamp's ironic view of human culture as a masturbatory machine.

Jonathan Jones, Guardian, October, 2013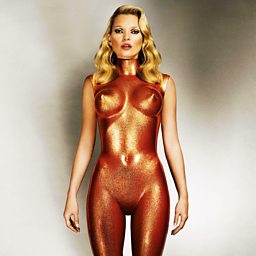 Body Armour, 2013. Photograph. 127 x 127 cm. London, Private Collection. Image courtesy of the artist. © Allen Jones
The exploitation of already exploitative material cannot be seen as politically neutral, whatever the artist's intentions and the use of a particular kind of sexual imagery contributes to the 'objectification', even degradation of women.

Lisa Tickner, Block magazine, 1979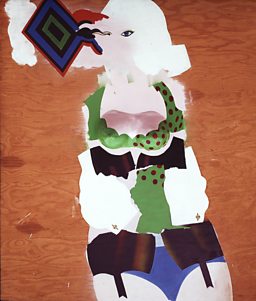 Curious Woman, 1965. Oil, plaster and epoxy resin on wood, 121.9 x 1016 x 20 cm approx. New York, Private Collection. Image courtesy of the artist. © Allen Jones
This brings us smack into debates on pornography and censorship: at what point should we restrict the circulation of images? It is certainly true that Jones' work seems tame now, but does this mean, as proponents of censorship seem to argue, that perversion is contagious?

Mark Sladen, Frieze magazine, 1995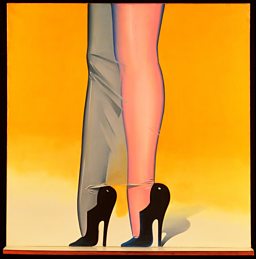 First Step, 1966. Oil on canvas, 92 x 92 cm. London, Private Collection. Image courtesy of the artist. © Allen Jones
The fetishist image of women has three aspects, all of which come across clearly in his [Allen Jones] books and art objects. First: woman plus phallic substitute. Second: woman minus phallus, punished and humiliated, often by woman plus phallus. Third: woman as phallus. Women are displayed for men as figures in an amazing masquerade, which expresses a strange male underworld of fear and desire.

Laura Mulvey, Spare Rib, 1973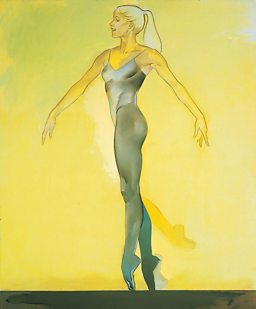 Darcey Bussell, 1994 | oil on canvas 183 x 152.4 cm. Image courtesy of the artist. © Allen Jones
You could argue that Jones's work isn't really about women; it's about men and how they look at and think about women.

Richard Dorment, Telegraph, 2014
Elsewhere on the BBC
Front Row's John Wilson talks to Allen Jones at his retrospective at the Royal Academy
Pop Art Features
A dissenting view from the global artists represented at The World Goes Pop exhibition at Tate Modern.

Can Pop Art really trace its origins to the work of a couple of artists from Scotland?

Stephen Smith compares the courts of Andy Warhol and the original Sun King, Louis XIV - with the Factory as a 1960s Versailles.

Watch the BBC Four Goes Pop! channel idents by Peter Blake, Derek Boshier & Peter Phillips.

Find yourself in the midst of a typical day for Pop Artist Andy Warhol in the mid-1960s.

Controversial British Pop Artist Allen Jones is the guide around his Royal Academy exhibition.

A Career in Quotes: What the critics said about controversial British Pop Artist Allen Jones.

Follow Andy and his entourage as they tour London in 1970, meeting David Hockney and film critic Dilys Powell.

A fascinating look inside The Factory in 1965, as filmmaker and activist Susan Sontag visits while Andy is filming.

When Everyone Could Own a Warhol: Andy Warhol's 1950s album covers for hip jazz labels such as Blue Note.

The Factory 1964-1970: Billy Name's iconic images of Warhol's Silver Factory, with the Velvets, Nico, Warhol superstars & Dali.

William Cook on the exquisite colours of German Pop at an exhibition in Frankfurt.

Artworks from the bold and brilliant pioneers who shaped Germany's 1960s pop art scene.