Main content
A Variety of Biscuit recipes
Nutty Spiced Autumn Biscuits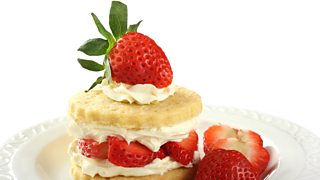 Ingredients

225g/8oz plain flour
50g/2oz cornflour
75g/3oz caster sugar
225g/8oz butter
Icing sugar for dusting
½ tsp mixed spice
50g/2 oz Nuts finely chopped.
Method
Place the dry ingredients and nuts into a bowl. Cut the butter into the mixture and rub in. Initially this will make a crumbly mixture, but will eventually come together as a single piece of dough.
Flour a board or a worktop and turn the dough out. Knead gently and then roll out
You have three options at this point:
Use a cutter to make the biscuits
Roll the dough into a log shape and cut into rounds approximately 1.5cm thick
Place the dough in a round 18cm/7 inch tin and pack down well
Whatever you decide, prick the dough with a fork and bake in the oven @ 180°C/Gas Mark 4 until the shortbread takes on a very light golden colour. Cooking time will depend on the size of shortbread you decide to make and will take anything from 10 to 20 minutes.
When the biscuits are cooked and are still warm, dust with icing sugar and a pinch of spice.
For a variation on traditional biscuits, try adding caraway seeds, dried blueberries, pine nuts or almonds. Simply add 25g/1oz of your chosen ingredient to the dry ingredients at stage one.
Crunchy Almond Biscuits
Ingredients Makes 12 biscuits
225g/8oz butter
110g/4oz caster sugar
1 egg
275g/10oz plain flour or gluten free
50g/2oz ground almonds
½ tsp vanilla essence
50g/2oz flaked almonds
25g/1oz icing sugar for dusting
Method
Place the butter, sugar, egg, flour, ground almonds and vanilla essence in a blender. Blitz until the mixture starts to come together as a soft ball. Add the flaked almonds and pulse for just a few seconds more.
Turn out the dough onto a lightly floured surface and knead gently. Roll the dough out to a thickness of 1cm/½ inch and using a plain or fluted cutter (2½ - 5cm)/1-2 inches approximately in diameter), cut out the biscuits.
Place the biscuits on a greased baking sheet and bake in the oven @ 180°C/Gas mark 4 for 12-15 minutes until cooked, golden and firm. Dust with icing sugar.
Crunchy Nut Cookies/Museli Biscuits
A simple recipe which can be made more chewy by the addition of two dsp of honey or maple syrup. A great recipe for kids lunch boxes as they're packed full of flavour, and dried fruit.
Ingredients
150g/6oz plain flour
75gms/ 3 oz.. Oatmeal
½ tsp baking powder
50g/2oz caster sugar
1 egg
1 egg yolk
110g/4oz butter- softened
1 tsp vanilla extract
50g/2oz walnuts- finely chopped
110g/4oz currants, raisins or dried cranberries
Grease and flour a baking sheet, sift the flour, baking powder and cinnamon into a food processor. Add the sugar, whole egg, egg yolk, butter and vanilla.
Whiz together until blended.
Add the walnuts, currants, raisins or cranberries, and whiz again very briefly until everything is combined.
Transfer to a floured surface, shape into a log then cut into 8-10 equal portions. Shape into a ball, flatten a little on top.
Place onto a baking sheet, well apart.
Chill in a fridge for 15 minutes, then bake in the oven 180º/ gas mark 4 for 12-14 minutes, until crisp and golden. Cool and store in air tight jars.
Crunchy Strawberry Shortcake Biscuits
This is a very simple traditional biscuit made in various sizes, it can be used to serve as a very attractive sweet. I have used cream and yoghurt mixed combined with strawberries to create these very tasty biscuits.
Ingredients
½ lb/200g plain flour
2oz/50g cornflour
3oz/75g caster sugar
½ lb/200g butter
1oz/25ml whipped cream
1oz/25ml yoghurt
4oz/110g strawberries
2 dsp. strawberry coulis.
Sprigs of mint.
Method
Measure the dry ingredients into a bowl. Add the butter and cut into rough pieces. Crumb with the fingertips and gradually work all into one piece.
Alternatively this mixture can also be made in a blender where all ingredients are whipped together until they bind.
Turn out onto a floured board, roll out and cut into biscuits of assorted sizes.
Place on a baking sheet and bake in the oven @ 375°F/Gas No 3 for 12-15 minutes. When cooked dust with caster sugar while still warm.
When cool sandwich together with whipped cream and yoghurt mixed together and fresh strawberries hulled and sliced.
Decorate with coulis and mint.
Goldilocks Wholemeal Porridge biscuits
Wholemeal biscuits
8 oZ(200gms) porridge oats
4 Oz. (100 gms) Margarine/butter – low fat
1oz.(25gms) caster sugar
4Oz.(100gms) plain flour
Method
Preheat oven to 160 degrees C
Cream margarine and sugar together
Add flour and porridge oats
Roll mixture out until ¼ - ½" thick and cut into biscuit shapes,
Bake for aprox. 20 minutes
Decorate